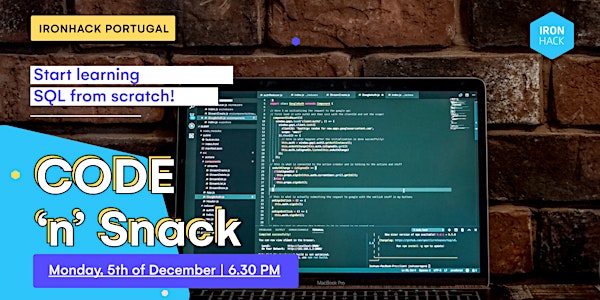 CODE 'n' Snack
Learn SQL from scratch!
When and where
Location
Heden Santa Apolónia Doca Jardim do Tabaco Terminal de Cruzeiros de Lisboa - Edifício NW, 1º Piso 1100-651 Lisboa Portugal
About this event
"Big data" has been a hot topic for more than a decade, and as a result, most companies are sitting on hoards of data. The problem is…they have no idea what to do with it, or how to extract value from it. People who can extract value from it are in big demand, and most of that data is sitting in SQL databases.
Whilst Python and R get all the attention when it comes to data analytics, it is SQL that is the foundation of the data analytics professional's job.
We invite you to join us on Monday, 5th of December at 6.30 pm in our Lisbon Campus to learn!
In this workshop, you will learn SQL from scratch. It's for those who want to start learning SQL to help companies extract value from their data! You will learn the common features of a SQL query and how to write practical queries that solve real-world problems. And develop a basic understanding of how data can be retrieved, filtered, grouped, joined and sorted. It will focus solely on the practical application of SQL so that you can begin using it immediately to advance your career.
This event will be led by Luke a Technical Finance Data Analyst at Revolut and a teacher at EADA Business School in Barcelona, where he teaches coding as part of the Masters in Finance program. Fun fact, Luke, is an Ironhack Alumni who graduated from the data analytics bootcamp in 2019.
Ready to learn from an Ironhacker? 🚀