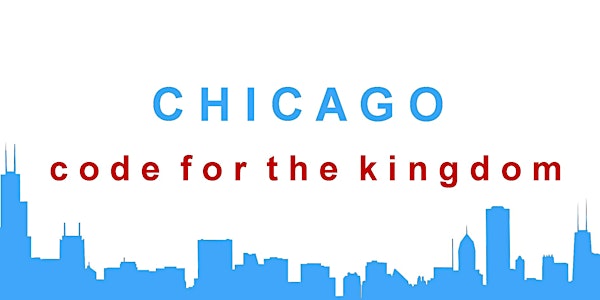 Code for the Kingdom, Chicago 2016
When and where
Location
Project World Impact 320 Reber Street Wheaton, IL 60187
Description
Code for the Kingdom is a series of hackathons and ongoing ecosystem where global issues are tackled from a Christian perspective. On the weekend of October 21-23, Christians will be gathering in cities around the world for the Code for the Kingdom Global Hackathon. At this Chicagoland local gathering, we will be launching a local community of Christian tech enthusiasts and coders that want to tackle local issues from a Christian technology perspective, and we will be joining the global hackathon to help in any way we can (coding, design, strategy, feedback, etc.).
Join an incredible group of individuals who are applying their skills and experiences to advance common good and serve God's Kingdom. In collaboration with innovative nonprofits and churches, we'll write code and create technology to help release the oppressed, teach God's Word, heal the sick, feed the hungry, clothe the naked, and support the church and the body of Christ.
Note: You don't have to be a programmer to attend just because there will be a lot of programming going on. You might have interest in programming and want to learn more or you may be a designer, entrepreneur, etc. Please come and put whatever skills you have to good use advancing exciting projects.
Here are some details you might need to know:
Lunch and refreshments will be provided.
You don't have to stay the whole 8 hours, but we encourage you to stage as long as you can.
Bring your laptop, notepads, etc. Post its, markers, and pens will be provided.