Description
First Annual Code for fun Gala - Saturday March 9, 2019
Code for fun team is inviting you to join us for our First Annual Code for fun Gala and Dinner Fundraiser.
In Silicon Valley, most of the public school students graduate from High School without any exposure to computer science. Our goal is to have all K-12 students receive exposure to computer science to achieve a well-balanced 21st century education.
Support our mission! Come celebrate in the heart of the Silicon Valley our Code for fun Annual Gala
Saturday March 9, 2019
Mitchell Park Community Center - El Palo Alto Ballroom
3700 Middlefield Road, Palo Alto, CA 94303
Doors will open at 6:30pm with a welcoming "Champagne Cocktail" followed by an exquisite and exclusive French dinner with a 4-course meals amazingly paired with curated French wines.
And while you will enjoy your evening, Computer Science speakers will share with you their experience and vision to secure the future.
Speakers: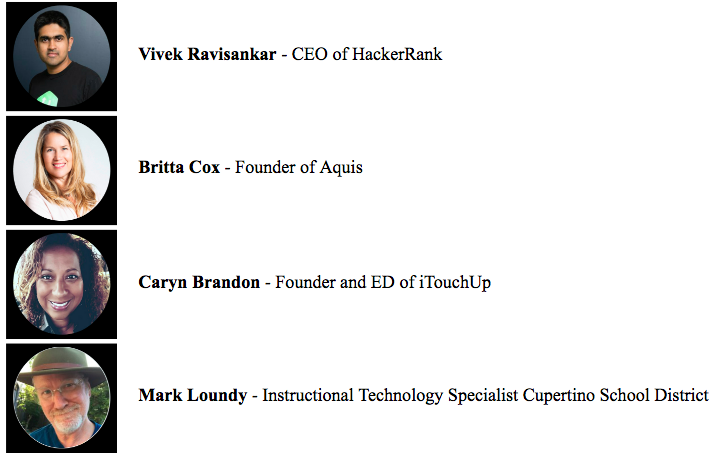 Book your tickets NOW! Early Bird price ends by February 15!
This is our non-profit adult-only Gala Fundraiser.
Cannot attend but want to support us? You can DONATE when you click on "Tickets".
All donations are tax-deductible as Code for fun is a 501 (c) 3 non-profit organization.

Note for Sponsors: want to support our event? Feel free to email: laure@codeforfun.com for more informations about our Silver, Gold and Platinum sponsorship packages.