Event Information
Refund Policy
Contact the organizer to request a refund.
Eventbrite's fee is nonrefundable.
Code Cuisine is a delicious 2 hour remote workshop where we learn just enough coding basics to draw the "dish of the day" with JavaScript.
About this Event
Join us for a delicious 2 hour coding workshop with Cafe Robot!
"Code Cuisine" is the new remote workshop by Cafe Robot, the first non-awkward Computer Club started by Amsterdam-based code connoisseur Valerie Fuchs. As you may or may not yet know, coding and graphic design have many similarities. There is a vast amount of problem solving, design and creativity in building websites as well as it being a skill that can help designers in various projects. From building your portfolio website to working with developers, understanding the basics of code can go a long way!
Combining the two worlds of coding and food, this workshop is aimed at snack-aficionados who are looking for a basic introduction to the world of (creative) coding.
Within 2 hours we will learn some basics about how a website works (the roles of HTML, CSS & JavaScript), get an introduction into variables and functions and get a tour around the p5.js editor. After that we'll take some time to draw the "dish of the day" while being able to ask questions and get support.
The maximum amount of students for this workshop is 20 people, as we want to make sure to have enough space for everyone's questions and create a personal environment to learn.
WHAT YOU'LL GET
- Fun & entertaining 2 hours and your very own Code Cuisine code-drawing
- A recording of the live session to watch again later on for the next 2 weeks
WHEN
Saturday, February 6th 2021
16:00 - 18:00
WHERE
Zoom
Link to follow upon purchase of ticket.
The recording of the webinar will also be available for you to view after the class
PRICE
€29
(all going towards Valerie for her time and wisdom)
RSVP
Space is limited to 20, so please RSVP through the link!
REQUIREMENTS
- A modern laptop and a relatively recent version of the browser Google Chrome.
- This class is for code-newbies but it would be good if you had a basic understanding of the roles of HTML, CSS and JavaScript and potentially even dabbled a bit with JavaScript before.
About the teacher
Valerie is a Web Developer at WeTransfer by day and a Coding Teacher in between. With Cafe Robot she has introduced over 200 students to the world of coding and technology. Next to running her own courses she is teaching at creative business school Hyper Island and occasionally talks about her view on the industry, recently at the Awwwards conference and Ladies, Wine & Design. You can learn more via @madam_robot.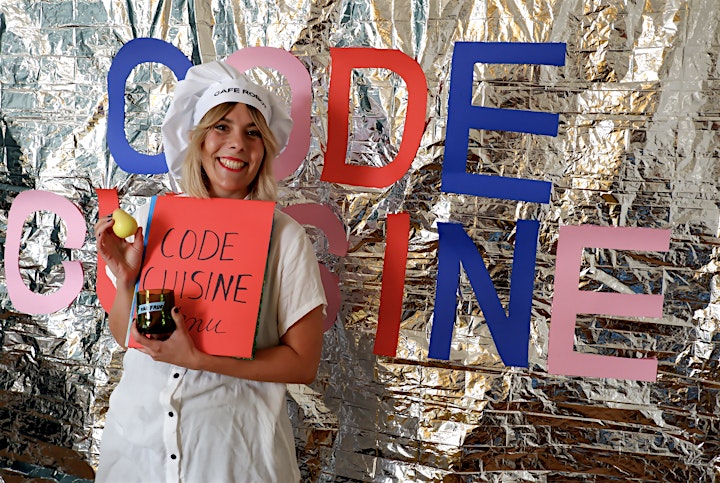 What others say
"I would 100% recommend Code Cuisine to a friend because it brought so much life and energy to code that is hard to understand for a beginner." Priya, Code Cuisine participant
"I would totally recommend Code Cuisine for anybody who wants to break the ice with coding. It's a lot less scary dealing with code for the first time with a workshop like this." Marcos, Code Cuisine participant
"Passion with good content is a blessing. Thank you again for making it easy, fun and especially accessible for us." Giovanna, Code Cuisine participant
"Valerie has a very engaging and enthusiastic way of teaching. Her passion for coding shows through and she is a true inspiration for the students." Sandro Miletti, Program Manager Hyper Island
Date and Time
Location
Refund Policy
Contact the organizer to request a refund.
Eventbrite's fee is nonrefundable.