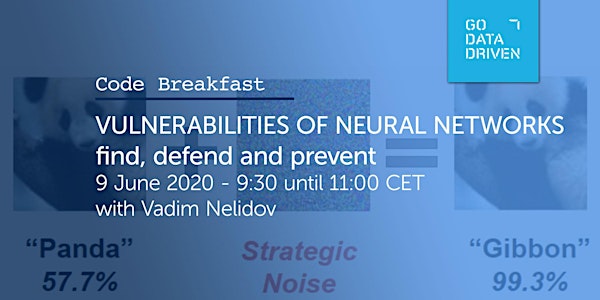 Code Breakfast -Vulnerabilities of Neural Networks: Find, Defend, & Prevent
In this code breakfast, we will explore the limitations and vulnerabilities of Neural Networks.
About this event
It's code breakfast time again! We will meet online to learn some remarkable yet overlooked facts about Neural Networks, and of course share some breakfast recipes and positive vibes! Here is what we will talk and code about.
Topic
Neural Networks (NNs) are a set of powerful biologically inspired techniques that have revolutionized many industries by recognizing complex patterns in unstructured data better than most preexisting techniques and often even better than human experts. As powerful and popular as they are, they also have a number of important limitations and vulnerabilities which may considerably affect their predictive power and even make the neural network dangerously work in the interest of somebody else.
In this code breakfast we will have a close look at such vulnerabilities and why they are important to be aware of. Furthermore, we will practically explore how an unprotected neural network can be manipulated, and most importantly – how you can prevent this from happening. Among other things we will learn about:
• where the power of NNs comes from and what its limits are
• finding NN's vulnerabilities in different applications
• how even renown NNs can fail in manipulating hands
• determining the impact of targeted input manipulations
• protecting your NN against such threats
If you are new to Deep Learning, this will be a perfect opportunity for you to get a practical glance into the power of neural networks and its limitations. If you are more experienced in this field and train your own deep models, you can still learn about important factors and risks that you may have been unaware of, which may help you avoid very undesirable situations in production. This code breakfast will be a combination of theory and coding, with materials shared with every participant.
This event is part of Dutch Data Science Week 2020. For more information please visit www.dutchdatascienceweek.nl

Prerequisites & Practicalities
Basic understanding of Python and Deep Learning fundamentals. Some knowledge of Keras library would certainly help too though is not a must. Zoom application for the video call. The link to join the video conference will be distributed shortly before the date.
About the trainer
Vadim Nelidov is an enthusiastic data science specialist & trainer at GoDataDriven, fluent in deciphering data-driven problems. He has several years of both practical and academic experience with data science, machine learning and econometrics. He is passionate about sharing his knowledge and insights, believing that Data literacy should not be a privilege of a few. And his goal is to be there to make this a reality.