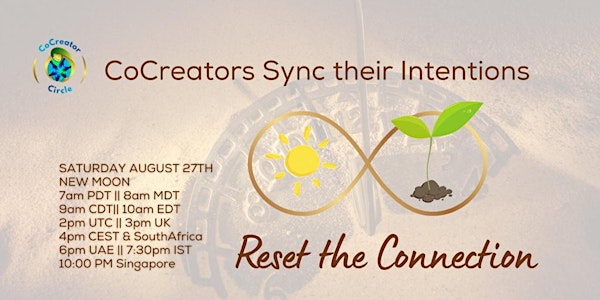 CoCreators Intention: Reset Connection
Are we due for a reset? A connection with past present future or something unexpected?
About this event
👐Where do we meet?
On Zoom. You will receive the link after sign-up.Click for time in your time zone, sign up, share https://reset-future.eventbrite.com
🌞What will we do?
Each participant is invited to speak and share*:
Form a resonant field to come together in a circle. Silently, we bring to our hearts our intentions for self, near and dear ones, and the larger world.
Share our updates from focusing on the intention on harmony, from July.
Then each participant writes their intention about harmony
Choose an intention that underlies all our individual intentions
Pranayama infused with love and gratitude.
Meditate on the intention, visualizing it manifested.
Share what we have sensed
Do the Gratitude Lotus practice in sync with one another.
*You can also choose to attend off-video and off-audio in the livestream. Link will be sent after you register.
~~~~~~~~~~
🌍 Why Reset?
There's a vibration. It's discordant on the surface, and almost seems like a return to an apocalyptic past - or is it future? But below the surface, at the center and at the edges, what do you sense? That's the vantage point.~Meenakshi Suri
🌍Speak your mind, share your vision, sync with one another to CoCreate a world that benefits all beings. 
This project by CoCreator Circle brings you into the vision, into the story, into the world that we have, are, and will continuously cocreate. It is a story that you don't read in the news, that you get glimpses of when you meet, or when you share on social media.
In a series of monthly events, let's share our visions and make an intention around a central theme. This month, we step back from our lives, and look at our intentions.
This is not an intellectual exercise; this is a living experience.
"Our intention creates our reality." – Wayne Dyer
Are intentions 'my intentions' and 'your intentions?'
We pick up one another's thoughts, feelings, emotions, pain, sorrow, joy. For oneness is not a word. It is a truth of our being. It is the truth of the deep interconnection of being human.
In sacred circle with a group of people diverse on the surface but deeply connected in soul, we realize that our words are sometimes spoken by another, that we pick up and speak the words of the one next to us; and if so called, pick up the emotions of the group and release them.
~Meenakshi Suri, Did you just steal my intention?
We share our intentions, and then envision a world that benefits all beings.
We are the ONES we've been waiting for. ~ Hopi Elders Prophecy
It is time we step into our light. https://youtu.be/HEhI8UbLwwk
Click for time in your time zone, sign up, share https://reset-future.eventbrite.com
~~~~~~~~~~~~~~~~~~~~~~~~~~~~~~~~~~~~~~~~~~~~~~~~
~~~2022 COCREATOR CIRCLE'S INTENTION PROJECT~~~
On 22nd Jan 2022 8 CoCreators joined for the sprouting of the seed of shared intention.
In February our intention was about WATER for the metaphorical seed.
In March our intention was about AIR to nourish the seed of life.
In April our intention about SOIL emerged as an intention about Mother Nature herself.
In May our intention about FIRE
In June we rounded off the elemental intentions with ETHER/ Akash.
In July we intended to bring HARMONY by radiating love and kindness.
-----------------------------------------------
When we gather together, share, speak and listen to one another, our shared vision forms a pattern of a world we are co-creating.
Please register for free or 'paying as you wish' options, and you will receive an email with a Zoom link. You will receive reminders and updates 2 days, 2 hours and 10 minutes before the day, so please check your emails.
Host- Meenakshi Suri, Founder of CoCreator Circle, Ground to Soar facilitator, messenger of Gaia Minute , finder and revealer of the gems shining in our midst.