Coconut Grove Veterans Day Parade and Celebration - Parade at 11:15am
Description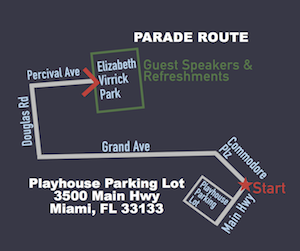 The Coconut Grove Veterans Day Parade and Celebration is held in honor of and to show thanks to all who have served in the United States Armed Forces. American Legion Post 182, the primary host of the event, was founded in 1946 and has been having an annual celebration for more than 20 years. This event includes a Memorial remembrance ceremony at Historic Charlotte Jane Memorial Cemetery; a parade through Coconut Grove; and a community gathering with guest speakers at Elizabeth Virrick Park. Lunch is provided for paraders, attendees, and anyone who comes in need. No one is charged to participate in or view the event.

This is the only City of Miami sponsored Veterans Day Parade. With the involvement of organizations and performers throughout Miami-Dade and neighboring counties, the celebration is a large music and food filled event for the entire South Florida community.

Date: Friday, November 10, 2017

9:30am – Memorial Remembrance Ceremony at Charlotte Jane Memorial Cemetery, 3650 Charles Ave, Miami, FL 33133

11:15am – Parade through Coconut Grove to Elizabeth Virrick Park

Guest Speakers and Refreshments at Elizabeth Virrick Park, 3255 Plaza St., Miami, FL 33133 will immediately follow the parade.
INTERESTED IN BEING IN THE PARADE? Visit www.CoconutGroveAmericanLegion.org and click on the link to register your parade unit. There's no entry fee and all categories of entries are welcomed to participate.