Description
Hello Cocoa Devil Masqueraders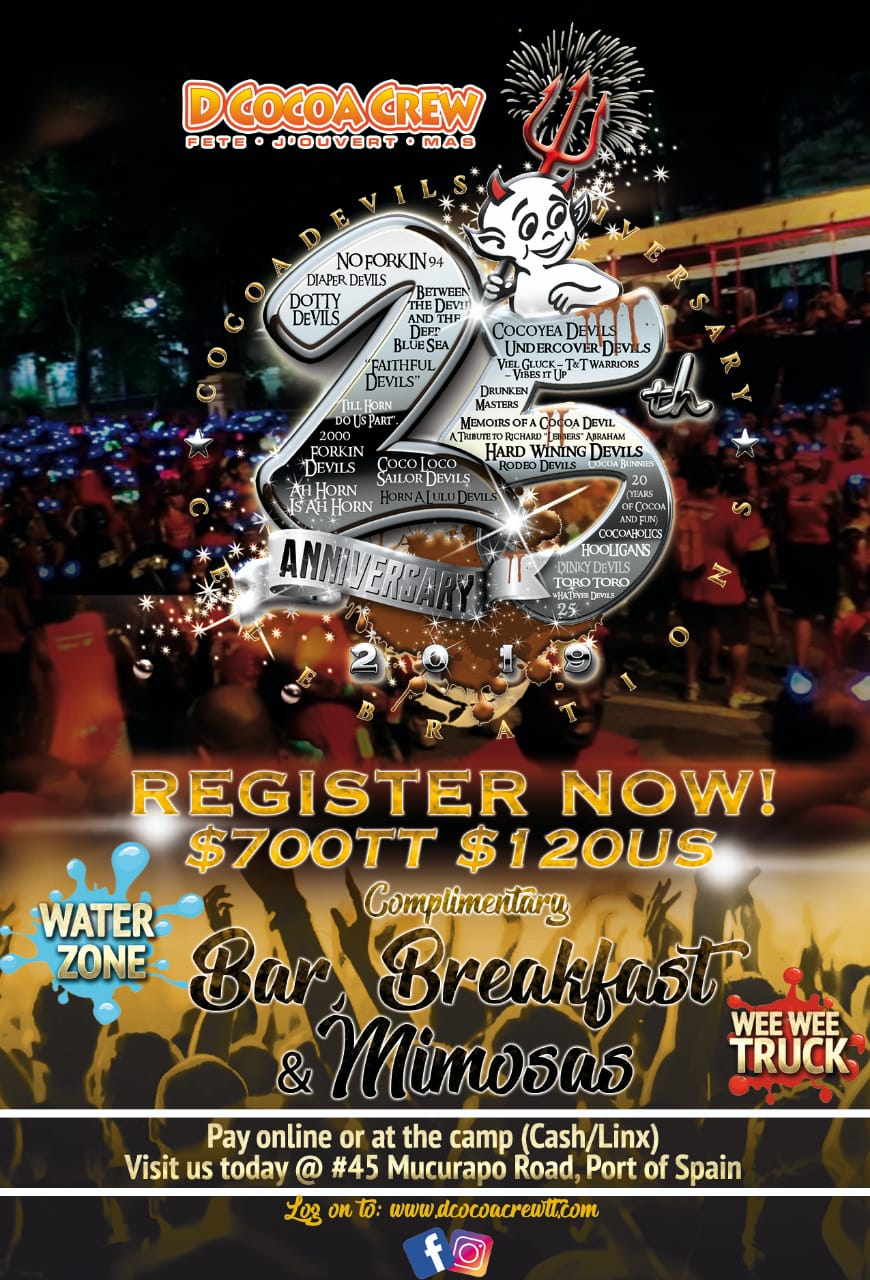 Welcome to COCOA DEVILS 2019 JOUVERT:
"25th Anniversary Celebration"
That's it. Plain and simple. You getting -
Full Premium Bar, Breakfast and Mimosas

Water Zone

Wee Wee Truck

We are starting registrations and would like you to please take note of the following:

OPTION A: ONLINE REGISTRATION:

LIMITED ONLINE REGISTRATIONS AVAILABLE - REGISTRATION LINK ABOVE

PAYMENT: ONLINE ONLY - US$120.00


---
OPTION B: PAYING AT MAS CAMP:
REGISTRATION OFFICE/MAS CAMP
45 Mucurapo Road, St James
(Between Comfort Engineering and Chop Chop)
HOURS:
4.00PM TO 7.00PM
(Monday to Friday)

TEL NOS:
393-COCO (only office hours)
306-9229 / 362-6170/ 362-4000
COSTUME COST: TT$$700 (all inclusive)

YOU CAN CLICK TO REGISTER AND FOLLOW PROCESS TO ENTER THE DATA REQUIRED,
Please note this is just for registration processing - NOT PAYMENT

NO REGISTRATION IS CONFIRMED UNTIL PAYMENT IS RECEIVED.

Payment at MAS CAMP: CASH OR LINX ONLY TT$700.00 (this payment can only be processed with printed form based on your online registration.)

Masqueraders - PLEASE NOTE IF YOU CHOOSE TO PAY ONLINE VIA CREDIT CARD YOU WILL BE CHARGED US$120.00 - No refunds!
Don't forget to kindly print one registration form per masquerader and walk this form in order to make your payment. For any inquiries please feel free to email us at dcocoacrewtt@gmail.com.
---
Why play with COCOA DEVILS?
We pride ourselves in putting our masqueraders' security, comfort and enjoyment as priority! With this in mind, we pay particular attention to:
Security detail (managed by experienced and professional security personnel)

No Public Advertising of Band Details (social networking only)

Selection of "safe" j'ouvert routes

Adequate Fully stocked all inclusive trucks

Delicious Breakfast meals

Different selection of band meeting point each year (in an effort to avoid non paying persons)

Great J'ouvert DJ Music

And Finally –

its where you meet all your friends and make new ones on J'ouvert Morning.
---
Cocoa Devils, Carnival 2019 is "fast and furious" so lets get organised early and be ready "for d road."

You can call or email us at dcocoacrewtt@gmail.com for any further information that you may require.

HAPPY AND SAFE CARNIVAL COCOA DEVILS

D Coca Crew
Sally, Cathy Ann, Nicola