Description
Cocoa Devils International took part in the first J'ouvert Celebration of Miami Broward One Carnival 2012. D Cocoa Crew from Trinidad, Mascots Int'l & Isle of Rhumb Promotions from Miami present J'ouvert at the Central Broward Regional Park. This is a "Trini" style j'ouvert with music truck, drinks, vibes and plenty cocoa!
As usual a great time was had – D Jouvert was sweet!! And COCOA like dat!!!! So those of you Cocoa Devilians living in Miami, we will be back 2018! And who have to travel… Book yuh flights early!!! Don't miss it! We will be providing a truck, free food & drinks, cocoa and plenty vibes! Hurry Space is limited!
For further information contact:
D Cocoa Crew: dcocoacrewtt@gmail.com (868) 393-COCO (2626)
Sally: (868) 682-6338 / (868) 306-9229
Nicola: (868) 620-9791 / (868) 362-4000
Cathy: (868) 683-8333 / (868) 362-6170

Name/s and contact info for person/s re the jouvert that are in the US
Nikki: (954) 249-1039
Christine: (954) 667-4294
Larson: (954) 205-1787
Colin: (305) 981-5532

Address of Mas Camp
7321 NW 45 Court
Lauderhill FL 33319
USA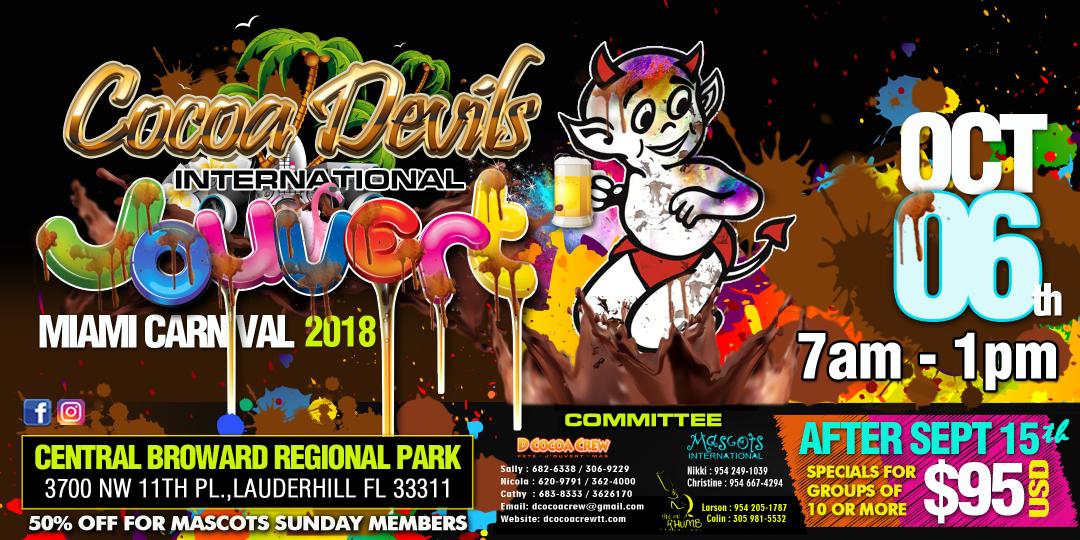 Registration options
Online registration - Click on Registration Tab
J'OUVET REGISTRATION US$95.00 (plus online registration fee)
This includes park entry, t-shirt, drinks and of course the cocoa.
Distribution information
Thursday 4th and Friday 5th October 4:00 p.m - 9:00 p.m.
Venue for the j'ouvert
Central Broward Regional Park
3700 North West 11 PL
Lauderhill, Florida 33311
Time OF MIAMI J'OUVERT 2018:
7:00 a.m. - 1:00 p.m.