Description
Advanced ticket sales have now ended. Please purchase tickets at the door for the new, higher price of $30

Join us for a special evening of cocktails, light appetizers, and dancing, all in support of women's health.

Breast cancer, now the leading type of female cancer in the world, has become an increasingly pressing issue for the global community. In the developing world, women with breast cancer face even greater challenges as they are often misdiagnosed and struggle to obtain the life-saving treatment they need. Additionally, social taboos and stigmas cause many women living with breast cancer to feel isolated and lonely.
We are working with the JDC to raise money for the Women's Health Empowerment Program (WHEP), an initiative that provides women in remote areas of Bosnia with life saving mammograms, and that helps their families receive the healthcare they deserve and desperately need.
Purchase your tickets here for $25. Includes one complimentary cocktail and one raffle ticket!
Payment can also be made by cash or charge at the door for $30 (includes entry and one drink ticket).

If you would like to support this incredible cause but are unable to attend, you can learn more about the program and donate at http://bit.ly/2thvKEP.

And remember, schedule your next mammogram today!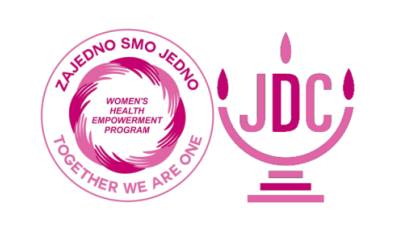 Thank you to our raffle partners for providing fabulous prizes:
Art+Autonomy Salon
Belleon Body
Bosnian-Herzegovinian Film Festival
Buff Bones
Foot Locker
Kathleen Wright Cosmetics
Kubeh
Maisons Marques & Domaines
Nails & More
NY Yankees
On Your Mark Sports Massage and Fitness
Palmetto Derma
PilPil Spanish Tapas & Wine Bar
Starbucks
The Studio
T3 Tools
And more...