Location
Pyramid Club
1735 Market Street
Floor 52
Philadelphia, PA 19103
Description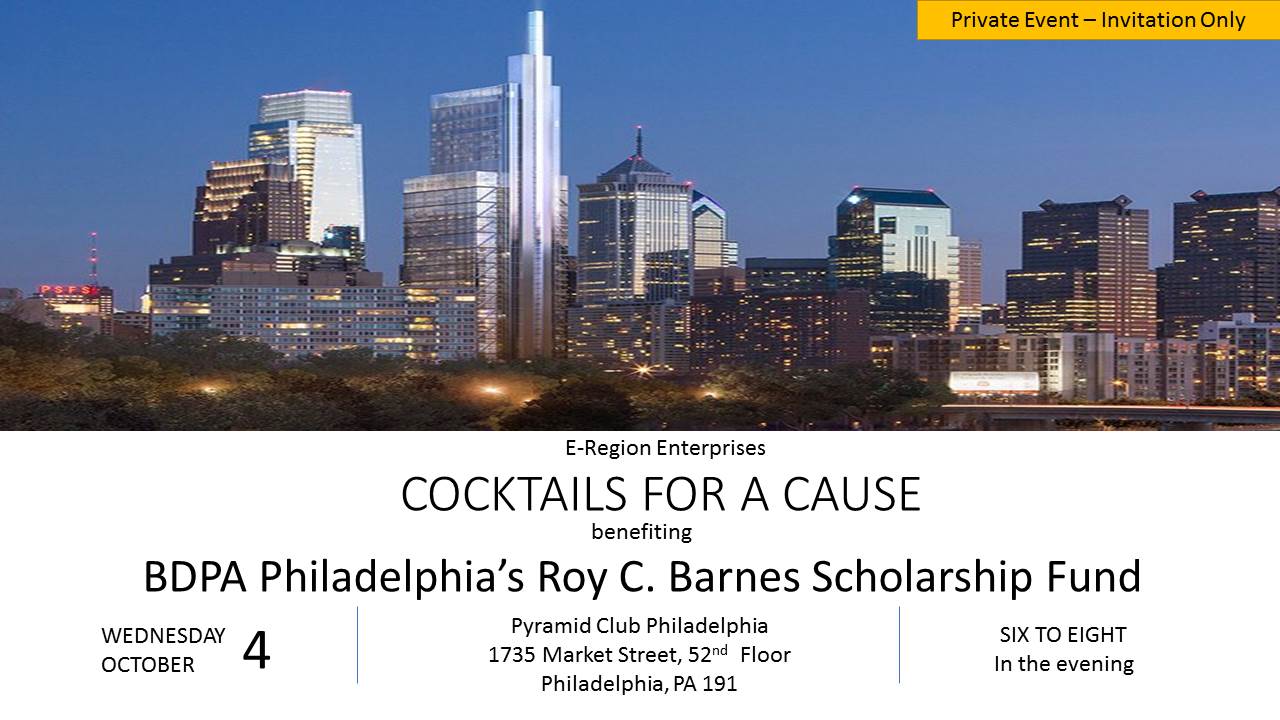 Cocktails for a Cause is an initiative hosted the Pyramid Club Philadelphia to give members an opportunity to spotlight and gain support for a cause that is dear to their heart. The October event is to benefit BDPA Philadelphia Educational Scholarship Fund. Our goal is to raise $5000 for local students who wish to pursue IT or other STEM-related careers.
BDPA was founded in Philadelphia, 1975. It is one of the first professional organizations committed to reducing the digital divide by providing members with access to educational scholarships, internships and professional development for those individuals interested in technology and other STEM-related careers.
Today, 42 years later, BDPA is a global organization with strategic partnerships across multiple industries. Please help us continue the tradition of Advancing the Careers from the Classroom to the Boardroom ™ through our educational programs:
The Student Information Technology Education and Scholarship: S.I.T.E.S program was designed to introduce and inspire minority high school students to the pursue Information Technology and/or other STEM related careers through free or low-cost computer and leaderships courses.
The High School Computer Competition: HSCC program is a subprogram under the S.I.T.E.S program. It was founded in 1986 by Dr. Jesse Bemley, of Washington, D.C. What started as a two-team event between the Washington, D.C. chapter and the Atlanta, GA chapter has grown to over 20 teams of high school students from chapters across the nation. It is designed to introduce our students to the field of Information Technology, encourage them to seek higher levels of education, and groom many of them to become the next generation of IT professionals.
The Youth Technology Camp: YTC program is a subprogram under the S.I.T.E.S program. The YTC program is a three-day event as part of the with the National BDPA Technology Conference in which students learn about programming, animation, robotics and leadership.
The Information Technology Showcase: IT Showcase was designed to acquaint students with research techniques, advanced mathematics, emerging technologies in computer science and telecommunications, computational science, geographical information systems (GIS), robotics, ad public speaking.
Students who participate in these programs compete for corporate-sponsored scholarships.