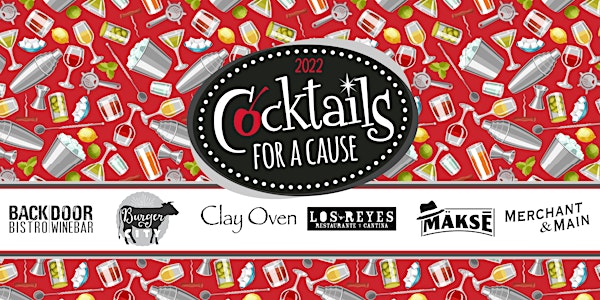 Cocktails for a Cause 2022
We need your help choosing Gala's "Signature Cocktail"! Bartenders compete annually for exclusivity at the Vacaville Festival of Trees Gala!
When and where
Location
Opportunity House Homeless Shelter 267 Bennett Hill Court Vacaville, CA 95688
About this event
The Vacaville Festival of Trees Gala presents
Cocktails for a Cause 2022
You choose the "Signature Drink" for Gala!
Between September 1 and 30, 2022 visit our 6 sponsors & present your ticket at each. You will receive a full size cocktail and vote when you have tasted them all.
Purchase and present your ticket at our sponsor locations to receive one full size cocktail once you have tasted all 6, then vote for your favorite!
BackDoor Bistro, Burger City, Clay Oven, Los Reyes, Merchant & Main, & Mäksē
Vacaville's local homeless shelter, Opportunity House. Grab your friends, your husband/wife or significant other and make it a date night, make it a girl's night, make it a whatever night! Participate in a fun event that supports an important cause.
Local bartenders have been getting super creative in hopes to win your vote in this fun bartending competition. The restaurants are donating 100% of their time, staff and supplies for this cause and we can not thank them enough!
Your ticket gives you exclusive access to enjoy the "competition cocktail" at each of the locations listed above. Bartenders from these fine establishments have fearlessly entered into this competition in great hopes to gain your vote as the "2022 Cocktails for a Cause Bartender of the Year"to serve and present their cocktail as the "Signature Cocktail" at the 2022 Vacaville Festival of Trees Gala.
Your vote counts!
The bartender's cocktail recipe that has the most votes
The cocktail recipe with the most votes will be honored at the Festival of Trees Gala! as the "Signature Cocktail"! promoted by served by the winning bartender !
The coveted title as the "2022 Cocktails for a Cause Bartender of the Year"!
Upon presentation of your numbered ticket, the local restaurants/bars listed above will serve you one full-size serving of the cocktail they have created for this year's competition! Once you have tried all of the cocktails entered, you will place a vote for your favorite libation using the QR code on your punch card or by visiting:
https://us19.list-manage.com/survey?u=b7008a38fa6f7965867838c8c&id=263b8b3ffa&attribution=false
Purchasing Information:
Your email order confirmation is NOT your ticket. Tickets are designated as "Will Call" but you do not pick them up. WE WILL MAIL HARD COPY NUMBERED TICKETS, to the shipping address you provided, through USPS, shortly after your order is received.
Please double check to make sure that the contact information is you are providing are correct. Once we receive your order's payment confirmation, we will "snail mail" your punch card(s) to you through the US Post Office.
Participant Guidelines:
Each ticket is individually numbered for voting purposes. Do NOT throw your ticket out until after you have voted! Your punch card number is required to vote.
Treat your ticket as you would cash. Lost, stolen &/or discarded tickets will not be replaced or refunded.
You MUST present your your ticket at time of order at each location to redeem for one full-size cocktail of each entry. For locations that have more than one entry, your ticket is only redeemable for one of each entry.
This is a 21 and over event.
Please drink responsibly by not drinking and driving & ordering food with your cocktails. Take your time, this is a month long event.
#californiaevents #charityandcauses #charityevent #cocktailtasting #cocktailparty #cocktailsforacause22 #fundraiser #thingstodoinvacaville #vacavilleevents #vacavillefotgala
Save the date & get your tickets for
The Vacaville Festival of Trees Gala 2022