Description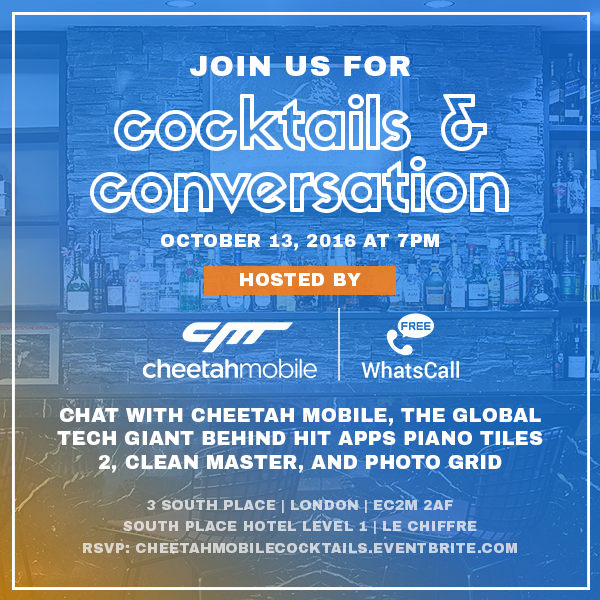 Did you know Cheetah Mobile was once only a 4-person tech startup in Beijing? Now with over 2,000 employees, more than 600 million monthly active users globally and 40+ top-rated apps, we are in London and want to meet you!
ABOUT THE EVENT
Join our networking cocktail party to ask us anything and to meet fellow innovators, entrepreneurs and creatives. Enjoy an open bar and refreshments, great music, and an interactive photo booth - all while building new relationships in the tech, mobile Internet and startup sectors.
DATE & LOCATION
Meet us on Oct. 13, 2016 at South Place Hotel, Le Chiffre Room LEVEL 1, London, EC2M 2AF
19:00 - 19:30 Registration - AWESOME GIFTS FOR THE FIRST 20 GUESTS TO ARRIVE
19:30 - 19:45 Welcome and intro speech from the hosts – feel free to ask us anything!
19:45 - 21:00 Networking & overflowing cocktails!
DRESS CODE
Whatever you'd like! No dress code, as long as you are comfortable enough to enjoy good conversation over good cocktails.
WHO IS INVITED?
Expect to meet app publishers and developers, tech startups, ad and creative agencies, media and of course, executives from Cheetah Mobile who will be joining us from China, Taiwan and US.
Our partners, potential partners, their friends and anyone who is curious about the mobile Internet or the tech industry in general are more than welcome.
ABOUT THE HOST
Cheetah Mobile is a mobile app publisher with headquarters in Beijing and San Francisco. Currently the 3rd largest app publisher in the world (only below Facebook and Google in terms of users), Cheetah Mobile has a portfolio of 40+ mobile apps with over 620 million monthly active users globally.

Some of our top-rated mobile applications include Clean Master, Piano Tiles 2, CM Security and our newest product, WhatsCall, which allows you to make international calls to any mobile or landline number for free.
Why talk to us?
We are happy to share how we went from being a local Chinese startup to a global mobile Internet giant in less than 6 years, as well as what our next big project is and why we are in London. Since we are new in town, we are also looking for new friends and new partnership opportunities.
CONTACT
Have any questions? Email us: fabiola.pina@ileopard.com
RSVP now as space is limited. First 20 guests to arrive will receive an awesome gift!
See you Oct. 13th!