Description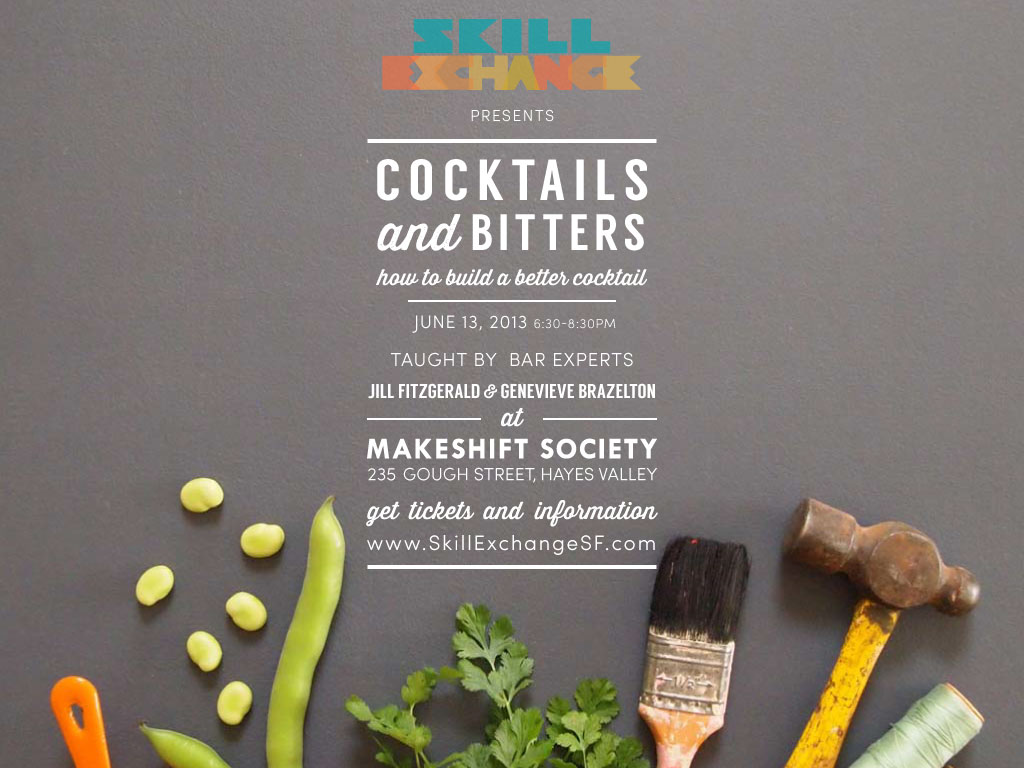 In the first half of this workshop, expert bartender Jill Fitzgerald will lead us through a brief history of cocktails, and help you deconstruct a cocktail menu, exploring both classic and contemporary cocktail favorites. You'll enjoy a cocktail as we discover the basic differences between types of liquors, fads and cocktail trends, and what the future holds for cocktails in the city in the next few years.

In the second half of this workshop, bitters connoisseur Genevieve Brazelton will explore and illuminate the role of bitters. Bitters are the spice rack of cocktail making, bringing flavors together and adding depth. Through discussion and tasting we will explore the history of bitters, how they're made, their role in cocktails, and the difference between mass market and hand crafted, small batch.
This workshop is open to 21 and over only.
About the teachers:
Genevieve Brazelton | Chief Muddler
I'm one of those people who tastes something I like and immediately think, "I can probably make that myself." Cocktails are no different. As a bar manager I loved experimenting with making as many of my ingredients from scratch as I could, infused liquors, fresh squeezed juices, flavored simple syrups, and eventually cocktail bitters. Through my blog, onbecomingahousewife.com, and my line of cocktail bitters, The Bitter Housewife, I want to teach people how easy and exciting cocktails can be.
Jill Fitzgerald | Bar owner, Virgil's Sea Room 3152 Mission Street
Growing up in her native Ireland, Jill was a staple behind her family bars by age 15. Working all around the Dublin bar scene in her college days, Jill moved to San Francisco in 2008 and has worked in several bars and pop-ups around the city, with an emphasis on creative new cocktails and high volume bars. Now embarking on a new adventure, Jill has teamed up with some of the most well-known people in the industry to open a new establishment in the Mission, Virgil's Sea Room. Creating cocktails and bringing a smile to everyone's face is her passion.
Notes about the workshop:
This workshop will be held at 235 Gough Street. Please plan to arrive 10-15 minutes early to check in for the workshop. If arriving by car, please allow ample time to park, as parking can be very tricky in this neighborhood. Seating is available for our attendees. No need to any bring tools or materials, unless you'd like to take notes.
Refund policy:
If you are unable to attend, please let us know by email (SkillExchangeSF@gmail.com) at minimum, 48 hours in advance. We will refund your full ticket fee within 48 hours.
If you are unable to attend this workshop, and there are less than 48 hours until the event, you are welcome to give your ticket to someone else. That person must check in at the door to indicate they are using your ticket, so we can check your name off the list.

Unfortunately, no-shows and late cancellations will not be eligible for a refund.
Organizer of Cocktails and Bitters: How to build a better drink
Skill Exchange is a workshop series which aims to inspire the community to use their hands and learn traditional, hand making and self-reliance skills in a fun, social setting. Our workshops and events are for curious skill-seekers of all ages. We create opportunities to ask questions, think with our hands and deepen our understanding of how things are made.As handcrafting skills are too often undervalued and under practiced-- Skill Exchange seeks to encourage self-reliance through social skill exchange by bringing together enthusiastic makers and teachers to share their passion and craft with our communities. 
To learn more, please visit: SkillExchangeSF.com
Sign up for our newsletter for updates on upcoming Skill Exchange workshops and events at: skillexchangesf.com/newsletter/