Cocktail Wars Memphis

Thursday, December 12, 2013 from 7:00 PM to 10:00 PM (CST)
Event Details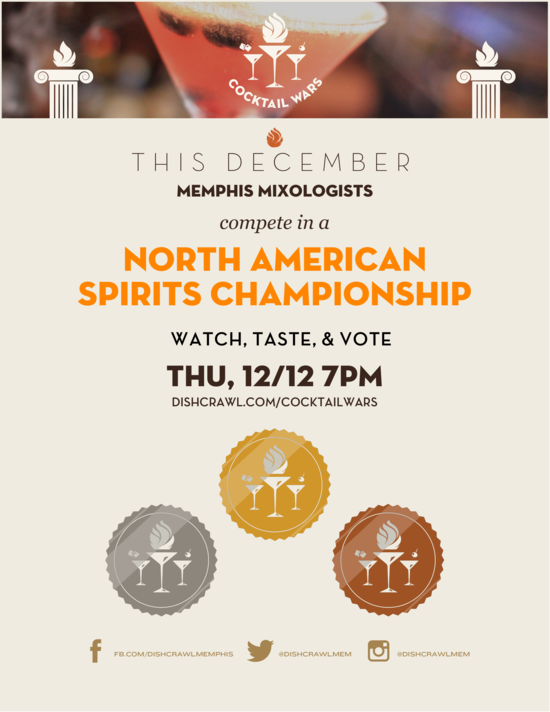 Cocktail Wars descends upon Memphis this December.
Tickets available at the door tonight!
$10 admission and $8 per cocktail!
Packages also available at the door!
$29 for admission + 3 cocktails!
$45 for admission + 5 cocktails!
Thousands of North American mixologist applicants have been narrowed down to the Top 5 contestants in each of 10 cities. They'll go for the Gold in their own hometowns, and the winners of each city will compete for the overall titles.
Out of hundreds of applicants, 5 top mixologists have been chosen to perform their best cocktail live on stage in front of spectators and judges.
On Thursday, December 12th, from 7pm-10pm, you can watch the action live at Alfred's on Beale. at 197 Beale St.
Five Masterful Mixologists!
Mixologists will each shake up their best cocktail live on stage in front of the voting audience and panel of esteemed judges. Announcing our Top 5 representing Memphis:
Caitlin Moore of Mesquite Chophouse, Rum Boogie & King's Palace will be performing her New-Fashioned featuring Bulleit Bourbon
Athena Kalafat of Alfred's and Automatic Slim's will be performing her Sweet Chi Chi featuring Altos Tequila Blanco
Evan Potts of The Cove will be performing his Black Walnut featuring George Dickel Rye
Anna Katherine Metzger of Bardog, Aldo's, and Slider Inn will be performing her Thai'd Down featuring Tito's Vodka
Josh Huckaby of The Green Beetle will be performing his The Beetle featuring Coldcock Herbal Whiskey
Benjamin Carter, Blogs @ wine-by-benito.blogspot.com since 2005, which is read internationally and was recommended in the Wall Street Journal earlier this year. Ben writes about wine and cocktail history, ingredients, and has developed a lot of his own recipes. Well known in local food and drink circles, Ben owns 16 different kinds of bitters, has made his own spiced rum, and reviews liquor samples from around the world. Ben has serious opinions on vermouth quality.
Trey Paul, Anchor/Reporter, Fox13's Good Morning Memphis. Trey Paul's the guy who's on Good Morning Memphis starting at 4:30 in the morning. "If I want to have a glass of red wine first thing in the morning," says Paul, "I can. I don't, but I can. Don't judge."
Chef Phillip Ashley Rix, Designer Chocolatier, Phillip Ashley Chocolates. Chef Rix is an award-winning chocolatier, named one of America's Best Confectioners and Chocolatiers in 2013 by TasteTV for his dynamic ingredient combinations and unique designer chocolates. A native Memphian, he began his journey in 2007, self-training in the difficult art of chocolate. Inspired by the history, chemistry, artistry, and possibility of fine chocolate making, Chef Rix works countless hours developing the new and exciting flavors distinctive of his brand. He incorporates fascinating ingredients with the finest Swiss chocolate to create a rare, sensory-provoking experience with every piece.
Michael Hughes, GM/Wine Club Director & Cocktail Adviser, Joe's Wines & Liquors. As a featured mixologist at Cochon Heritage BBQ's inaugural weekend, Hughes crafted cocktails for many events during the series. Hughes has also won two Iron Shaker competitions, including one sponsored by Patron Tequila, and was a runner up in one sponsored by Corsair Artisan Spirits. He has taught cocktail classes at Sweet Grass and has consulted for numerous Memphis area restaurants, including Felicia Suzanne's and Acre. His writing on wine and spirits has appeared in Memphis Flyer and Edible Memphis. He also the co-owner of Big River Bitters Co. a Memphis based cocktail accouterments company.
Amber Colvin, Blogs @ historynpearls.blogspot.com. Amber has an unhealthy obsession with bacon and an appreciation for the Southern United States. Her goal is to spread the gospel of sweet tea (sometimes with bourbon in it), intellectual conversation, class in all its various forms, and the wearing of pearls at all social events. She doesn't make cocktails very often, but she's never been known to turn one down. Her hysterical blog highlights her many adventures in Memphis.
Joelle Pittman, Reviews @ joellepittman.yelp.com. As the Yelp Community Manager of Bluff City, Joelle's job is connecting people to great local businesses, which makes it a personal responsibility to know the hottest spots in town. When it comes to cocktails, the line between business and pleasure blurs, as she happens to gasp enjoy the duty of discovering the greatest of the great. Starting in college when her sorority nickname was "The Goose" (for her penchant for making cocktails with the magical liquor, Grey Goose – starting at 21, of course), Joelle has been a cocktail connoisseur ever since.
Big Sue, Assistant Program Director, WHRK K97 Memphis. Blogs @ k97fm.com/pages/bigsue.com. Big Sue is the hardest working woman in radio: behind the board or in the boardroom... mixing from the studio to the kitchen. She is a graduate of the University of Memphis and is currently the Assistant Program Director for WHRK K97 in Memphis. In addition to producing Mike Evans and the Early Morning Team, she also hosts middays here as well as Hattiesburg, MS and can be heard in over 25 cities nationwide every weekend. You can spot Big Sue at the hippest events around Memphis, and maybe over at Dyer's getting her Double with Cheese on!
One Big 'ol Rocktailing Cocktailing Night in Memphis!
Come out and sample a tasting menu of the best cocktails in Memphis and vote for your faves. Get your tickets for Memphis Cocktail Wars now!
Best Cocktail, Most Creative, Best Tasting, Best Presentation, Hottest Bartender
Fabulous local rap and R&B group the Memphis Queens will perform their new single "Unity."
George Dickel Tennessee Whisky
Coldcock American Herbal Whiskey
Competitors and their cocktails will be revealed to the public every week in preparation for the competition.
A portion of the proceeds will benefit The House of Mews, a non-profit cat sanctuary located in Cooper-Young, Memphis TN. Started in 1994, HOM is a community service organization that has helped nearly 9,000 cats and kittens find forever homes.
Cocktail Wars is a North American spirits championship where hundreds of mixologists go for the gold.  
Only a few will make it to the finals, and you will be the one to judge who will win the championship. Cocktail Wars is held this December in a city near you.  
---
Frequently Asked Questions
Contact: My name is Kim, your Dishcrawl Community Manager for Memphis! You can e-mail me at kimf@dishcrawl.com.
Cancellation Policy: No refunds. All Dishcrawl events are rain or shine.
Are tickets available day of?: Yes, but admission will be $15 at check in, and $10 online. 
Are kids welcome?: No; Cocktail Wars is a 21+ event.
When & Where

Alfred's on Beale
197 Beale St
Memphis, TN 38103


Thursday, December 12, 2013 from 7:00 PM to 10:00 PM (CST)
Add to my calendar
Organizer
Dishcrawl is a company dedicated to re-imagining the way people think about food, drink, and their community.  Make life delicious.