Description
I like to have a martini,
Two at the very most.
After three I'm under the table,
after four I'm under my host.
The Martini has a long and illustrious history dating back nearly 250 years. From its original incarnation by a German composer, through a storied cultural evolution encompassing the lore of a Bay Area town, James Bond, Julia Child, and the ever-popular Dirty Martini, this legendary cocktail is far more complicated than "shaken, not stirred."
In this class we will explore the evolution of this sublime bracer, investigate vermouth styles and how they impact your drink, and look at when and why vodka came to play in this gin playground.
The Interval's cocktail classes teach the history, art and science of classic drinks in a hands-on class led by one of San Francisco's finest bartenders:
Jennifer Colliau
, Beverage Director of The Interval at Long Now. You'll make several variations of the Martini using the tools, ingredients, and glassware that Interval bartenders do. And we'll give you the recipes, so you can make them again at home. The Interval will be closed to normal business during the class.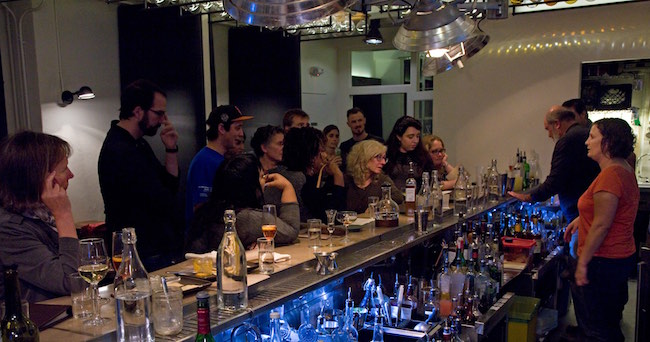 Jennifer Colliau
is The Interval's Beverage Director and a world renowned bartender, cocktail historian, and the author of The Interval's celebrated menu. A recognized authority on classic cocktails and contemporary mixology, Jennifer has been written about or written for publications such as
The New York Times
,
Food & Wine
,
Wired
, 7×7,
The Washington Post
, and
Imbibe
Magazine. The San Francisco Chronicle
named Jennifer a 02015 "Bar Star"
. Her company
Small Hand Foods
specializes in making artisanal syrups and other authentic ingredients for cocktails old and new.