About this Event
Dec 27th Fri 8pm
Dec 28th Sat 3pm + 7pm
Dec 29th Sun 1pm + 5pm
COBU - Japanese TAIKO drum performance group founded in NY in 2000. To celebrate the company's 20th anniversary performance, "Manyo Forest" ~ Heartbeats of Japanses ancient anthorogy ~. ( Japan2019 program)
Directed by Yako Miyamoto
In "Manyo Forest", each song has a Waka title, and the heart world of each songs is expressed by Japanese traditional Taiko, Shamisen, Shinobue, Dance, Song, etc.
Also, collaborated with great artists, Koto/ Masayo Ishigure, Japanese Sword fighting / Kyo Kasumi, Japanese dance / Momo Suzuki, Videography/ Fumi.
This performance of "Manyo Forest" is based on the Waka from the Manyo Collection, creating a forest that is the source of life by gathering a single leaf of Waka, a leaf of words, a leaf of sound, and a leaf of motion and stillness. I hope to nurture a new life of art that couldn't be done alone and look at the way to the future.
We hope it can be an opportunity to look at the heart and eyes of Japan, which has opened a new door as " REIWA" by touching the world of Manyoshu in a different way.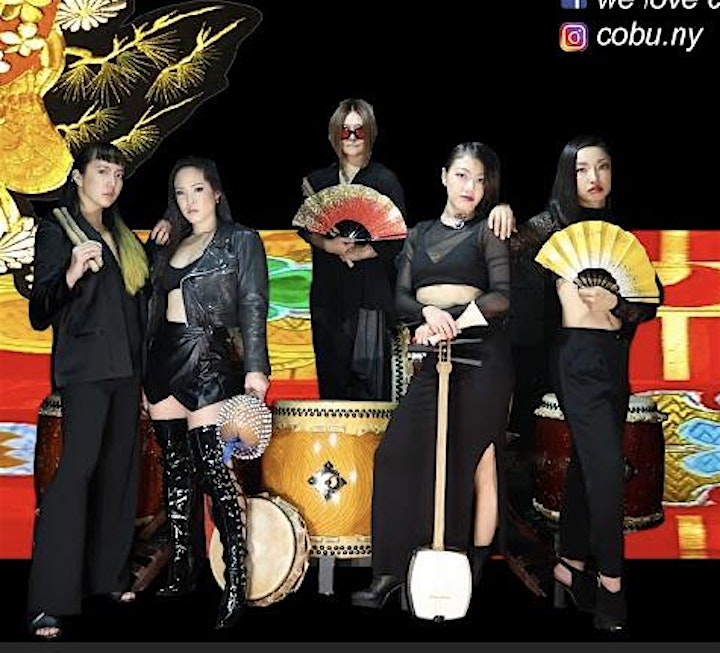 Cobu members
Director: Yako Miyamoto
Major in Science and Technology at Keio University. STOMP main cast for 12years. A Hollywood movie model called "Make Your Move" ( COBU 3D ). Selected for 100 Japanese who will change the world. President of COBU Inc. promoting a project to spread the goodness of Japan to the world.
Ayaha Otsuka
Sayaka Wada
Kana Matsui
Mayu Yamashita
AJ Fudeya
Micro Fukuyama
Support members:
Yuko Ikeshita
Nozomi Gunji
Mayumi Kawafuji
Yuka Nomura

Special Guest Artists
Masayo Ishigure
Masayo Ishigure began playing the koto and jiuta shamisen at the age of five Japan. Ms.Ishigure received a degree in Japanese Traditional Music from Takasaki Junior Arts College with a concentration on koto and shamisen.
Ms. Ishigure moved to New York City in 1992 and has performed at Lincoln Center, Carnegie Hall, Merkin Hall, Metropolitan Museum, and other venues in the New York City metropolitan area.  She was a guest artist with the San Diego New Heaven, Seattle Symphony and Hartford Symphony Orchestra.
Masayo Ishigure has appeared in concerts for Thailand, Brazil, Holland, France, Germany, Mexico, Russia, Jamaica, Hawaii south korea and Alaska.  
In 2015, performance at Kennedy Center "MELODY OF JAPAN"「koto- Opera」
In 2005, Masayo Ishigure was a recording artist alongside Yitzhak Perlman, Yo-Yo Ma, and others on the Grammy Award-Winning soundtrack from the movie "Memoirs of a Geisha" by John Williams.  
Awarded received 「2016 Consul General's Commendation」
Nominated as "100 Japanese respected by the world" by News Week Magazine in 2007.
In 2016, nominate as "Top 5 female cultural Japanese in New York" by Prime Minister Abe.
Masayo Ishigure has taught Columbia University since 2010 and offers private lessons in New York City and Washington DC.
*************
Kyo Kasumi
Kyo Kasumi is a TATE Master and Instructor, Japanese sword fighting instructor, action director, producer, and fighting choreographer of films and stage combat. She launched Tate Hatoryu New York (Film action training center / Film production, actors/dancers/children instruction) in New York in 2014. The first short film she produced, "First Samurai in New York," won an award at the Los Angeles Artemis Women in Action Film Festival in the action category "Best Fight Weapons". The film received 4 awards and was nominated at 12 film festivals, which is a gateway to the Academy Awards. As the first Japanese woman to be a TATE instructor in America, she continues her advancement as an action choreographer. She also performed TATE at various places like the NY Police Central Headquarters, Metropolitan Museum of Art, United Nations and Japanese Consul General and Ambassador's residence for the events. She is able to spread TATE and Japanese sword fighting to a multitude of people.
She was featured in numerous films and stages as an action stunt, has taught TATE and demonstrated in Japan for 15 years. Not only does Kyo teach a variety of subjects, such as TATE, combat action, stick fighting, fan, tonfa, and nunchucks, but she also teaches, choreographs, and directs a wide range of students from professional actors to beginners to children. She has been involved as an action and Japanese Sword Fighting coordinator for numerous productions in action films and theater performances in NY.
Opponent : Sayuri Tanabe
*************
Momo Suzuki
Momo Suzuki founded the Japanese Folk Dance Institute of NY in 1992 to promote and preserve the traditional folk dances of Japan and to expose American audiences to Japanese culture. Ms. Suzuki and her company have performed at venues and events such as the Macy's Thanksgiving Day Parade, Asian Night at Shea Stadium, Disney's Epcot Center, and the Metropolitan Museum of Art. While acting as choreographer for the institute's primary dance troupe, Minbuza, she also uses her extensive knowledge and experience in the traditional performing arts to serve as choreographer and technical/cultural advisor to numerous American and Japanese productions, recently advising for the Portland Opera's 2019 staging of Puccini's Madame Butterfly. Her choreography work can be seen in diverse arenas such as C. Eule Dance's "The Crane Wife", Madonna's music video, "Nothing Really Matters", as well as at the 2012 and 2016 Winter Olympics Ice Dance programs for Japan National Team's Cathy and Chris Reed.
THE JAPANESE FOLK DANCE INSTITUTE OF NEW YORK
Momo Suzuki, Founder and Artistic Director
The Japanese Folk Dance Institute of NY Inc. was formed by Momo Suzuki in 1992. The purpose of the organization is to research, promote, and keep alive interest in traditional Japanese folk dances. Its primary function is the performing, teaching, and preserving of those authentic dances performed by the working people of Japan. Through dance, JFDINY introduces audiences to the culture/history of Japan, and the spirit of the Japanese people! The company maintains an extensive collection of music, costumes, and props, which enables them to perform traditional dances from all over Japan. Various customs are highlighted in the course of each performance, giving those unfamiliar with Japanese culture a fun and comprehensive view of Japan and its people.
The company is comprised of two branches - Minbuza, its professional performing group and Hanagasa-kai, its amateur Flower Hat Dance group. Momo Suzuki is not only the artistic director of the institute, but also the primary instructor in Minbuza and Hanagasa-kai.
JFDINY has had the pleasure of performing at various schools, cultural institutions, theaters, and other venues throughout NYC and beyond. Some of the company's proudest achievements include performing at the Epcot Pavilion at Disney World, the Macy's Thanksgiving Day Parade, annually at the Brooklyn Botanic Garden's Cherry Blossom Festival, as well as appearances on NBC's The Today Show and Madonna's music video "Nothing Really Matters". They have also performed internationally in Switzerland and Russia. Minbuza's most recent self-produced event was in 2018 at NYC's Abrons Arts Center for The Festival of Japan: Drums + Dance, a collaborative performance for the 25th Anniversary of the company. JFDINY is also the creator of "NY Ondo", an original Bon Odori song and dance celebrating NYC composed by Kevin Suzuki, with lyrics by Shichiro Kato and choreography by Momo Suzuki. "NY Ondo" premiered in 2010 at Japan Day@Central Park.
Lastly, the JFDINY is extremely proud of its educational work with various private and public schools, universities and institutions. Through workshops and educational programs, JFDINY exposes diverse audiences in the U.S. to Japanese dance and culture.
MINBUZA DANCERS
Sarah Bolander
Yoko Kato
Rieko Takamiya
Masae Taniguchi
Ryo Shiba
Kevin Suzuki
Maria Yabunaka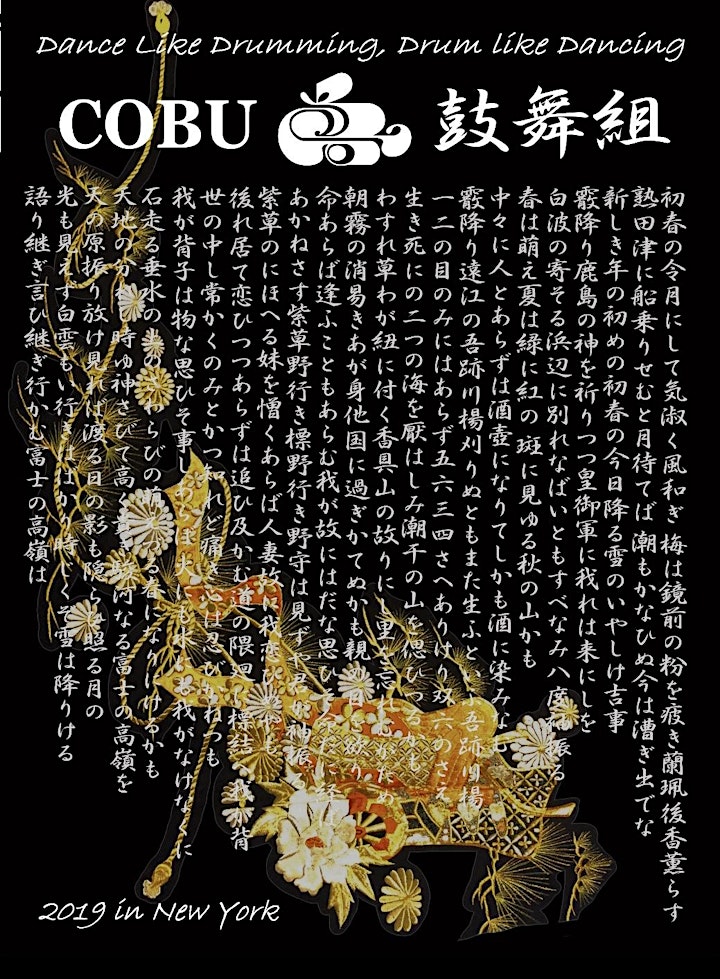 Live Video Artist
Fumie Ito Matters
Fumie Ito Matters has been dancing since the age of 15. Graduating from dance college in Tokyo and relocating to NYC, she became interested in the interplay of movement and video, studying editing, animation, and performance. Fumi uses a mix of analog and digital techniques to translate the expression of physical movement into live projection performances.
*************
Light Designer
Andrew Trent
Andrew Trent is an NYC-based lighting designer. Andrew first discovered theater at age 16, and found a calling in stage lighting at Southern Oregon University, where he earned his Bachelor of Fine Arts in Lighting Design in 2013.
Andrew has worked in the New York downtown theater scene since 2015, and serves as resident lighting designer for Alpha Omega Dance Studio and Main Street Theatre and Dance Association, and as Technical Director for Three-Legged Dog Productions.
Andrew is grateful for the support of his family and the patience of his wife Natalie, without whom his work would not be possible.
*************
Narrator
Takashi Russell Nakagome
Takashi found his love for musical theatre when his mother put on the VHS for "Singin' in the Rain" in hopes of teaching him some culture while living in Beijing. When his family moved to LA, he joined a local theatre group called MET2, where he was in the dance ensemble. In high school, he joined the drama department, where he did Evita, Gypsy, Fiddler on the Roof, Jeckyl and Hyde, Kiss Me Kate, Guys and Dolls, Oklahoma, Robin Hood, and Grease. He Moved to Japan joined the TIP company for shows like Avenue Q, Chess and Big Big River and lastly Rocky Horror show. He is grateful for the opportunity to work with Miyamoto-san and her artists to showcase the beautiful culture of Japan. Thank you and enjoy the show.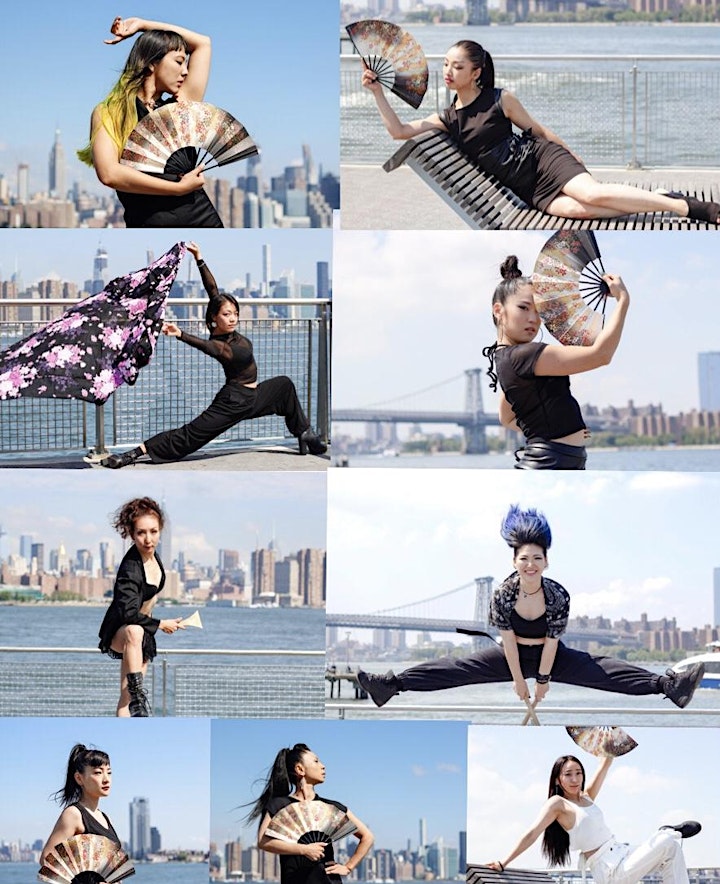 Pictures:
Ayaha. Sayaka
Mayu. Kana
Micro. AJ
( Support )
Mayumi. Yuko. Yuka