Description
2 day COBIT 5 IMPLEMENTATION Course and Exam
PRE-REQUISITE: COBIT 5 Foundation Certificate
The COBIT 5 Implementation (practitioner-level) course provides a practical appreciation of how to apply the COBIT 5 Implementation Guide to specific business problems, pain points, trigger events and risk scenarios within the organization. Attendees will gain an appreciation of how to effectively use the COBIT 5 change enablement lifecycle approach detailed in the COBIT 5 Implementation Guide for different organizational scenarios.
However, the COBIT 5 framework has many different applications and therefore more than one implementation methodology is often followed. Learn about the ISACA approach (Implementation Guide) and contrast this with other popular methods used to implement COBIT 5.
At the end of the course you will understand and be able to apply the ISACA approach, and be prepared to pass the COBIT 5 Implementation certification exam. Additionally, you will have discovered the versatility of the COBIT framework and better understand how to use this framework in your organisation.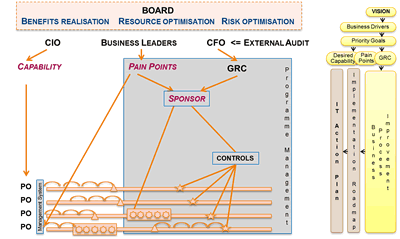 This instructor-led course is presented by instructors with more than 20 years of practical experience, using COBIT at large and small organisations. While the primary focus is on the academic learning necessary to pass the COBIT 5 Implementation certification exam, these instructors will share their experience and be able to address specific questions that you may have about the implementation of COBIT 5 in your organisation.
Course content:
Analysing the enterprise drivers, prioritising business requirements and identifying opportunities for improvements in IT to add value to the business in alignment with strategic objectives

Recognising the implementation challenges, root causes and success factors to enable change

Avoiding potential implementation pitfalls by leveraging good practice and avoiding poor strategies.

Selecting the most appropriate approach to implementing GRC, addressing information technology related pain points and building IT capability

Resourcing strategies for the implementation team

Scoping and planning improvements

The phases of Programme Management lifecycle

The phases of Change Enablement lifecycle

The phases of Continuous Improvement lifecycle.