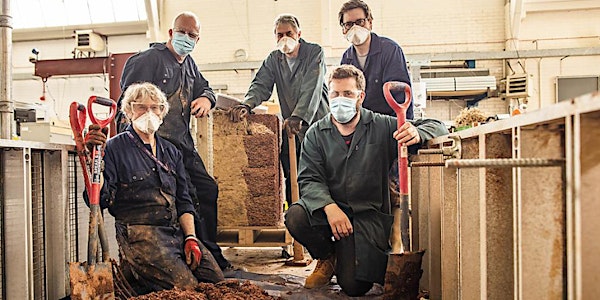 CobBauge Construction Training Event/Événement de formation en construction
An online training event in CobBauge for designers and builders. Un événement en ligne à CobBauge pour les concepteurs et les constructeurs.
About this event
Welcome to CobBauge's first online training event!
Bienvenue au premier événement de formation en ligne de CobBauge !
Free to attend, aimed at designers and builders. This is a bilingual event, when you book you will have the option to attend the French or English-speaking event.
Gratuit, destiné aux concepteurs et aux constructeurs. Il s'agit d'un événement bilingue, lorsque vous réserverez, vous aurez la possibilité de choisir d'assister à l'événement en français ou en anglais.
Join us on a day of online training where we will demonstrate the materials and processes, visit the sites of pilot buildings currently in construction, and introduce you to the online design details, specifications, construction guides and tutorial films. Meet the Scientists, Engineers, Architects and Builders who have led the project and designed the pilot buildings.
Rejoignez-nous pour une journée de formation en ligne où nous présenterons les matériaux et les procédés de mise en oeuvre, visiterons les projets actuellement en construction et vous présenterons les détails de conception en ligne, les spécifications, les guides de construction et les films didactiques. Vous rencontrerez les Scientifiques, Ingénieurs, Architectes et Constructeurs qui ont mené le projet et conçu les bâtiments pilotes.
CobBauge is an innovative construction technology, combining two different densities of clay earth and natural fibres to produce a monolithic loadbearing wall material that also meets French and UK thermal regulations. It re-engineers traditional natural materials for use in mainstream contemporary low carbon construction. Developed through a 5-year Interreg collaboration between French and UK University and commercial partners, CobBauge won the Regiostars award for connecting green, blue and grey.
CobBauge est une technologie de construction innovante, combinant deux densités demélanges de terre argileuse et de fibres naturelles pour produire un mur porteur monolithique qui réponde également aux réglementations thermiques françaises et britanniques. CobBauger exploite de manière contemporaine les matériaux naturels traditionnels pour construire avec un faible impact carbone. Développé grâce à une collaboration Interreg depuis 5 ans entre des universités françaises et britanniques et des partenaires privés, CobBauge a remporté le prix Regiostars pour avoir connecté le vert, le bleu et le gris.