A tribute spanning the career of Dolly Parton, featuring songs from the '70s, '80s, country, gospel, and more, plus comedy, fun and, love!
About this Event
A celebrity impersonator with a 21-plus year career in impersonations under his rhinestone belt, entertainer Jason CoZmo has strutted the stage in the heels of famous divas from Bette Midler to Liza Minelli. But it's his tribute to Dolly Parton that has made CoZmo a celebrity in his own right. Spend a wild and music-filled evening with "Dolly" at O.P. Rockwell Music Hall!
About Jason CoZmo: In September 2016, Jason CoZmo was offered an opportunity to take over a small drag brunch performing once a month in Downtown Salt Lake City. He knew exactly what this conservative state needed: glitter, rhinestones, and a little love. Despite claims that a regular celebrity and female impersonation show would never work in Utah, Jason knew that if anyone could do it, he was the man—and six women—for the job! With icons from Dolly Parton and Liza Minnelli to Julie Andrews and Bette Midler, Jason's transformative abilities could dazzle and convert everyone, from the wildest heathens to Mormon grandmas!
There is a limited number of seats available for this event. Concessions, beverages, and merchandise are available for purchase prior to showtime. Doors open at 6:30 p.m., and the fun begins at 8 p.m.! This is a 21-and-over show.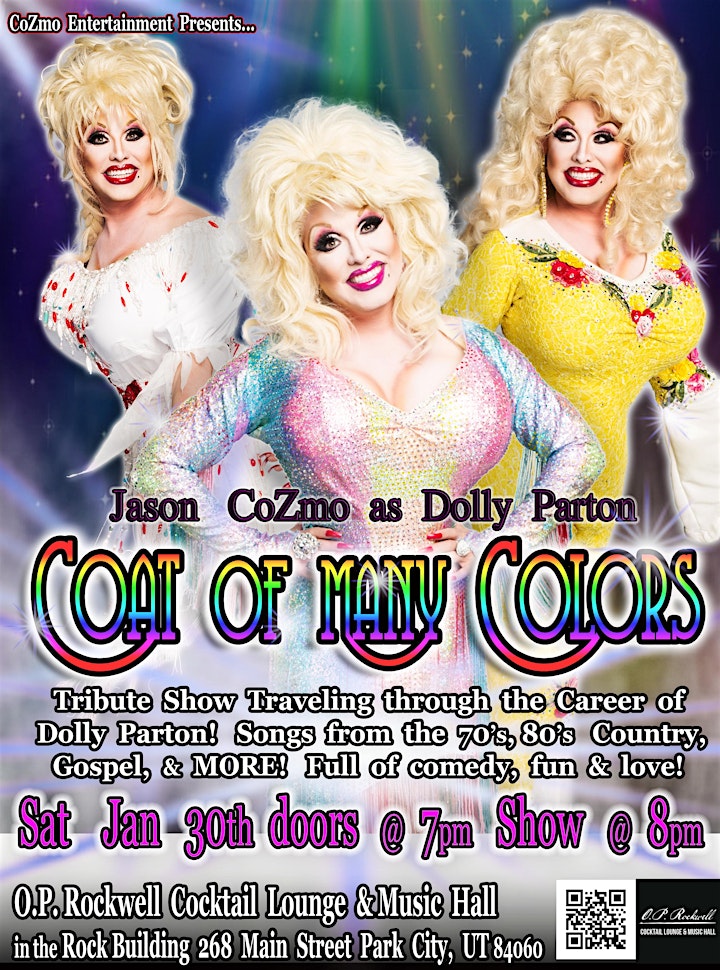 Precautions we are taking to ensure everyone's safety:
This is a COVID-conscious performance. Your party will be seated a minimum of six feet away from other groups in the O.P. Rockwell Music Hall, downstairs at The Rock Building, 268 Main Street, which features a brand-new air-purification system. Seats and tables are sanitized, and hand sanitizer is available throughout the room. Guests are required to wear their masks at all times unless actively eating or drinking while seated at their tables, and when approached by staff. We follow all Summit County COVID-19 guidelines.
Frequently Asked Questions:
What is seating like? It depends on the seating you have purchased. We have bar-height chairs in twosomes along the drink rail, tables for up to four throughout the room on the dancefloor and in the living room (GA), and up on the Mezzaninze (VIP) as well as multiple private VIP areas for up to 10 people. (If you have a specific seating requirement, please email xania@oprockwell.com at least 24 hours prior to the performance, and be aware that reservations may be given up if no one from your party is present 30 minutes before showtime.
How does beverage service work? Doors open at 6:30 p.m. and the show starts at 8 p.m. During that time, you may approach the bars for drinks and start a tab, lined up in a socially-distanced fashion. Once the show begins, you may text your order to the bar for delivery. Food and drinks are not included in the ticket price.
Is food available? Yes! You can pre-order delicious charcuterie platters with meats, cheeses, and delightful accompaniments when you purchase your tickets, up to 24 hours prior to the show. After that, you'll find other snacks available upstairs in Park City Desserts & Coffee before and during the show.
Where is the show located? Coat of Many Colors performs at O.P. Rockwell Cocktail Lounge & Music hall, downstairs in The Rock Building at 268 Main Street in Park City, UT.
Are children or minors allowed? O.P. Rockwell Cocktail Lounge & Music Hall is a Bar, therefore everyone attending must be 21-and-over. All guests must present valid ID at the door.
How long is the show? Doors open 90 minutes before showtime to allow for arrivals, seating, drinks, and eats. The performance itself is about 90 minutes long. So set aside at least two hours to get the full experience!
Are tickets available at the door? Possibly, but it depends on ticket sales for that show. Your best bet is to reserve tickets in advance to guarantee your seats.