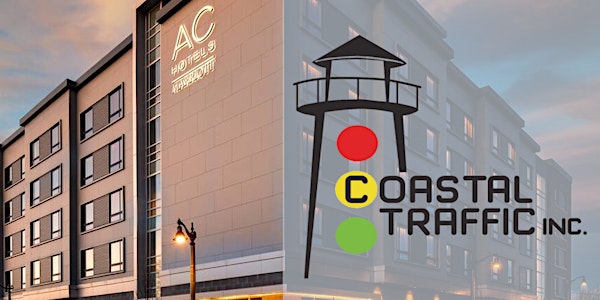 Coastal Traffic Technology Seminar 2022, November 9th-11th
Coastal Traffic Technology Seminar 2022. November 9th-November 11th
When and where
Location
AC Hotels Portsmouth Downtown/Waterfront by Marriott 299 Vaughan Street Portsmouth, NH 03801
About this event
Coastal Traffic Technology Seminar 2022
We hope you join us all three days, however Thursday the 10th we will be giving away (4) Tickets to The Patriots v Miami January 1st Home Game.
Please join us and other Industry Leaders from Regional Engineering Firms such as Sebago Tech, (VHB) Vanasse Hangen Brustlin Inc, The Engineering Corp (TEC), GPI, BETA Group Inc, Bayside Engineering, MaineDOT, MassDOT, NHDOT, McCain Corp, MIOVISION, Emtrac Systems, Carmanah Technologies, RTB Safe Traffic Inc, JTI, Liveable Cities, VHB, and Representatives from Cities and Towns throughout New England.
This seminar is eligible for multiple CEC (Continuing Education Credits) including IMSA, ITE, and ITS, as well as 6 Hr. of MA Electrician Continuing Education.
Each day we will cover a variety of topics so make plans to attend all days. You won't want to miss anything!
To be held at the AC Hotel Portsmouth Downtown/Waterfront
299 Vaughan Street, Portsmouth, NH 03801
https://www.marriott.com/hotels/travel/psmac-ac-hotel-portsmouth-downtown-waterfront/
Hotel bookings for the event will be available starting in January 2022.
Event Schedule:
Day 1 - Wednesday, November 9th - 8:00 AM to 4:00 PM
8:00-8:30 AM - Breakfast / Welcome Speech with Tim Kinnon
8:30-9:30AM - Don Maas-McCain-NTCIP 1202
9:30-10:15AM- Miovision-Analytics and Metrics
10:15-10:45AM- Break
10:45-11:45AM- Curtis Thompson-Sebago Tech. Creating a Workflow for Signal Operations Facilitated by ATSPM
11:45-12:00PM- Morning Remarks
12:00-1:00PM- Lunch
1:00-2:00PM- DOT Round-Table MassDOT-MaineDOT-NHDOT
2:00-2:30PM- Matt Picanso-VHB.Fundamentals of Networking
2:30-3:00PM- Aaron Lockwood - Carmanah
3:00-3:45PM- McCain Transparity Adaptive Strategies
3:45-4:00PM- Day Closing Remarks
5:00 - 6:00PM - Networking Event
 Day 2 - Thursday, November 10th - 8:00 AM to 4:00 PM
CONTRACTORS-TECHNICIANS-ENGINEERS-MUNICIPALITIES
*YOU DON'T WANT TO MISS THURSDAY'S EVENT SCHEDULE*
8:00-8:30AM-Breakfast / Opening Remarks
8:30-9:30AM- Miovision-Trafficlink Configuration
9:30-10:00AM- Stefan Biebl-RTB
10:00-10:30AM- Traffic Signal Acronyms. What's a BIU???
10:30-11:00AM- Break
11:00-12:00PM- McCain-Omni V3.4 Features and Enhancements
12:00-1:00PM- Lunch
1:00-2:00PM- Miovision Remote Access/Cabinet Monitoring
2:00-3:00PM- The Thought Process for Successful Diagnostics
3:00-3:45PM- McCain-Omni V3.4 Phase Timing
3:45-4:00PM- Day Closing Remarks
 Day 3 - Friday, November 11th - 8:00 AM to 12:00 PM
8:00-8:30AM- Breakfast / Opening Remarks
8:30-9:00AM- Signal-Tech
9:00-9:30AM- Livable Cities
9:30-10:30AM- JTI
10:30-11:30AM- Emtrac
11:45-12:00PM- Conference Closing