Coastal Cleanup of the Melbourne Causeway - POSTPONED!

Saturday, September 16, 2017 from 8:00 AM to 12:00 PM (EDT)
Event Details
Unfortunately, due to Hurricane Irma, International Coastal Cleanup day has been postponed to a later date.  We want everyone to have ample time to care for their homes and families as well as let the water level lower a bit more.  We will be sure to let you know as soon as a new date has been set!  Thank you for your understanding!
International Coastal Cleanup Sat. Sept. 16th (8am – 12pm)
International Coastal Cleanup is an annual global litter removal and citizen science data collection event.
Cleanup will take place along the shores of the 192 Melbourne Causeway and Kiwanis Park at Geiger Point!
The supplies for this event are allocated for each site based on these sign-ups, so please sign up through the system.
Kiwanis Park at Geiger Point Parking Lot.
The Marine Resources Council in collaboration with Keep Brevard Beautiful, the Ocean Conservancy, Old School Pizza, & Lucky's Market would like to invite you to join the International Coastal Cleanup! Every year this event garners hundreds of thousands of volunteers to comb shorelines, lakes, rivers and beaches around the world for trash. Last year 504,583 volunteers collected over 18,399,900 pounds of trash.
No matter where you live—whether on the coast or thousands of miles away—all waterways lead to the ocean. If we take action and work together, we can improve the ocean's health and make trash free seas a reality.
Special Thanks to event sponsors Lucky's Market and Old School Pizza, who will be providing food and beverage service for our participating volunteers.
• Work gloves (bring a pair of gloves with you)
• Dress appropriately (the shoreline is covered with boulders, rocks, potentially dangerous rigid & sharp objects)
• Water cooler with enough water to keep you hydrated, it will be especially warm (bring your own cooler)
• Food (bring your own food)
• Trash bags (or bring reusable containers or buckets)
• Pens or Pencils (for data collection)
• Optional: If you have a fish or a luggage scale (a scale with a hook) at home, you can use it to weigh the trash you collect
Keep These Safety Tips in Mind
Review what to do in case of a health emergency (heat exhaustion or heatstroke, broken bone, etc.)
When visiting the site, look for natural and man-made safety hazards, such as rocky areas, highly variable tides, poisonous plants, high-speed roads, power lines, etc. If necessary, dress accordingly, such as wearing long pants or closed-toed shoes.
Plan ahead for handling sharp items, including syringes or pieces of broken glass. We recommend disposing of these items in a container with a tight screw lid, such as an empty liquid laundry detergent bottle that you have clearly labeled.
Donate Now To Help Save The Indian River Lagoon!
Feeling more ambitious? Recruit friends and family to join you in this cleanup. Explain to them that no matter where you live—whether on the coast or thousands of miles away—all waterways lead to the ocean. If we take action and work together, we can improve the ocean's health and make trash free seas a reality!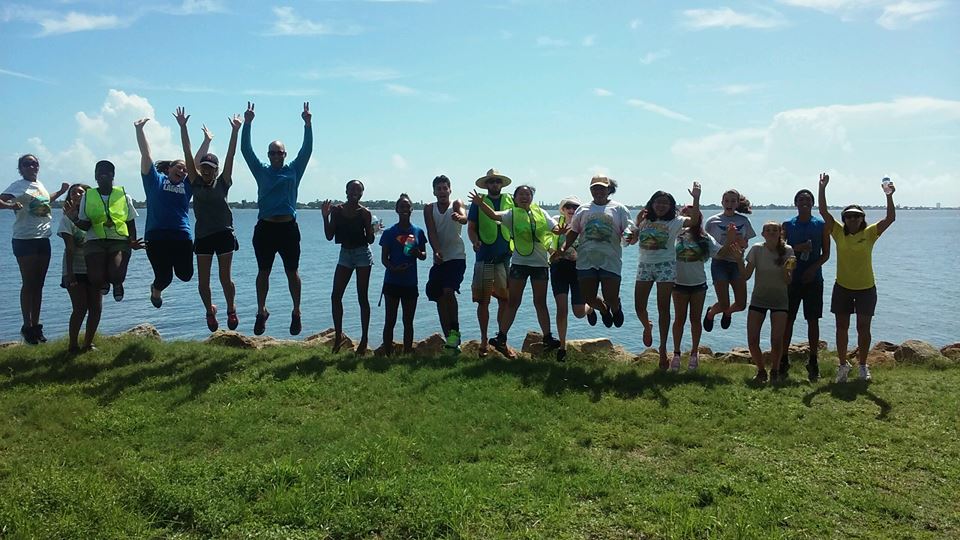 A COPY OF THE OFFICIAL REGISTRATION AND FINANCIAL INFORMATION MAY BE OBTAINED FROM THE DIVISION OF CONSUMER SERVICES BY CALLING TOLL-FREE WITHIN THE STATE. REGISTRATION DOES NOT IMPLY ENDORSEMENT, APPROVAL, OR RECOMMENDATION BY THE STATE."  The toll-free number of the department is 1-800-HELP-FLA (435-7352) – calling from within the state of Florida, or (850) 410-3800 – calling from outside of Florida. The department's website is www.800helpfla.com. [s. 496.412(1)(c), F.S.].
When & Where

Kiwanis Park at Geiger Point
1313 Melbourne Causeway
Melbourne, FL 32901


Saturday, September 16, 2017 from 8:00 AM to 12:00 PM (EDT)
Add to my calendar
Organizer
The Marine Resources Council is a 501(c)(3) charitable organization whose purpose is to maintain and enhance the quality of marine systems for the economic, recreational, aesthetic, and environmental use of the people of Florida. MRC is leading the charge to save the Indian River lagoon with scientific-based advocacy, education, and community engagement.  Your participation with the Marine Resources Council directly supports programs and services for the well-being of the Indian River Lagoon. Your participation makes a big difference. The more community involvement we have, the louder our voice is!
What We Do For You & The Lagoon!
Monitor Water Quality & Health * Restore Habitats * Educate the Community * Influence Legislative Action & Policy * Focus on Conservation * Build lagoon-wide Consensus* Since 1983
Together we can bring the lagoon back to a healthy, productive system!  Thank you for contributing!
All donations are tax-deductible.