Description
Chef David Bazirgan of Dirty Habit in San Francisco returns to Boston to cook with Chef Louis DiBiccari. Taste the best of both coasts at this extra special Chefs Studio dinner.
Menu
First
Duxbury fried oyster sandwich, pickled & grilled Kimball Farm tomatoes, peach salad, lemon verbena vinaigrette
Second
Corn agnolotti, lamb kielbasa, lobster cream, sea beans, sweet cicely
Third
Pork belly presse, shaved & marinated quahogs, chowder brodo, bronze fennel, maras pepper
Fourth
Dry aged Beef, Armenian string beans, Steak fries, Surf Clam butter, Za'atar Challah bread
Dessert
Peach Cream Pie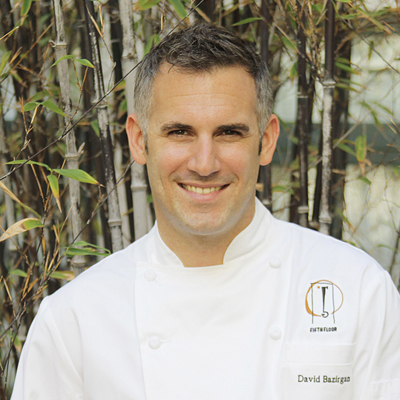 About Chef David Bazirgan
David Bazirgan is known for his work on western shores, helming Fifth Floor, now Dirty Habit, in San Francisco. But Bazirgan's story begins on the East Coast. With classically humble beginnings, washing dishes in his hometown of Newburyport, Massachusetts, Bazirgan went on to study French technique at the Cambridge School of Culinary Arts in Boston.
After graduating, Bazirgan worked through a number of renowned Boston area restaurants, including Stan Frankenthaler's Salamander and Todd English's Olives. But his most important Boston connection was Chef Barbara Lynch, his would-be mentor. Taking note of Bazirgan's drive, Lynch connected him with his first job out of culinary school at Boston's prestigious Galleria Italiana. Before moving to San Francisco in 2003, Bazirgan was chef de cuisine at Lynch's No. 9 Park, where he helped craft the first of their acclaimed seven- and nine-course tasting menus.
After his tenure under Lynch, Bazirgan was ready for the City by the Bay. Before Fifth Floor, which earned three and a half stars from The San Francisco Chronicle, Bazirgan was executive chef at Chez Papa Resto at Mint Plaza, and at Jocelyn Bulow's Baraka in Potrero Hill (where he earned a 2005 StarChefs San Francisco Rising Star Award), and also at Elisabeth Daniel in Jackson Square. Now, with the progressive, bar-anchored, small-plates Dirty Habit, Bazirgan finds himself unleashed from the constrictions of tasting menus and able to let his creativity run free, in a slightly more relaxed—but food-serious—context.