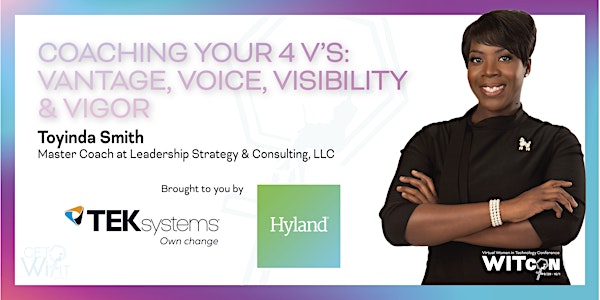 Coaching Your 4V's: Vantage, Voice, Visibility & Vigor
Virtual WITcon Event Series
About this event
Coaching Your 4V's: Vantage, Voice, Visibility & Vigor
Featuring: Toyinda L. Smith
Event Sponsor: TEKsystems and Hyland
Event Link: https://us02web.zoom.us/j/81071101011
SUMMARY:
Building confidence is both an art and a science. Every day in secrecy, women struggle with mastering the ability to win with certainty. Women often remain inaudible, dormancy becomes normalcy and the development of inaccurate personal views arise. Packed with insight, Toyinda will use her book, 'The Handbook to Dominate Your Confidence' to challenge and equip you to self-coach your 4V's leading to a transformation in leadership and team collaboration which positions you for greater influence, opportunity and access.
BIO:
Toyinda L. Smith is a bestselling author, master coach, consultant and global speaker. Toyinda has been been a certified speaker, coach, and trainer with the John C. Maxwell Team since 2014. She is the principal of 'The Coaching Seat' and owner of Leadership Strategy & Consulting, LLC.
With 20+ years of leadership experience in education and business, Toyinda is known for her ability to equip individuals, teams and organizations with tools to strategically leverage leadership, personality strengths and team relationships to drive objectives and success.