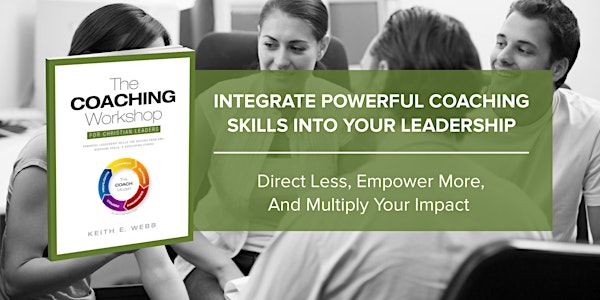 Coaching Workshop for Christian Leaders -Thurs. Sept. 24-Oct. 29, 6-9 PM ET
Coaching skills will increase your effectiveness in your various ministry and leadership roles. People who take this workshop see significan
Refund Policy
Refunds up to 7 days before event
Eventbrite's fee is nonrefundable.
About this event
Integrate Powerful Coaching Skills into Your Leadership
Coaching skills will increase your effectiveness in your various ministry and leadership roles. People who take this workshop see significant advancements in their ministry impact, while seeing their stress and busy-ness go down.
Coaching is not a new program for your church or another thing to add to your already busy schedule. It is an approach to doing ministry. It's a more effective way of leading.
The course is very practical and interactive, with lots of skills practice built in. It's not a lecture.
Not just the basics…
Based on the book, The COACH Model for Christian Leaders, this workshop is made for those who are experienced as well as those who are not-so-experienced in coaching skills.
Over the course of 6 Zoom sessions, you will become familiar with the COACH Model® and use it to coach other participants. By the end of the course you will have the skills and the confidence to use coaching in your work and home contexts.Topic and skills covered in this practical and interactive workshop:
How to listen actively so others feel you understand them.
How to ask powerful questions that initiate a change of thinking.
How to generate feedback that avoids defensiveness.
How to design action steps that will actually be accomplished.
How to follow-up to increase learning and accountability.
Join the Coaching Workshop for Christian Leaders and get practical leadership skills training!
What are class dates and times?
Dates:  Thursdays- September 24, October 1, 8, 15, 22, 29   (6 Sessions)
Time: 6:00- 9:00 PM (Eastern)
Who should attend:  If you work with people, lead a team, church, ministry, organisation, or group, and would like to get significantly better results from those you work with, this workshop is for you. This workshop is especially relevant for managers, executives, pastors, church leaders, ministry leaders, cell group leaders, and business leaders.
What Others Are Saying...
"Patti's 18 hour on-line coaching course was one of the best learning experiences I've had - far exceeding what I thought possible via internet learning.  I particularly appreciated the simplicity and clarity of Keith Webb's material as well as Patti's skilled presentation of them.  The interactive practice of coaching skills, woven throughout our sessions, absolutely made the coaching process come to life!  As a result of this training, I now feel equipped to employ basic coaching skills in my everyday relational settings - with family, friends and co-workers."               
Chip Zimmer, Billings, MT
"Learning how to coach someone to reach their goals can seem daunting, yet the tools I received in "The Coaching Workshop" were definitely helpful. Asking initial questions comes easily to me- it's the next round of questions I needed, to find out what is in someone's mind. Sterling led us in several kinds of questions to ask. I highly recommend this workshop! You will learn & enjoy your time with Sterling."Becky J. 
"I am so grateful to Patti and Sterling for offering THE COACHING WORKSHOP. This is powerful stuff!! Patti's friendly approach and Sterling's confidence put me right at ease as they boldly challenged us in these sessions. They reflected this model perfectly as they led our team through this amazing training to mentor others through personal growth. I definitely do not see coaching the same after taking this workshop! What a paradigm shift!"  
Cassie S – Standing Stone Ministry                                                                                                                                   
"What a gift this coaching course has been for me! I can already see the impact it is having on the time I spend with the trafficking survivors I work with and believe God brought this my way not only to help these young ladies but also as I begin working with ministry families as well. As a global learner, I have appreciated the way the material is presented and the tools that are included but even more than that, the way you ran the workshop with the hands on sessions working with partners really imprinted the process in a way that made it come alive, besides allowing me to get acquainted with some really lovely folks!" 
Workshop Participant 2020                                                                                                
"Patti was not simply competent but understood the group dynamics tailored to individuals through the process. Sterling showed her heart to love and serve while demonstrating coaching well to the class. They allowed our experiencing the content to trump the agenda." 
Alex L.
In Partnership With...
Upgrade Your Experience...
This workshop is a professional-level training. Participants can upgrade their training experience to the Coaching Workshop Certificate Program and continue training to earn a professional coach credential. The Coaching Workshop can be Upgraded for US $450 after taking the workshop. Upgrades include 21 International Coach Federation training credits and other bonus materials. To learn more click here.
FAQs
What will I need to connect to the online class?
A computer or iPad.  Classes will will take place using  Zoom.  You will need enough bandwith to have video feature turned on. If joining as a couple, please note that each person will need their own device to connect.
Do I need to be there all 6 sessions?
Yes, because each day builds on the next, you need to attend all 6 sessions.
What's the refund policy?
You may transfer your registration to another person for the same event. You may choose a refund, minus $20 if you cancel more than 7 days before the event. No refund will be given for cancellations received less than 7 days before the event. To  transfer your registration to another person, please email us.
Is my registration fee or ticket transferrable?
To request a credit, refund, or to transfer your registration to another person, please email us.