Coaching Skills for Leaders and Managers with Carol Goldsmith

Tuesday, November 14, 2017 at 9:00 AM

-

Wednesday, November 15, 2017 at 4:00 PM (EST)
Event Details
Coaching Skills for Leaders and Managers with Carol Goldsmith 
Why this Course?
Today's leaders need a new set of skills to bring out the best in their people: coaching skills. Discover why organizations pay executive coaches more than $15K per engagement to develop top talent, and how you can turn any conversation with staff or peers into an opportunity to coach.
More organizations than ever now expect their leaders to coach their people effectively. In a 2015 ICF/HCI survey, 84% of respondents said that coaching is part of a manager/leader's  job – up 2% from the previous year.  
Human capital leaders recognize that frontline and mid-level managers need to develop the foundational skills that will help them lead in the future. DDI ranked "coaching and developing others" as the number one way to do that in its 2014/15 Global Leadership Forecast.  
The 2014 ICF/HCI report on Building a Coaching Culture also predicted healthy growth rates for organizational coaching. Of the 500 survey respondents: 81% will expand the scope of managers/leaders using coaching skills. 
Google, Microsoft, Cisco, Oracle, and Hewlett-Packard are among the name-brand tech firms that leverage the power of coaching in their leadership development programs.  
The case is clear that creating a coaching culture in the organization and equipping leaders with these skills will make a difference in the way we make desicions, grow and improve the bottom line. 
About the Course Coaching Skills for Leaders & Managers 
This practical, experiential course is designed to offer you those foundational skills for leaders at all levels: senior executives, managers, HR/OD practitioners, talent acquisition professionals, leadership facilitators and trainers. Learn essential coaching tools and techniques that you can use right away from a leading professional coach who has been working with executives and teams for more than 15 years.
The course introduces participants to key coaching principles and practices embodied in the 4A's Coaching Model™:
Ask, don't tell

Assess, don't assume

Agree, don't order

Act, don't avoid
What You Will Learn
Over the course of 2 days you will experience what it's like to coach and be coached through partner exercises, demonstrations and group discussions. Learn how to quickly establish rapport, ask powerful questions, listen between the lines and hold people accountable for achieving goals that they feel motivated to achieve.
Module 1:  Rapid Rapport
Without trust, there can be no coaching.  We begin by learning how to create rapport through the artful matching and mirroring of:
Body language

Non-verbal language (pace, pitch, tone, sighs, etc.)

Sensory language (seeing, hearing, feeling words)
Module 2:  Powerful Questions
The quality of the questions we ask determines the quality of our results. Great coaching questions are designed to clarify thinking, open possibilities, prompt action, and stimulate learning. We'll learn the art of crafting powerful questions, and discover the advantages of asking:
How (vs. why) questions

Open (vs. closed) questions

Curious (vs. leading) questions

Learning (vs. judging) questions
Module 3:  Intentional Listening                                                                                                                          
How good a listener are you, really? We'll put our ears to the test in a fun and enlightening group coaching exercise that will shift your brain from thinking to listening mode.
Module 4:  Goal-setting                                                                                                                                  
Success comes from achieving a goal. And achieving that goal begins with putting it in clear, compelling written form. To do that, we introduce The Intelligent Outcome.™ Partners will coach each other using the key coaching questions and criteria that define an Intelligent Outcome™ and distinguish it from a S.M.A.R.T. goal. You will learn:
The difference between a goal and an outcome

The six success criteria of an Intelligent Outcome

The six coaching questions to elicit those criteria

How to use the model in a coaching session or as a coaching assignment
Bring your real-life issues to the class and leave with new skills and tools you can use as a Leader-Coach.
About Carol Goldsmith PCC, NLPT, The Discovery Coach
Professional Certified Coach (PCC)

ICF Mentor Coach & Coach-Trainer

Trainer, Neuro-Linguistic Programming (NLPT)

Action Learning Coach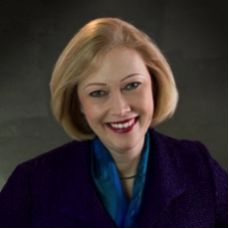 Profile
Carol is a certified professional coach, coach-trainer, mentor, and recognized leader in the coaching field.  Since 2001, she has helped hundreds of clients on four continents unleash their leadership potential through her proven coaching methodology.  Grounded in neuroscience and behavioral psychology, Carol's approach empowers leaders at all levels to quickly identify the strengths and skills they need to succeed in the last place most people think to look: inside their own direct experience.  That is where success leaves clues.  When past performance informs present action, clients quickly achieve what Carol calls a positive Return on Experience (ROX).™
Often called a "coach's coach," Carol has designed numerous models, tools, and trainings to help fellow coaches and leaders bring out the best in others.  In 2014 she joined PricewaterhouseCoopers (PwC) as a director in its new Leadership Coaching Center of Excellence.  Her influential 2016 white paper on Top Trends in Organizational Coaching identified coaching as an essential skillset for high-potential managers and emerging leaders who want to transform their organizations for good.
Carol has served as president of the International Coach Federation Metro DC Charter Chapter, the world's largest ICF city chapter, four-time chair of the Capital Coaches Conference, mentor coach to incoming ICF chapter leaders worldwide, and past chair of the ICF Prism Awards honoring excellence in organizational coaching in the capital area. 

Training & Certifications
Professional Certified Coach (PCC), International Coach Federation (ICF)

Master Certified Coach (MCC) candidate

Trainer, Neuro-Linguistic Programming (NLP)

A

ction Learning Coach, World Institute for Action Learning (WIAL)

Co-Active Coach, The Coaches Training Institute (CTI)

Certified to deliver The Leadership Circle Profile (TLC) 360 assessment

Certified to deliver the Professional Strengths, Values, & Story Survey (SVSS)
Personal
Prior to coaching, Carol worked as a writer/editor for The China Business Review magazine and later as a hotel and tourism industry executive who traveled to China more than 30 times.  She lives and works in Reston, VA, where she takes care of her mother and three spoiled cats. 
When & Where

George Washington University Graduate Education Center, Alexandria
413 John Carlyle Street
#250
Alexandria, VA 22314


Tuesday, November 14, 2017 at 9:00 AM

-

Wednesday, November 15, 2017 at 4:00 PM (EST)
Add to my calendar
Organizer
George Washington University Center for Excellence in Public Leadership

The Center for Excellence in Public Leadership is committed to developing public leaders who make a positive difference in their organizations and the lives of the people they serve.  For us, this means that we, in turn, must seek to make a positive difference in our students' lives and their professional capabilities so that their impact and influence are deepened and expanded.  Our experience has taught us that, for our leadership development programs to have the impact we desire they must integrate challenge and support, real-world action projects and opportunities for reflection, individual stretch assignments and peer learning support, and safe spaces for experimentation with new thinking approaches and leadership behaviors. 
https://cepl.cps.gwu.edu/about
Coaching Skills for Leaders and Managers with Carol Goldsmith