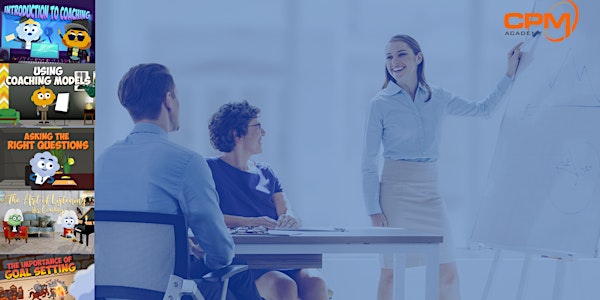 Coaching Essentials - Bundle of 5 Courses
Online Course. Study at your own pace. Bundle of 5 Courses.
About this event
CPM Academy and TalentLMS bring 100% Online Courses for your professional development. Receive a Certificate of Completion from CPM Academy after each course.
This Bundle includes the following 5 Courses:
Introduction to Coaching
Coaching employees differs from other managerial behavior. It involves maximizing staff potential by encouraging them to learn, rather than giving them the answer. This allows employees to trust their instinct and come up with solutions, without relying on others for help.By the end of this course, you'll be able to:
Identify how coaching applies to the workplace
Understand the benefits of coaching in leadership
Apply your new skills to coach your team successfully
Using Coaching Models
Great coaching is more than simply encouraging your team to learn. There are certain models you can follow to optimize your coaching skills and cover every angle of your employee's life, to maximize their chance of reaching goals. This course will explain the 3 coaching models and how to select the right one for each case.
By the end of this course, you'll be able to:
Understand the benefits of using coaching models
Identify different coaching models (GROW, OSKAR, CLEAR)
Select the right model for your needs
Asking the Right Questions
By asking the right questions, your employees will be engaged and will start to reflect on how they can achieve their goals. This will inspire them to think for themselves and improve their skills.
By the end of this course, you'll be able to:
Understand the importance of questions in coaching
Know what makes a good question, and why
Use the 5 questions most coaches recommend
The Art of Listening (for Coaching)
When you hear, you're aware of sounds; when you listen, you hear those sounds and understand them. Actively listening to someone means that you're involved in a conversation. You're actively looking for solutions and trying to comprehend them. This kind of approach will make your conversations and coaching a lot more effective.By the end of this course, you'll be able to:
Understand the benefits of listening
Compare different types of listening
Ask open and closed questions
Improve your listening skills
The Importance of Goal Setting
Setting goals is a great way to get things done more effectively. Whether it's in or outside of work, having clear goals gives you a purpose, and helps concentrate your mind on the steps you need to take in order to reach them.
Whoever you are, and whatever your role, setting relevant and achievable goals will help you become more motivated, focused, and successful. Even lone workers can improve productivity and focus by using goals correctly.
By the end of this course, you'll be able to:
Understand what goals are
Understand the importance of goal setting
Use 'SMART' to help with goal setting
Set goals successfully