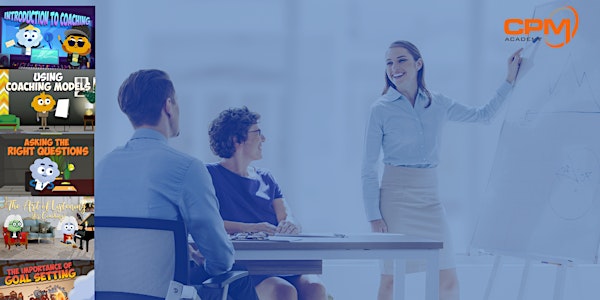 Coaching Essentials 2 - Bundle of 5 Courses
Online Course. Study at your own pace. Bundle of 5 Courses.
About this event
CPM Academy and TalentLMS bring 100% Online Courses for your professional development. Receive a Certificate of Completion from CPM Academy after each course.
This Bundle includes the following 5 Courses:
Establishing a Coaching Culture
Teaching your employees to coach each other stops you having to coach each person individually and take responsibility for everyone. A coaching culture creates teams in which everyone's thinking of solutions instead of relying on one person for ideas. It's a unified win!
By the end of this course, you'll be able to:
Understand what a coaching culture is
Identify the benefits of a strong coaching culture
Filter a coaching mindset through the business
Maintain a coaching culture in the workplace
Building Trust and Rapport
A large part of coaching involves knowing enough about the person's life to develop a joint plan to reach their goal. Those that don't trust their manager won't be able to have an honest conversation about their situation. If you want your team members to be passionate about their work and motivated to learn for themselves, you need to build trust with them and give them a reason to push themselves further.
By the end of this course, you'll be able to:
Understand the importance of trust and rapport in coaching
Use strategies to get to know your staff
Adapt to people's comfort levels
The Power of Silence
Without silence, information can be missed, tensions can rise, and patience can grow thin. Harnessing the power of silence in the workplace can improve communication, focus, and overall performance.
By the end of this course, you'll be able to:
Understand why silence can be powerful
Identify the benefits of using silence
Use silence successfully
Creating Accountability
Creating accountability is one of the best ways to improve performance in the workplace. Taking ownership enhances workplace culture, improves relationships, and motivates staff. By making employees accountable you're actually empowering them.
By the end of this course, you'll be able to:
Understand accountability
Identify the benefits of accountability
Establish accountability in your workplace
Giving Effective Feedback
Effective feedback is essential in the workplace. It keeps employees firing on all cylinders – making sure they're continually learning and developing – and adds value to their business. Without effective feedback, relationships can be damaged, employees can lose focus, and common mistakes can be made over and again.
By the end of this course, you'll be able to:
Understand what effective feedback is
Identify the benefits of effective feedback
Give effective feedback