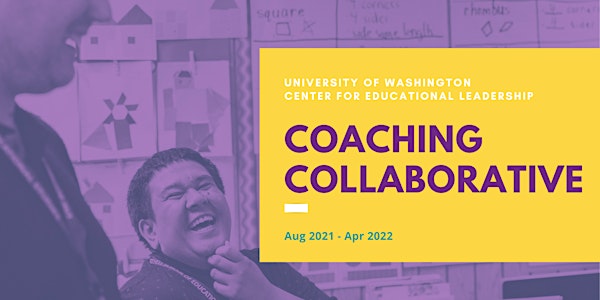 Coaching Collaborative 2021-2022
**LIMITED NEW SEATS RELEASED** Build your vision of impactful coaching that develops teacher efficacy at this sold-out collaborative.
About this event
In the Coaching Collaborative, you'll build the coaching skills required to create change. We'll work side-by-side with teachers, through video and in classrooms, to build an impactful coaching cycle. Your virtual learning will take place in a dynamic community of coaches from districts across the country.
WHO IT'S FOR
Coaches, K-12, who work to support teachers' instructional practice in a school or district.
HOW IT WORKS

Learning materials (including audio, video, articles and documents) will be provided for each session.
Sessions will be on Zoom and facilitated by Renee Gallagher. Recordings of sessions will be made available in case you're unable to participate live.
DATES
August 9: Kick-off
September 16 & 17 : Cycle 1
November 8 & 9: Cycle 2
January 12 & 13 : Cycle 3
February 28 & March 1 : Cycle 4
April 20 & 21: Cycle 5
All sessions meet 8:00 am – 1:30 pm Pacific Time.
COST
Register by May 26 and get an early bird discount!
Early bird: $1,980 / Regular: $2,180
TESTIMONIALS
"As a result of engaging in professional learning for coaches, I am now able to approach coaching in a more refined and systematic way. Working through the steps of coaching has taken a lot of the guess-work out and has provided a linear approach to how I engage in the work with cooperating teachers. Working with other coaches, as well as Renee has allowed me to learn from others and their experiences. Through this work, I feel more equipped to really engage with teachers as they work to improve their practice and increase student engagement and success."
- Elisa, coach
"I am now able to make purposeful decisions about which coaching models to use and why that is a good fit. I am able to meet with teachers to determine a goal for coaching for both student and teacher learning. I am beginning to be able to identify when to jump in during side by side coaching and when to not jump in that will best serve the teachers goals. I have also learned the value of the debrief with teachers to move their learning forward."
- Dana, Math Coach
LISTEN HERE to hear Casey Harkleroad, instructional coach with the Kent School District, as she shares her experience of coaching teachers when schools closed due to the pandemic — and how she applied lessons learned from working with Renee to help teachers get better.
REGISTRATION DEADLINE
We're keeping a wait list for participants who want to join. We'll contact you if we're able to accept more registrations.