About this Event
Level up with an intensive day of learning and feedback with coaching expert, Elena Aguilar.
What to Expect:
This workshop is for anyone who has attended a workshop with us, and is now asking, "What's next?! How can I keep developing my coaching skills?" What you need is practice. But practice alone doesn't make perfect: we know you need to see what effective transformational coaching looks like, you need guided practice, and you need feedback. And perhaps you could use a new skill or two in your tool box. The Coaching Catapult is an exclusive learning experience that provides all of that and more. In this daylong coaching clinic you will experience quick cycles of learning, application and feedback. Attend and watch your skills spring to the next level! In addition, this highly interactive workshop is designed based on the principles of adult learning and participants experience exceptional facilitation. Those who deliver professional development will leave this workshop having learned as much about facilitating PD as they did about coaching. This workshop is limited to 24 participants.
Workshop Outcomes:
Explore how to incorporate the Coaching Lenses in a coaching conversation
Observe exemplary transformational coaching and what makes it effective
Receive targeted constructive feedback on your coaching practice
Develop self-awareness and gain confidence as coaches and leaders
Grow in community with other transformational coaches
Activities Include:
Observing and deconstructing masterful coaching
Learning how to integrate the coaching lenses into a conversation
Practicing coaching conversations via mini-role plays and group role plays (yes, be prepared for lots of role plays!).
The Details:
Duration: One day
Who Should Attend: Coaches, administrators, and teacher leaders who have attended a previous Bright Morning workshop and want to keep building their coaching skills.
Prerequisites: You must have attended one of our coaching workshops: Essentials of the Art of Coaching, The Art of Coaching Teams, Coaching for Emotional Resilience, Coaching for Equity, the annual Art of Coaching Conference, or the Resilience Retreat.
What Participants are Saying:
"I've been trained in other coaching methods but this workshop totally blew me away in the clarity and precision with which it was delivered. Thank you, Elena! You are an incredible teacher and facilitator." - Miho, non-profit leader, Pasadena
"From the first 30 minutes, I felt magic, like I was exactly where I was supposed to be. Elena is a MASTER presenter and facilitator. She brings a human touch to the work and situates it very squarely within the systems of oppression we all live within; masterfully weaving into the training the idea that transformational coaching is social justice." - MJ, consultant, Los Angeles
"My expectations were high to begin with, but I felt the general feeling expressed by Elena Aguilar and the work she did with us embodied the principles I use to shape my practice with teachers: Lead with Love; Low Ego, High Impact; and Move at the Speed of Trust." - Sarah, coach, Chicago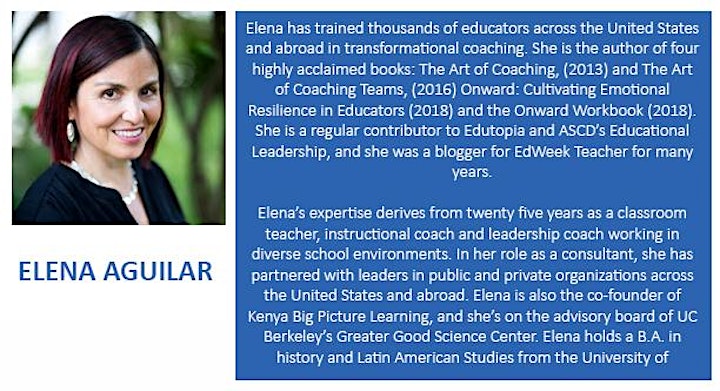 Ticket Types:
Workshop Only:
Workshop + Dinner with Elena:
Individual: $825
Includes workshop + dinner with Elena in small group following the workshop + a small group one follow-up webinar with Elena one month following the workshop
Work Trade: $650
Our work trade program allows those interested in attending but unable to afford the full ticket price the opportunity to attend at a reduced rate in exchange for providing on the ground logistical support over the course of the workshop. There are a very small number of these tickets available at each of our events.
Frequently Asked Questions
Do you have suggestions for lodging? Due to the wide range of personal preferences for lodging accommodations, we do not provide recommendations.
Is food included? Lunch is provided and there will be vegetarian options for those who have indicated a vegetarian diet. We are very sorry but specific food allergies or sensitivities can't be accommodated at this time. Please bring your own lunch if you believe your dietary needs may not be met. There will also be coffee, tea, and morning snacks.
Is there pre-work? There is a small amount of pre-work that will take 1-2 hours to complete. This will be sent to you three weeks prior to the workshop.
What should I bring? A pen, a notebook (optional) and your pre-work.
What is the attire? Dress comfortably and in layers so you can adjust if room temperature changes. We want to respect that some people are sensitive to strong scents or have environmental allergies, so please refrain from wearing products with strong scents.
Am I able to transfer my registration? Yes, you may transfer your workshop registration up to one week prior to the workshop start date. There is a $50 processing fee for all transfers. Within one week of the workshop registrations are non-refundable and non-transferable as we are unable to adjust catering, materials and space requirements at that point.
What happens if I can't attend?
Refunds requested more than 30 days before the workshop start date will be honored minus a $150 cancellation fee.
Within 30 days, and up to 1 week in advance of the workshop start date, a one-time registration transfer can be made to an alternate participant or another workshop. There is a $50 processing fee for all transfers.
Within one week of the workshop registrations are non-refundable and non-transferable as we are unable to adjust catering, materials and space requirements at that point.
A missed workshop is non-refundable and non-transferrable.
I have questions that are not answered here. Who should I reach out to? We're happy to help! Email info@brightmorningteam.com
Please note: Participants at our workshops are strongly encouraged to go low- or no-tech. We encourage participants to write by hand and ask that cell phones are tucked away except during breaks and lunch. We strive to create a focused and safe learning space and ask participants to be fully present.