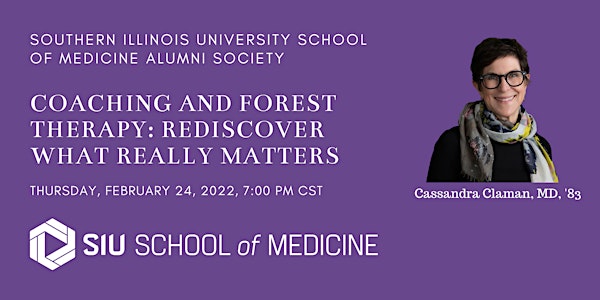 Coaching and Forest Therapy: Rediscover What Really Matters
Coaching and Forest Therapy: Rediscover What Really Matters
About this event
Create a life that reflects what matters most. Through coaching and/or an immersive forest therapy experience, Cassandra Claman, MD, '83, helps physicians and other professionals learn to foster their values, encourage self-compassion, and find fulfillment.
Do you ever feel…
…burned out, exhausted, stressed, anxious, overwhelmed, like an impostor, disengaged, lost, isolated, ashamed, disconnected, disillusioned, depressed, hopeless, confused, disorganized, like perfection is the only option?
The harsh reality is that whatever you are not changing, you are choosing.
It is never too late to change your path forward.
"Maybe the truth depends on a walk around the lake." -Wallace Stevens
Let's take that walk together. Commit to the life you want.
To register, please click on the green REGISTER button. Please register by February 24, 2022, at 4:00 pm CST.
Organizer of Coaching and Forest Therapy: Rediscover What Really Matters
At the Southern Illinois Univeristy School of Medicine, the Office of Alumni Affairs develops, manages and sponsors programs and activities to benefit and engage alumni, residents, and students of the SIU SOM. The office provides opportunities for involvement, outreach and to advance the mission of the SIU SOM by fostering lasting relationships and opportunities. To maintain connections with the alumni, the office manages and maintains the alumni information system. The office staffs the Alumni Society and its Board of Governors whose mission is to provide an official organization through which its members and the faculty, staff, students, and residents of the School of Medicine may maintain professional and personal relationships to the mutual benefit of the members of the alumni society and the school.