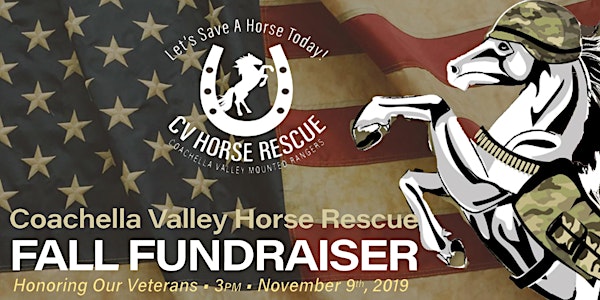 Coachella Valley Horse Rescue Fall Fundraiser
Our biggest fundraiser of the year!
When and where
Location
Coachella Valley Horse Rescue 31855 N. Monroe Street 1/4 Mile East of Granite Indio, CA 92203
About this event
Horse Rescue: Our primary mission is to rescue horses from abuse, neglect, abandonment or who are headed to slaughter. We strongly believe the emotional connection between people and horses is undeniable. They can help each other in extraordinary ways, which we see everyday at Coachella Valley Horse Rescue (CVHR). We offer programs that connect veterans and horses and help them bond to create emotional healing.
Mission Statement: We are a non-profit 501 (c)(3) Fed. ID Tax #80-0536952. Our primary mission is to rescue and rehabilitate horses that have been abused or neglected in order to place them in loving homes. CVHR offers programs that will enhance the quality of life for children and adults by providing equine-assisted programs.