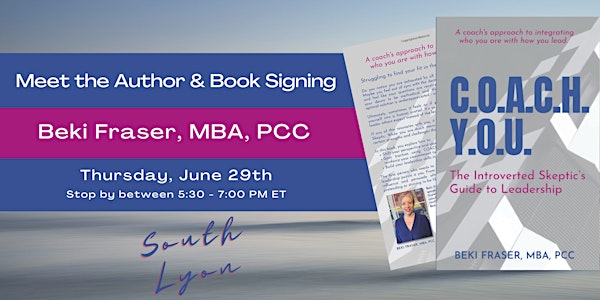 C.O.A.C.H. Y.O.U. Meet the Author & Book Signing
Coach and author, Beki Fraser, hosts a book signing for her new book C.O.A.C.H. Y.O.U.: The Introverted Skeptic's Guide to Leadership.
By Beki Fraser, Focus For Growth LLC
Date and time
Thursday, June 29 · 5:30 - 7pm EDT
Location
Salem-South Lyon District Library 9800 Pontiac Trail OLSON MEETING ROOM South Lyon, MI 48178
About this event
1 hour 30 minutes

Mobile eTicket
Beki wrote her first book, C.O.A.C.H. Y.O.U. The Introverted Skeptic's Guide to Leadership, to inspire leaders to integrate who they are with how they lead. The book is written in the style of a coaching conversation and is intended to create ideas that turn into action. Her work helps leaders navigate organizational change, cultivate trusting and influential relationships, and nurture positive acceptance for themselves and their teams.
Are you struggling to find your fit in the leadership puzzle? Beki believes it is not worth the energy of leading as anyone other than you. Whether you see yourself as an introverted skeptic or want to learn more about the style of those who are, this book encourages you to consider your mindset and build skills for leadership.
Stop by between 5:30 - 7:00pm at the Salem-South Lyon District Library - Olson Meeting Room, to connect with the author and have your book personally signed by Beki. Bring your purchased book with you or buy one on-site to be signed. Beki will talk about why she wrote the book and key concepts at 6:00pm.
You can find the book and more detail on Amazon.
About the Author:
Beki Fraser, MBA, PCC, and founder of Focus For Growth is a credentialed coach, an experienced facilitator, and a passionate speaker. She most frequently works with clients who identify with being an 'introverted skeptic'. She supports them as they integrate who they are as leaders with how they communicate, make decisions, and interact with others. Beki's curiosity about how things all fit together goes beyond the inner workings of people and also into how they interact and influence one another.
Prior to becoming a professional coach, Beki worked in HR for 15+ years in a range of software and technical industries. Beki holds an MBA from Yale University's School of Management. She has earned the Professional Certified Coach (PCC) credential through the International Coach Federation (ICF) and is a past-President of the ICF Michigan chapter. She completed her initial coach training with the Institute for Professional Excellence in Coaching (iPEC).
You can learn more about Beki and her coaching practice at www.focusforgrowth.com.
About the organizer
As a Business & Professional Impact Coach, I cultivate conscious and confident decisions and actions in executives and professionals. As you develop a clearer sense of what you want to achieve, we work together to find your motivations and your methods for accountability. 
I describe myself as an analytical soul who is a constant observer of human behavior. I love understanding why people think the way they do or behave the way they do. My constant curiosity about how things all fit together goes beyond the inner workings of people and into how process works, how systems flow and, generally, how things work - or don't. When they don't, it's a puzzle that is fun and interesting to solve.