Description
Heyyy Coaches, Speakers, Empowerment Enthusiasts!
We are super excited to have you join us for our 2nd Annual C.A.M.P Lunch! Our main mission is to create a relaxing, yet empowering environment, where we can all Collaborate, Motivate and Recuperate.
As coaches, speakers, teachers, encouragers, etc, we pour out daily but, often times we forget to replenish ourselves. Often times, we have a tendency to give of ourselves until our vey last drop, those who we pour into are well hydrated, meanwhile, we now feel like we are in the midst of a dessert or drought.
How many times, have you been here, not realizing that you were the one who drained yourself? How many times did you continue to drive on E for the great cause and with someone else (other than you) in mind?
It's ok but, it's not ok! It's time for you to do for you! It is time for you to exercise some #BeatificBalance, stop neglecting your needs and desires, you really need some where to recuperate. it's time for you to go to CAMP!
How C.A.M.P Lunch came to be
C.A.M.P Lunch was created by Ciara S. Miller aka Coach CSM, during a time where she honestly felt alone. She was some what of a newbie coach and speaker and she found it hard to find others like herself. Like most, she began to add those who she had taken a liking to, on social media platforms but, still she thought it would be nice to have us meet up live and in person!
Maybe that is you too?
Maybe you have been hoping to connect more with those in your industry. Instead of competing, let's come together to create great impact and influence on the world around us. #CollaborationOverCompetition!
Ciara also realized that we got lonely too, we got discouraged too, we got tired too! What if those who empower, motivate, and inspire daily, could receive that same love back? Those who receive from us, in a way live off us; we give them hope to overcome, to live on, to be more, etc. They wouldn't want us to drop off, we need motivation to keep going and to survive because making it in our industries is not a piece of cake!
Lastly Ciara recognized how hard we worked and how often compared to how seldom, we know how to take a break. A real break, one without feeling like our businesses would fall apart or guilty for taking a moment for ourselves. We are no good exhausted, we then can become as toxic as breathing in the fumes from an "exhaust" pipe.
---
HOSTS
Sabryia The Diva

SlayTV

Co-Host/Speaker

Evan The Show

Evantheshow.com

Co-Host/ Media Coverage
---


SPEAKERS
Ciara S. Miller

Pro-Visement

Event Visionary

Arielle Wright

Arielle Wright Network

VIP Speaker

Dawn Ferguson

TiesBowtiesLipstick

VIP Speaker
---
WANNA BE A SPONSOR?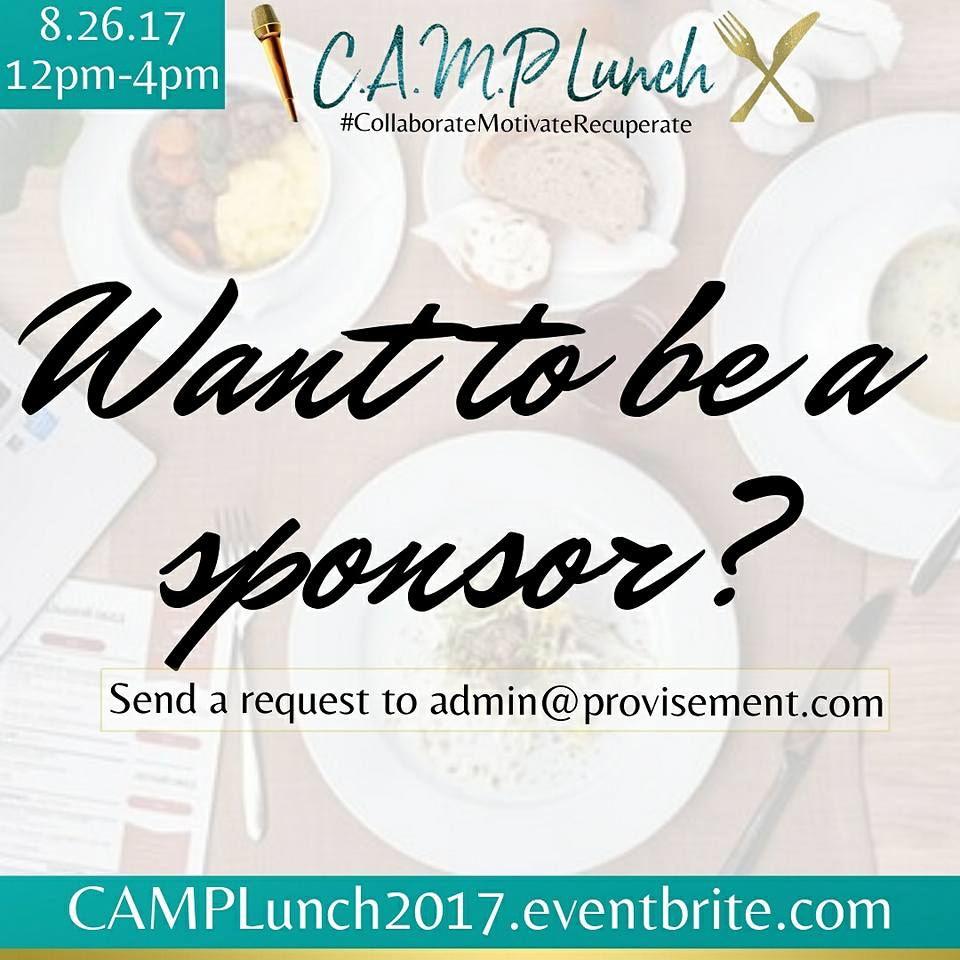 To sponsor or donate, send an email to admin@provisement.com.
Feel free to send monitary donations via cash app: cash.me/$coachcsm/25