The CO-STORM™ is a think tank designed to be your personal board of directors for life and work.
About this event

The CO-STORM™ is a think tank designed to be your personal board of directors for life and work.
The concept behind the CO-STORM is about how much we're able to see for each other that we don't see for ourselves.
Fresh eyes see our blind spots and filters. They also mirror back to us what's really going on. There's a creative back and forth energy in getting outside your own head. A CO-STORMER'S insight can clarify what steps to take next, highlight your strengths, and make you pay attention to what should happen naturally.
The CO-STORM is part of the Women in Tech Regatta week in Amsterdam/EMEA/ Virtual. Upgrade your ticket to €197.00 to enjoy the entire conference. Learn more here.


We start the session with an introduction to CO-STORMING, instructions, and an overview of our time together. Then we pair you off in groups of three or four. Your group will go off for a 90 minute CO-STORM session. During this session, each participant will have time for an introduction and a chance to discuss their most pressing pain point, project or idea. Your CO-STORM partners will brainstorm with you on solutions. At the end, we will gather together and recap.

Bring your challenges, ideas, prototypes…or just an empty notebook and get ready to take the next step.
You will get new perspectives and confidence to move forward with your project, which might mean ditching plans and going in a totally different direction. No matter the outcome, I guarantee you will already be taking steps in the right direction.
I truly believe we've got great energy going in our community you're not going to find anywhere else…hitch a ride on that energy!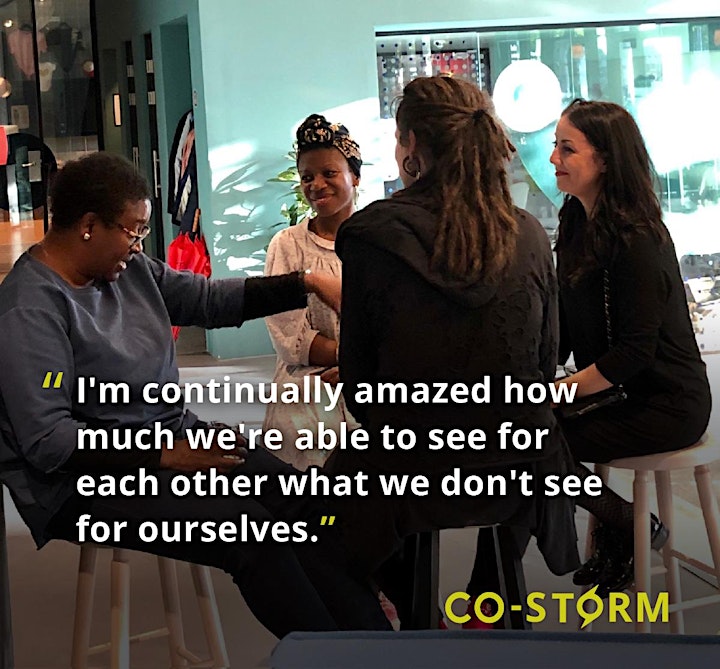 Want to change careers but don't know where to start?
What's keeping you up at night?
I have been helping others all my life, it's time for me now, what should i do?
How can I be more creative at work, when I'm not the one calling the shots?
How can I refine and tell my story?
Fleshing out a side hustle/passion project.
How are you unique – what sets you apart?
Have you hit a serious plateau?

"Co-storming was magical. When I arrived, I was really stuck inside my own head. Having someone else's eyes on my project and hearing about their experiences helped me to see what I could not. It pushed me to get through the hard part and launch a major project." - Erin Anacker, People Enthusiast Founder of Betwixt
"Co-storming was a reflective experience. It was like having someone verbalize the things in your brain that you may not have been able to articulate prior. For me 2 major changes happened. First, I could see where I was missing the big picture. I was totally focused on my mistakes and missed the successes. Second, I was able to reinforce some of my 'gut feelings' about how to grow that I was talking myself out of." - Andrea Scott, Founder of Skoah®
"I showed up at my #CoStorming date with a massive list of possibilities. And that's all it was: a list. I left my #CoStorming date with a very specific "next best step", plus a short-term plan and a TON of clarity that is simply not possible to find when you are always working away by yourself. #CoStorming rocks!" - Shirley Weir, Founder of MenopauseChicks.com

Date and time
Location
Refund policy
Organizer of CO-STORM Amsterdam/EMEA/ Virtual
About Melody: Melody Biringer is a self-proclaimed "connection engineer," a serial entrepreneur who has built a career around building communities for women to thrive. She is the founder of the acclaimed Crave Company, where she's spent more than 20 years encouraging women to have fun while connecting with others, and Women in Tech Regatta, an annual series of conferences in Seattle, Vancouver, and Amsterdam, first held in 2017.Mel coined the hashtag #RelationshipsAreTheTrueCurrency, and lives it fully. In addition to empowering women and building relationships, she juggles her responsibility as an author, event planner, social maven, and strawberry shortcake heiress—and still finds time to log more than 10,000 steps a day, usually while conducting business or catching up with friends. Mel's latest lovechild is modern walking club Loop, named after the Dutch word for "walk" (a nod to her love of Dutch culture) and an inside joke with her husband—they've been "taking a loop" around their Queen Anne neighborhood for their daily walk since 1994.