Program IV of Camera Obscura
About this event
The otherworldly weirdness of the Romanian animated sci-fi film DELTA SPACE MISSION, set in the year 3084 aboard the state-of-the-art spacecraft Delta. The highly-advanced computer brain of the ship develops a mad crush on one of the astronauts with disastrous results. Long unavailable, the film has recently been scanned in 4K from the camera negative by the Romanian Film Archive and Romanian Film Centre (CNC) for its first-ever U.S. release. Preceded by Nuotama Frances Bodomo's parallel-universe "what if" AFRONAUTS.
AFRONAUTS (2014) dir. Nuotama Frances Bodomo [14min.]
+
[restoration]
MISIUNEA SPAȚIALĂ DELTA [DELTA SPACE MISSION] (1984)
dir. Victor Antonescu + Mircea Toia [70min.]
--------
Proof of vaccination required to attend. Masks must be worn indoors when not eating or drinking.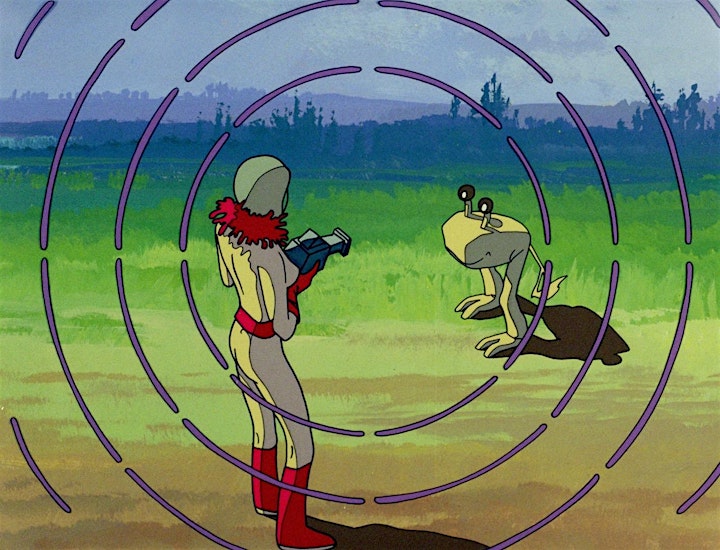 [Delta Space Mission, courtesy of Deaf Crocodile ]
Organizer of CO : Program IV
Appearing a few years after Frank Stauffacher's "Art in Cinema" series at SFMOMA ended, the original Camera Obscura Film Society was founded in 1957 by Lawrence Jordan and Bruce Conner (among a handful of others). Their eclectic programs continued until the organization ceased to exist in 1962.

The reconvened Camera Obscura continues to present "unique, antique and experimental" films under the joint coordination of co-conspirators Amanda Salazar and Jonathan Marlow. CO-VII features an assortment of recent or restored films screening across seven programs 10- to 12-December in-between the Roxie Theatre and 518 Valencia!