Description
Co-living has captured the excitement of cities, developers, hospitality companies, entrepreneurs, architects, urban planners, and investors. Meanwhile, affordable workforce housing is a critical need in our world.
Co-Liv! is the first edition of a global gathering to spark conversations about affordability, policy, culture and community, tools, services and entrepreneurship in this space.
Don't miss this opportunity to connect with co-living pioneers and shape the future of this movement together!
Join us at Impact Hub's beautiful Mission Street location in San Francisco on December 7-9, 2017.
Agenda
Thursday, December 7th
Separately ticketed special event! Join us for inspirational talks followed by cocktails. Doors open at 6 PM.
6:30 PM: Welcome from PUREHOUSE LAB with Ryan Fix and Claire Flurin
7:00 PM: Housing Has Been Disrupted; You Just Don't Know It Yet with Christopher Bledsoe, Co-Founder of Ollie
7:30 PM: Ed Thomas, Head of Community Experience from The Collective
Networking and Cocktails
Friday, December 8th
For full conference ticket holders only. Hear operator stories and learn more about challenges and opportunities in the co-living sector.
Doors open at 8:30 AM for breakfast and registration
9:00 AM Authentic Culture & Community with Jay Standish, Co-Founder of Open Door
9:30 AM Conversation on Affordability and Shared Housing with Macy Leung, Principal MSL & Company, Betsy Morris from Cohousing California , Phil Levin from RGB House and Claire Flurin from PUREHOUSE LAB
Break
11:00 AM On Co-living with The Collective
11:30 AM Community Building with The Embassy Network
12:00 PM What policy framework allows for successful, equitable Co-living with Todd David from the SFHAC, Nicole Fichera, Co-Founder and Principal, FWD Partners and Ana Paula Emidio from PUREHOUSE LAB
Lunch Break
1:30 PM Co-living Operator Story featuring Ivan Brkljac from Mokrin House (video conference)
2:00 PM Conversation about the risks and opportunities of financing Co-living ventures with John Van Oost, Co-founder and CEO of Urban Campus and Christopher Bledsoe, Co-founder and CEO of Ollie moderated by Claire Flurin from PUREHOUSE LAB
3:00 PM Co-living Operator Story featuring Andre Zollinger, Head of International Relations, The Camp
Break
4:00 PM Technology and Services for Co-living with Guillaume de Jenlis from PUREHOUSE LAB and David Lowe, CEO of Qwerky and Maximus Blackbourne, CTO of Qwerky
5:00 PM Creating The First Startup Hotel: Co-living & Co-working in the heart of San Francisco with Guillaume de Dorlodot, Co-founder & CEO, Startup Basecamp
5:30 PM Co-living approach from a guest-centric perspective with Lucas Crobach, Project Developer and Veerle Donders, Identity & Design Manager from Zoku
Networking & Cocktails
Saturday, December 9th
Workshop day! Learn more and share best practices with founders and operators through focus groups.
Doors open at 8:30 AM for breakfast and registration
9:00 AM Workshop on What have we been sharing and what would we be willing to share with Raines Cohen from Cohousing California and Claire Flurin and PUREHOUSE LAB
10:00 AM Design Workshop with Francis Aguillard, Master of Architecture, Rice University
Break
11:30 AM Analyzing Co-living Spaces in India with Disha Mendhekar, Master of Regional Planning 2017, Cornell University
12:00 PM Community Leadership Workshop with Amisha Ghadiali from The Collective
1:00 PM Final conversation on the Future of the Co-living Ecosystem with John Van Oost, Co-founder and CEO of Urban Campus and Ryan Fix from PUREHOUSE LAB
---
We are grateful for the support of our local network partners, Cohousing California and Startup Basecamp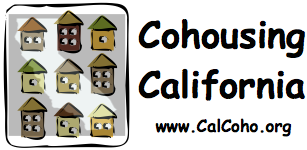 Cohousing California is everywhere from the heart of downtown Oakland to 49ers country Nevada City to an urban EcoVillage near the heart of L.A.to the subtle hidden shores of Arcata. We're up and down the Central Valley, scattered around Wine Country, and stretching down the Central Coast, featuring the first U.S. new build and the first organically-created community, the most urban, the first senior cohousing neighborhood, and the most innovative in affordability.


Startup Basecamp is the first Startup Hotel in the world the gateway to the Silicon Valley ecosystem for startup professionals and entrepreneurs. Our unique co-living and co-working spaces offer the highest quality short-term living and working solution to easily land in San Francisco. We offer affordable beds in private or shared rooms - all equipped with private bathrooms and showers, starting at $46/night. Book your stay today!
---
We have a dozen of volunteer spots available. Email andrea@purehouselab.org if interested.
Students with a .edu email address can get a 50% upon request - Indicate your university & program.
Startup entrepreneurs & small business owners can get a 50% discount upon request as well - send the link to your LinkedIn profile or/and website for your business.
Contact the organizer to request discounts.
Francis Aguillard

Rice University

Architectural Researcher and Urbanist

Maximus Blackbourne

Qwerky

CTO

Christopher Bledsoe

Ollie

CEO & Cofounder

Lucas Crobach

Zoku

Project Developer Coliving

Todd David

San Francisco Housing Action Coalition

Executive Director

Veerle Donders

Zoku

Identity & Design Manager

Guillaume de Dorlodot

Startup Basecamp

Co-founder & CEO

Macy Leung

MSL & Company, LLC

Principal

David Lowe

Qwerky

CEO

Disha Mendhekar

Cornell University - Cornell Program in Infrastructure Policy

Research Assistant

Ed Thomas

The Collective

Head of Community Experience