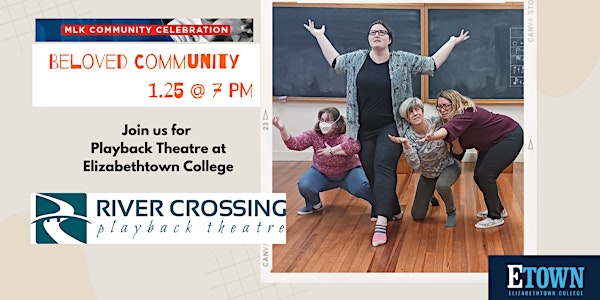 Co-Create Beloved Community with Playback Theatre
Celebrate MLK and the Beloved Community through Playback Theatre
When and where
Location
1 Alpha Dr 1 Alpha Drive Elizabethtown, PA 17022
About this event
At the Tempest Theatre in Brossman Student Center
Join River Crossing Playback Ensemble on January 25th at 7 PM to witness, explore, and honor the many stories that can co-create Beloved Community.
In partnership with Elizabethtown College, River Crossing Playback will perform using a ritualized and embodied improvisation called "Playback Theatre." The audience is invited to witness stories of Beloved Community experiences played back by the ensemble in what will become a dialogue – both with and beyond words.
The name "Beloved Community" was derived from Dr. King's rally speech in 1956 following the U.S. Supreme Court's decision to desegregate the seats on Montgomery buses, "the end is reconciliation; the end is redemption; the end is the creation of the Beloved Community. It is the type of spirit … that can transform opponents into friends."
Playback Theatre is an interactive theatre form, practiced in more than 40 countries, provides a space to share and practice the nitty gritty of justice, allyship, and respectful engagement with conflict and harm as we build that Beloved Community, conversation by conversation.
Event Details
Date and Time: Wednesday, Jan. 25 at 7 p.m.
Location: Tempest Theatre in the Brossman Student Center, 1 Alpha Dr, Elizabethtown, PA 17022
Parking: The closest visitor parking lots are lot #14 off ofCedar Street, and Alpha Drive lots #8 and #9.
Cost: FREE; bring a friend!