CNR Real Estate Ankara – Residence&Office Purchasing, Renting and Financing...
Description

ANKARA – Meeting Point of Real Estate Sector, Heart of Real Estate Market …
Ankara Real Estate Exhibition organized by CNR Holding affiliate company Istanbul Fuarcilik A.S., being in the spotlight of local and international investors, is getting ready to bring together leading construction companies and giant projects. Exhibition will be held at ATO Congresium Fairground on the area of 20.000 m2and become an important meeting point of real estate sector in Ankara.
Ankara with population of more than 4.5 million, as well as being one of the cities with fast growing population, plays an important role in real estate property development due to its dynamic population growth. Ankara is going through a fast housing phase and its new and valuable investment regions are too showing sufficient increase.
One of the most important reasons of why Ankara's real estate market gains an importance is existence of audience capable of investing to projects not only in Ankara but all over the Turkey.
Demand in Hotel and A Class Office … It was observed that Ankara's hotel market is more stable in occupancy and room prices according to İstanbul's market. Owing to being capital city and having a predominant public sector structure, Ankara became an indispensable target for high level visits and business trips, an attracting center for medicine congresses due to developing medicine sector and therefore hotel demand is going to boost even more in coming years.
Ankara is hosting the second biggest Office market after Istanbul, what triggers demand to A class office properties. Moreover, increase in number of luxury apartments, malls, foundation universities is one of the reasons of Ankara's real estate market having so great importance.

Why should you exhibit?
Ankara's real estate market experiences a boom due to:
· Increase in population, migration, population density,
· Change of family structure,
· Turkey's average per capita income numbers,
· Intensity of people with stable income and job security due to predominance of public sector.
· Transportation facilities are gradually getting easy and becoming more widespread,
· Significant developments in hotel sector in last years,
· Fascination of big projects,
· Gradually increasing construction quality and interest in branded projects,
· Urban transformation projects and related activities boost supply and demand of real estate property in Ankara.
Exhibitors Profile
· Villa, Residence, Luxury Apartment and Mass Housing projects,
· Shopping Malls, Business Centers and Plazas,
· Industry Sites and Organized Industrial Zones,
· Real Estate Marketing Companies and Land Offices,
· Cooperatives and Timeshare Companies,
· Manufacturers and Importers of Wood and Steel Prefabricate Houses,
· Contractor Companies working with Mass Housing and Urban Transformation Projects,
· Banks, Finance and Credit Institutions,
· Media Institutions
=============================
15 sq meter​ DESIGN BOOTH & SPACE
=============================
- Wooden custom design
- 2 x Glass Tables
- 8 x Chairs
- 1 x LCD TV

- Counter & Stool
- Room with door
- Lighting

================================
Other Included Amenities
================================
- Hotel Accommodation: 5 nights for 2 person in nearby 5 star Hotel
5 min away from Exhibition Center (Wyndham, Radisson Blu)
- Airport transfer to Hotel
- WiFi for 2 person
- Catalogue Registration
- Email marketing activities to 400K visitor database

TOTAL PRICE: USD $ 7,999.00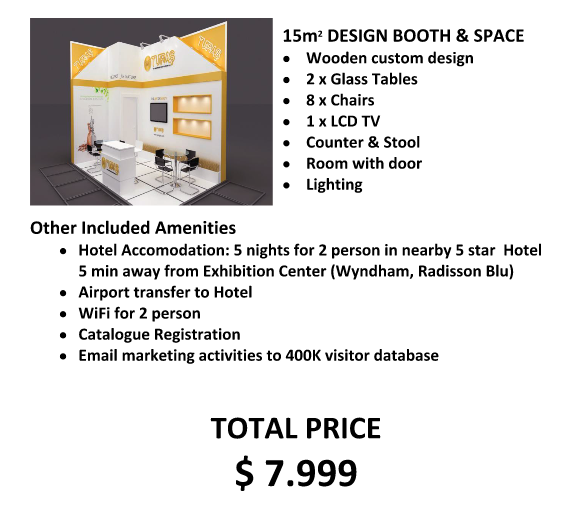 Please contact the event manager Marilyn below for the following:
- Discounts for registering 2 or more booths.
- If you company requires a price quotation.
Event Manager Contact: marilyn.b.turner(at)nyeventslist.com
You can also contact us if you require a visa invitation letter, after booth purchase.


NO REFUNDS OR TRANSFER ALLOWED ON BOOTH REGISTRATIONS
-----------------------------------------------------------------
This Event Listing is Promoted by
New York Media Technologies LLC in association
with CNR Holdings.
http://www.NyEventsList.com
http://www.BostonEventsList.com
http://www.SFBayEventsList.com
-----------------------------------------------------------------