CNR FLORIST - Garden Furniture and Landscaping Fair (CNR)
Actions and Detail Panel
CNR FLORIST - Garden Furniture and Landscaping Fair (CNR)
Wed, Nov 22, 2017, 9:00 AM – Sun, Nov 26, 2017, 6:00 PM Eastern European Standard Time Turkey Time
Description

Garden Furnitures & Landscaping Sectors are meeting at CNR Expo Istanbul!
CNR Holding will be organizing FLORIST Garden Furniture and Landscaping Fair
Istanbul on 22-26 November aiming to reach larger audiance group and increasing the awareness on the latest developments in the market.
CNR Florist aims to gather all products and services under one roof, thus creating more competitive environment in international markets for Garden Furniture and Landscaping Exhibitors.
CNR Florist is a unique platform to access new markets, develop distribution network and increase brand awareness for Garden Furniture & Landscaping Market players.
With the construction of new residential areas and Hotels in Turkey and Middle East & smoking prohibition in outside areas resulted with an enormous increase in demand for landscape solutions more than ever.
CNR FLORIST - Garden Furniture and Landscaping Fair will be connecting; garden furniture, landscape, pool accesories, shading systems manufacturers, horticulture manufacturers, floriculture producers with international wholesalers, retailers, hardware stores, buyers and executives of retail chains, hotel, restaurant, cafe, bar managers and buyers, contractors, construction projects, realestate investment holdings, shopping malls buyer executives, municipalities and consumers.

Exhibitor Profile
•Manufacturers, Exporters, Wholesalers & Retailers of
•Garden Furniture
•Garden Decoration Products
•Gardening Design & Landscape Architecture •Garden Care
•Garden Plants, Flowers, Trees
•Garden Care and Technical Equipment Gardening Hand Tools
•Awning, Tent, Umbrella, Arbour,Membrane, Gazebo •Shading Systems, Machinery & Equipment
•Pool and Pool Systems
•Water Sport Products and Pool Side Accessories

=============================
15 sq meter​ DESIGN BOOTH & SPACE
=============================
- Wooden custom design
- 2 x Glass Tables
- 8 x Chairs
- 1 x LCD TV

- Counter & Stool
- Room with door
- Lighting

================================
Other Included Amenities
================================
- Hotel Accommodation: 5 nights for 2 person in nearby 5 star Hotel
5 min away from Exhibition Center (Wyndham, Radisson Blu)
- Airport transfer to Hotel
- WiFi for 2 person
- Catalogue Registration
- Email marketing activities to 400K visitor database

TOTAL PRICE: USD $ 7,999.00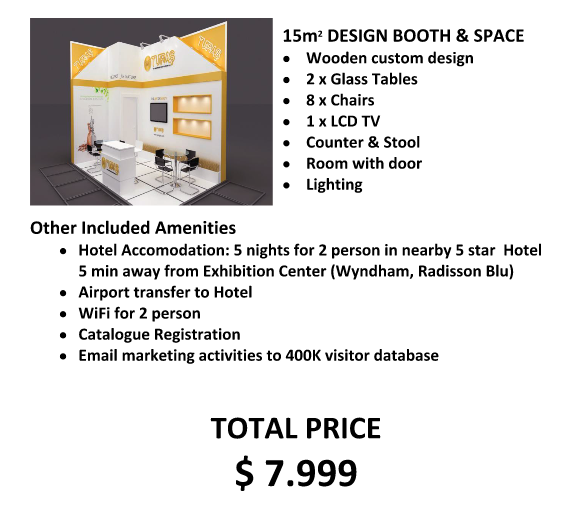 Please contact the event manager Marilyn below for the following:
- Discounts for registering 2 or more booths.
- If you company requires a price quotation.
Event Manager Contact: marilyn.b.turner(at)nyeventslist.com
You can also contact us if you require a visa invitation letter, after booth purchase.


NO REFUNDS OR TRANSFER ALLOWED ON BOOTH REGISTRATIONS
-----------------------------------------------------------------
This Event Listing is Promoted by
New York Media Technologies LLC in association
with CNR Holdings.
http://www.NyEventsList.com
http://www.BostonEventsList.com
http://www.SFBayEventsList.com
-----------------------------------------------------------------