Why should you exhibit?
The exhibition provides the chance to be in the heart of maritime industry which will lead new and lucrative business partnerships. Various marine vehicles appealing to all levels of luxury and taste may be tested and observed.
CNR Eurasia Boat Show- 11th International Boat, Marine Equipment and Accessories Show will present a pleasant event including exclusive lunches, activities and chill out lounges both to exhibitors and visitors.
Exhibitors Profile
Motor Yachts & Power Equipment
Motorboats & Sailing Boats
Speed Boats & Cruisers
Marinas & Equipment
Boat Accessories & Construction Materials
Deck Equipment & Hardware
Diving Equipment & Accessories
Water Sports Equipment
Sails, Masts & Rigging
Sea Wear & Accessories
Navigation & Sanitation
Safety, Security & Emergency Equipment
Engines, Drives, Parts & Control
Sea Tourism & Charter Firms
Alternative Sports
Related Associations
Related Media Organizations
=============================
15 sq meter? DESIGN BOOTH & SPACE
=============================
- Wooden custom design
- 2 x Glass Tables
- 8 x Chairs
- 1 x LCD TV
- Counter & Stool
- Room with door
- Lighting
================================
Other Included Amenities
================================
- Hotel Accommodation: 5 nights for 2 person in nearby 5 star Hotel
5 min away from Exhibition Center (Wyndham, Radisson Blu)
- Airport transfer to Hotel
- WiFi for 2 person
- Catalogue Registration
- Email marketing activities to 400K visitor database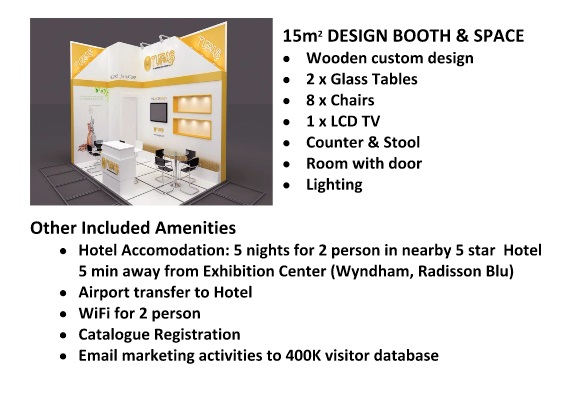 Please contact the event manager Marilyn below for the following:
- Discounts for registering 5 or more participants.
- If you company requires a price quotation.
Event Manager Contact: marilyn.b.turner(at)nyeventslist.com
You can also contact us if you require a visa invitation letter, after ticket purchase.
We can also provide a certificate of completion for this event if required.

NO REFUNDS ALLOWED ON REGISTRATIONS
-----------------------------------------------------------------
This Event Listing is Promoted by
New York Media Technologies LLC in association
with CNR Holding
http://www.NyEventsList.com
http://www.BostonEventsList.com
http://www.SFBayEventsList.com
-----------------------------------------------------------------
MYL170725CEV MAR180106UPD