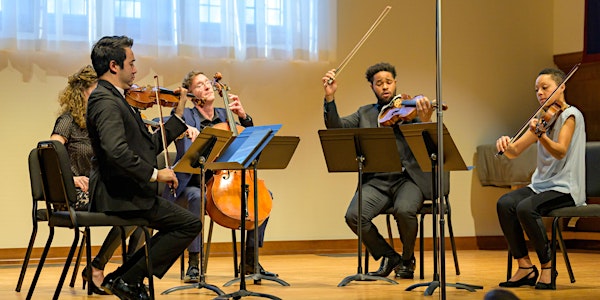 CMSCVA 2023-24 Season
Join the CMSCVA for our 2023-24 season - 9 classical concerts with music and musicians from around the world.
By Chamber Music Society of Central Virginia
Date and time
September 30 · 2pm - May 11, 2024 · 2pm EDT
Location
CMSCVA P.O Box 8526 Richmond, VA 23226
Refund Policy
Contact the organizer to request a refund.
Eventbrite's fee is nonrefundable.
About this event
Join the Chamber Music Society of Central Virginia for our 2023-24 season!
These nine concerts will take you on a fantastic tour of classical music that spans 400 hundred years of time and visits places all over the world. Your guides will be twenty-five sensational musicians, who will wow you with their virtuosity, charm, and musical storytelling.
Our season ticket includes five events at a 10 % discount and will be available through September 30th. The season ticket includes:
Pictures at an Exhibition
Date: Monday, October 2, 2023. 7:00pm
Venue: First Unitarian Universalist Church
1000 Blanton Ave., Richmond VA
Dueling quintets – one of strings and one of woodwinds – take on the music of Dvořák, Jessie Montgomery, and Spanish composer Óscar Navarro. These artists will then join forces to perform Mussorgsky's famous "Pictures at an Exhibition," which comes to life in a vibrant arrangement for 10 players.
French Dynasty
Date: Sunday, October 29, 2023. 4:00pm
Venue: Holy Comforter Episcopal Church
4819 Monument Ave., Richmond VA
Germany had the Bach family. But France had the Couperins, one of the most prolific musical families in history. Carsten Schmidt brings his golden harpsichord to CMSCVA for an intimate afternoon of fabulous Baroque music by Louis, François and Armand-Louis Couperin, the musical kings of France.
Fifth Season
Date: Monday, December 18, 2023, 7:00pm
Venue: Holy Comforter Episcopal Church
4819 Monument Ave., Richmond VA
The "Red Priest" Antonio Vivaldi is famous for his "Four Seasons" concertos. This concert goes beyond the four seasons to explore the beauty and spectacular virtuosity of Vivaldi's other concertos, plus the world premiere of a piece commissioned for Baroque strings from American composer Kenyon Duncan.
Illumination
Date: Sunday, March 3, 2024, 4:00pm
Venue: St. Mary's Episcopal Church
12291 River Rd, Richmond, VA 23238
The magical qualities of light formed the inspiration for this program for strings, winds, and harp. Haydn's famous "Sunrise" quartet and Ravel's impressionist "Introduction and Allegro" pair with Gilad Cohen's "Firefly Elegy" – a musical portrait of the life of a lightning bug – and a premiere by Richmond's own Zachary Wadsworth.
Britannia
Date: Sunday, April 21, 2024, 4:00pm
Venue: Second Presbyterian Church
North 5th Street, Richmond, VA
Experience 500 years of music from the British Isles in one time traveling concert, from a Purcell fantasy to the epic piano quintet by Edward Elgar, to a work by Hannah Kendall inspired by the art of Jean-Michel Basquiat.
About the organizer
Flexible in personnel and repertoire, the Chamber Music Society of Central Virginia is a non-profit 501(c)(3) tax exempt organization that strives to empower our audience, musicians, and organization to face the world with new perspectives through music, building a broad and active audience, and a more enlightened industry.

We are dedicated to inspiring, entertaining, and moving our communities through a combination of unique venues, world-class musicians, thought-provoking content, and eclectic classical music. Engaging with contemporary culture and honoring the classical tradition, our mission is to promote interest and diversity in the musical life of Richmond and beyond.
Please note: for our 2021-22 Season, we selling season ticket packages online until September 19. If you would like to buy a season package retroactively after that date, please call us at 804-304-6312. Individual tickets to live events and digital streams are available at all times.