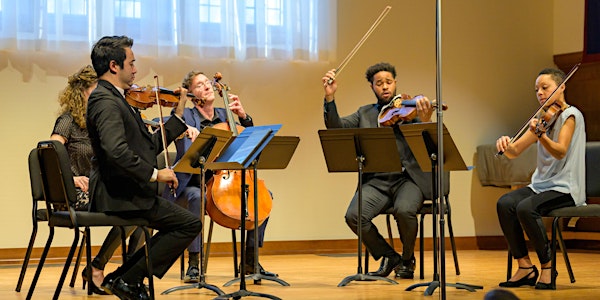 CMSCVA 2022-23 Season
Join the CMSCVA for our 2022-23 season - 9 classical concerts with music and musicians from around the world.
When and where
Location
CMSCVA P.O Box 8526 Richmond, VA 23226
Refund Policy
Contact the organizer to request a refund.
Eventbrite's fee is nonrefundable.
About this event
Join the Chamber Music Society of our 2022-23 season, nine concerts that a take you on a fantastic tour of classical music from 400 hundred years of time and places all over the world. Your guides will be twenty five sensational musicians, who will wow you with their virtuosity, charm and musical story-telling.
Our season ticket includes five events at a 10 % discount, and will be available through September 25th. The season ticket includes:
Mozart Quintets
Date: September 25, 2022
Time: 4:00pm
Venue: St Mary's Episcopal Church
Mozart's viola quintets are crowning jewels of the chamber music repertoire. CMSCVA artists perform the twin quintets written within a month in the spring of 1787. One is all humor and light, the other dark and stormy. The two come together to form a spectacular musical portrait of one of history's most gifted composers.
Bach and his Inspirations
Date: October 30
Time: 4:00pm
Venue: Second Presbyterian Church
We regularly enjoy the music of Johann Sebastian Bach in concerts and at home. But what came before Bach? Harpsichordist Carsten Schmidt performs a recital exploring the composers who inspired the young Bach, including Dieterich Buxtehude and Johann Pachelbel.
An Evening at Versailles
Date: December 19
Time: 7:00pm
Venue: Church of the Holy Comforter
You are invited to an evening of unbridled French Baroque music written by the men and women who were musicians at the French Court at Versailles. Settle back and enjoy the wit and drama that was savored 400 years ago - cantatas that tell legendary stories, trios that satire court life, a reimagining of the carillon at St Genevieve, and dances of the highest elegance.
La Vida Notturna
Date: February 3
Time: 7:00pm
Venue: Church of the Holy Comforter
No composer embodied the blend of strict protocol and evocative sensuality of 18th century Spain better than Luigi Boccherini, court composer to Infante Luis Antonio of Spain. The music of American composer Brian Nabors draws from combinations of Jazz Funk, R&B, and Gospel with the modern flair of contemporary classical music. These worlds collide in spectacular program of string chamber music that includes the world premiere of a quintet commissioned from Nabors by CMSCVA for our 2022-23 season.
Waltz / Samba
Date: April 16, 2023
Time: 4pm
Venue: First Unitarian Universalist Church
In Romantic-era Vienna, the waltz and music from Hungary were the big fads. In America, Latin music is one of our dance party staples. High art and popular culture join hands and step out in this joyful concert of chamber music by Brahms, Strauss and American composer Kevin Day.