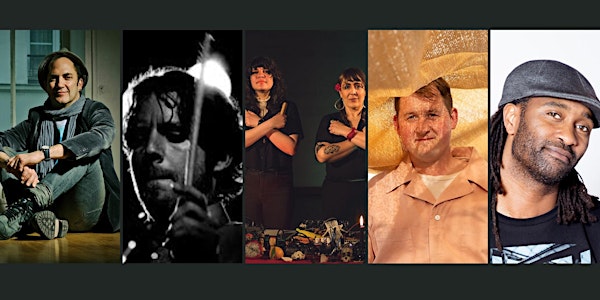 CMS JULY WORKSHOPS & PERFORMANCES AT TEMESCAL ARTS CENTER IN OAKLAND, CA
Creative Music Studio is proud to present four days of workshops and performances in Oakland, CA at Temescal Arts Center this summer!
When and where
Location
Temescal Arts Center 511 48th Street Oakland, CA 94609
Refund Policy
Contact the organizer to request a refund.
Eventbrite's fee is nonrefundable.
About this event
Creative Music Studio is incredibly excited to be connecting with Las Sucias, Billy Martin, Matt Robidoux and Mission Synths, Peter Apfelbaum, and Rashidi Omari this summer at Temescal Arts Center in Oakland, California! Four days of workshops and performances! We hope to see you there!
July 14th, 2022
LAS SUCIAS
3:30-6:00pm WORKSHOP
8pm PERFORMANCE
Sounding Rage:
Improvisation, and extended techniques using your voice and body. Bring your instrument of choice (and own amplification if needed) for this interactive workshop with Las Sucias.
Tropical Noise Duo Las Sucias is an Experimental Caribbean Cacophony from the hands and lungs of hysterical brujas Danishta Rivero and Alexandra Buschman-Román, from Venezuela and Puerto Rico respectively. Rooted on Santería, Afro-Caribbean and Mestiza consciousness, through hybrid rhythms that include Raggaetón and Cumbia, Las Sucias booty smashes the limits put upon the brown female body by the patriarchy. Through powerful chanting and ritualistic vocal catharsis, they conjure the unapologetic screams of a loca, the deep-voiced lady screaming bible verses in the streets through a broken mic and the wounded voices of the colonized." - Hildegard Von Bingen
Alexandra Buschman-Román is a ground shaking radical Sound Artist, Composer, Vocalist, Percussionist and Improviser from Carolina, Puerto Rico, now based mostly in Oakland, CA. Most of her work has been around de-colonization of Noise music and sound experimentation, deconstruction of the traditional and folk, and the fusion of the old and the new. Her mission is to bridge sounds, cultures, space and time - reconnect the diaspora with the motherland, create spaces for marginalized and colonized artists, and glue communities together, all through sociopolitical radicalization of sound and music spaces.
Danishta Rivero is an improviser, performer, and sound artist originally from Venezuela, based in Oakland, California. She explores the artifacts resulting from heavy processing of the voice and their relationship to its acoustic resonating presence. She embodies this relationship to create visceral, sonic rituals. As a soloist, Rivero often performs as Caribay, conjuring the eponymous mountain spirit, whose laments cause avalanches. She is a member of electro-acoustic duo Voicehandler with percussionist Jacob Felix Heule.
http://www.sucieria.com/
July 15th, 2022
BILLY MARTIN
3:30-6:00pm WORKSHOP
8pm PERFORMANCE
ILLY B AT TAC:
Billy Martin, most noted as drummer with Medeski Martin & Wood will conduct a workshop focusing on various strategies on developing our own musical vocabulary. All sound makers from all backgrounds are welcome! You will be included in a short opening performance (optional) that evening before Billy's solo set.
Topics will include
· Creative beatmaking
· Rhythmic harmony
· Spontaneous composition
· Improvisational games
· Looping in performance
Billy Martin was born in NYC in 1963 to a Radio City Rockette and a concert violinist. At age 17, he devoted himself to music and dove into Manhattan's thriving, eclectic musical landscape. In the years to follow, he honed his craft everywhere from Broadway orchestra pits to Brazilian nightclubs and burgeoning underground performance spaces. From the roots of the downtown scene he emerged with Medeski Martin and Wood, bridging the harmonic complexity of jazz, the conversational fluency of free improvisation, and the groove and swagger of classic R&B and funk. A series of albums and high-profile collaborations with John Scofield, John Zorn, iggy Pop, Natalie Merchant, and others, brought the band international acclaim. Martin has relentlessly pursued diverse musical contexts, from free improvisation to chamber compositions to film scores. Much of his work is available via his Amulet Records label, which recently released the Road to Jajouka—a series of collaborations (produced by Martin) between the Master Musicians of Jajouka and such artists as Ornette Coleman, Flea, Marc Ribot, John Zorn, Lee Ranaldo, Bill Laswell, Mickey Hart, MMW and more. Martin is also an accomplished filmmaker and visual artist, whose work has been exhibited in solo and group installations around the world including 2014's Cartegena de indias Bienal in Colombia and the Drawing Sound series at The Drawing Center in NYC (2015) What began for Martin as tireless enthusiasm for music, percussion, and improvisation evolved into a wide ranging search for the roots of inspiration. Among the most valuable undertakings in this ongoing exploration is teaching. "When I teach," he explains, "I learn and discover methods to build my vocabulary and style, and I love to help others do the same" His experiences as a teacher, student, and musician led him to create and direct Life on Drums, a cinematic exploration of percussion and the creative process with his childhood drum instructor, Allen Herman. Billy is currently Executive Artistic Director and CEO of the legendary Creative Music Studio. He also owns and manages his own record label Amulet Records.http://www.billymartin.net/
July 16th, 2022
MATT ROBIDOUX AND MISSION SYNTHS
12:00pm-2:30pm WORKSHOP
4pm PERFORMANCE
Sonifying Gesture: AUMI and Hardware Synthesizers
Deep Listening Institute's Adaptive Use Musical Instrument (AUMI), among one of composer/performer/humanitarian Pauline Oliveros' last projects, is a software interface that enables the user to play sounds and musical phrases through movement and gestures. This workshop will be a collaboration with Matt Robidoux (founder of Adaptive Instrument Ensemble (AIE), a neurodivergent electroacoustic improvising group founded at Mills College in 2017) and Mission Synths, a hardware synthesizer shop established in San Francisco in 2020.
Using AUMI as a remote MIDI controller, workshop participants will be invited to map any gesture using camera capture (i.e. a hand motion, an eye blink) to a corresponding hardware synth, sample bank or combination of instruments. Each member of the group will devise an individual approach to synthesis that could either function as a closed system or in expanded dialogue with an instrument of choice.
The group will collectively interpret graphic scores by artists of Creativity Explored, a studio-based collective in San Francisco that partners with developmentally disabled artists to celebrate and nurture the creative potential in all of us.
Matt Robidoux is a San Francisco based composer, improviser, and community organizer interested in the interstices of movement and sound, accessibility within contemporary music and the communicative capacities of sonic energy. In 2017 Matt established the Adaptive Instrument Ensemble (AIE), a community based practice focused on expanding the improvising community across abilities, demographics, and geographies. Beginning with a pilot workshop in 2019, Robidoux founded the Prepared Guitar Ensemble in collaboration with Creativity Explored, a studio-based collective that partners with people with developmental disabilities to celebrate and nurture the creative potential in all of us. Matt has worked with Eclipse Quartet, Henry Kaiser, Maggi Payne, William Winant, Jaap Blonk, Stuart Dempster, Laura Steenberge, Sunburned Hand of the Man, gabby fluke-mogul, Anla Courtis (Reynols), Elizabeth Millar, Craig Pedersen, J Mascis, and TONED. They hold a MA in music composition from Mills College, where they studied with Roscoe Mitchell, Zeena Parkins, Laetitia Sonami, John Bischoff, James Fei, David Bernstein, and Daniel Schmidt. Their scholarly work is scheduled to be published as a chapter in Improvising across Abilities: Pauline Oliveros and the Adaptive Use Musical Instrument via University of Michigan Press in 2022. Matt has performed throughout North America and Europe and has work available on Already Dead Records and Tapes, Null Zone, Crash Symbols, Feeding Tube Records, Mystra, Exploding In Sound, Ydlmier, and Carpark Records.
July 17th 2022
PETER APFELBAUM AND RASHIDI OMARI
3:30PM-6:00PM WORKSHOP
7PM PERFORMANCE
Peter Apfelbaum & Rashidi Omari Workshop
 "WORD + SOUND = POWER"
Peter Apfelbaum (born 1960) is an American avant-garde jazz pianist, tenor saxophonist, drummer and composer born in Berkeley, California. He first emerged on the jazz scene in the late 1970s, performing with Carla Bley from 1978–1982 and touring with Warren Smith and Karl Berger. Around this time Apfelbaum also studied and worked with musicians involved with the Creative Music Studio in Woodstock, New York. He graduated from Berkeley High School in 1978 in a class that included jazz pianist Benny Green. Apfelbaum has made an impact on the avant-garde jazz and world music scene since the late 1970s and 1980s. He is a well known multi-instrumentalist and composer. His three main instruments are tenor saxophone, piano, and drums, but he has recorded and performed with a diverse array of percussion, wind, and other instruments. He has composed suites for various artists (including Don Cherry) as well as his 17-piece group The Hieroglyphics Ensemble. In 1990 Apfelbaum toured and recorded with Cherry in the group Multikulti, playing both piano and saxophone. In the early 1990s, Apfelbaum opened shows for The Grateful Dead with The Hieroglyphics Ensemble. Apfelbaum formed The Hieroglyphics Ensemble with jazz musicians from the San Francisco Bay Area, including Jeff Cressman, Will Bernard, Norbert Stachel, Jessica Jones, Tony Jones, Peck Almond, Dezon Claiborne, Josh Jones, Jai Uttal, and many others. In 1991 his album "Signs Of Life," recorded with The Hieroglyphics Ensemble, went to No. 14 on Billboard (magazine)'s "top contemporary jazz albums.[1] The latest incarnation of this group, The New York Hieroglyphics, released "It Is Written" in 2005, featuring members from the original group and New York-based musicians such as Patrice Blanchard, Dafnis Prieto, Josh Roseman, and Abdoulaye Diabate as well as Phish guitarist Trey Anastasio, for whom Peter was music director. His compositions and performances have influenced many artists active in the contemporary jazz fusion scene. His work recombines and synthesizes varieties of world music (i.e. various non-Western diasporic musical traditions) with experimental jazz idioms.[2] Of how his music came into being, Apfelbaum writes: "My vocabulary reflects the fact that I started life as a drummer, was trained in jazz theory, blues and gospel music as a pre-teenager, became absorbed in African and Latin music as a teenager, listened to a lot of contemporary classical music, worked in R&B, reggae, blues, Latin, African, jazz, funk, Middle Eastern and Indian bands and, for as long as I can remember, I've been fascinated by how sounds can be fitted together."
www.peterapfelbaum.com/
RASHIDI OMARI
Born and raised in Oakland, CA, the Town's social and political make up made him. Rashidi Omari, Shidi O, The Bandit King. He has learned the art of alchemy, mixing the elements around him to create something different. Every action made has multiple levels of communication and interpretation.
Rashidi Omari has been rocking the mic since 1993 performing both nationally and internationally. He honed his skills performing with Bay Area based groups Loco Bloco, Unsmokables, Bodirock Emcees, and the trailblazing trio Company of Prophets, which Jeff Chang called, "One of the hottest, most versatile crews in the Bay—bold hip-hop that sets your soul afire." A captivating performer and lyricist, Rashidi Omari's new solo album, Auditory Philosophy, is the hip-hop you've been yearning for.
​As a dancer and choreographer, Rashidi Omari is known for his magnetic mashups of traditional dance styles. Hip Hop, B-Boying, Popping, Locking, Dancehall, Lindy, House, modern, and jazz are integral parts of his extensive repertoire. Performing professionally since 1998, he has danced with DREAM, Avatar Flux, Adia Whittaker Dance Company, Liberation Dance Theater, Joanna Haigood, and Kiandanda Dance Theater among others.
Rashidi Omari is the head choreographer and co-director of the Oakland-based Destiny Arts Youth Performance Company. A gifted educator with over 14 years teaching experience, he offers classes and workshops nationally and internationally.
Be prepared for a ride that will push you past the boundaries of your comfort zone while enjoying it the whole way. Welcome.
https://www.rashidiomari.com/