About this Event
Despite the Equal Pay Act 50 years ago, women still earn less than men in Britain today. In this episode we are joined by the Fawcett Society which is the UK's leading membership charity campaigning for gender equality and women's rights at work, at home and in public life. Their vision is of a society in which women and girls in all their diversity are equal and truly free to fulfill their potential creating a stronger, happier, better future for everyone.
Covid-19 is having a devastating effect on gender equality. In this webinar, we will discuss its impacts and how to achieve a gender-balanced workplace with particular attention to pay and rewards, and the Fawcett Society's campaign to end pay discrimination.
As usual we will be encouraging live interaction with the audience and answering questions, we hope you can join us.
Read to find out more about how to close the gender pay gap
Read more about the impacts of Covid-19 on women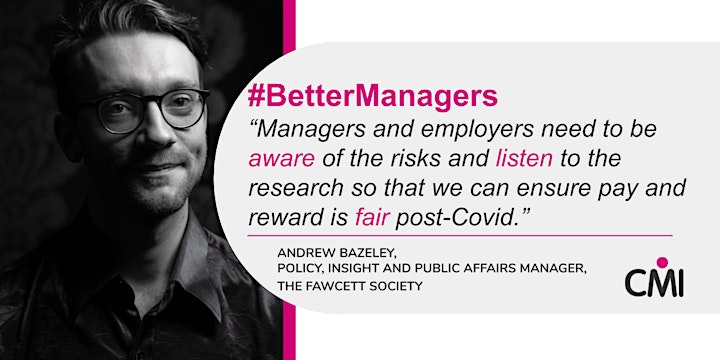 Andrew Bazeley
Policy, Insight, and Public Affairs Manager
Andrew joined Fawcett in 2016. He works across the breadth of issues Fawcett works on, developing research proposals, formulating policy based on that evidence, and campaigning for change in a lead role within our public affairs team. He has led on work including our Local Government Commission, in the development of our Equal Pay Bill, and on our Commission on Gender Stereotypes in Early Childhood.
Before joining Fawcett he worked for three years in Parliament, including as a policy advisor on work and pensions issues, and for four years in local government including a year spent managing a 'big data' team.
Andrew holds a Masters in Public Policy from Birkbeck College, where he is also studying for a Law degree in his spare time, which there isn't much of as he's also a new dad.
In the meantime…
Looking for, or want to share resources to support women in their career, or help organisations tackle their gender diversity gaps?
Our innovative, open-source Blueprint for Balance portal is rich with practical tools and information to boost, benchmark and balance out gender diversity in the workplace.
Click here to take a look and upload your own resources to share.
Not yet subscribed?
From free newsletters packed with the latest trends, insights and tips for managers and leaders, to the full suite of invaluable tools and benefits that come with being a CMI member, we've got something for everyone.
Visit our website to find out more.