Join this digital event about the impact raising awareness, knowledge and skills has on race equity, inclusion and business performance
About this event
CMI's Management Transformed research found that although employees from diverse ethnic groups were more likely to think that workplace culture had improved since March 2020, UK employees as a whole highlighted there are still equality, diversity and inclusion challenges in the workplace.
The research found that Black employees prioritise workplace diversity much more than all other UK employees and are more likely than any other ethnic group to feel their manager didn't trust them to undertake their job role.
This is clearly a critical issue for managers and leaders to address - if not for any other reason than it's bad for business. Where managers trust their direct reports, they find that productivity rises.
The first step to building trust is listening. We will be joined by entrepreneur and multiple business owner Dr Maggie Semple OBE CMgr CCMI to find out more about the Black British Voices research project, which aims to create a nuanced and comprehensive account of the experience of being Black in Britain. Through the project Maggie's company I-Cubed Group and partners, The Voice Newspaper and University of Cambridge, aim to build understanding, drive change and maximise participation in key institutions and professions.
Some organisations have developed initiatives to build trust and increase participation by other key stakeholder groups, not just employees. David Dent CMgr FCMI, Senior Director, Business Development, Parexel International will share insights from Diversity Discussions, a major consultation aimed at addressing the need for more equitable access to healthcare and clinical trials.
Also sharing extensive new practical insights will be Dr Naeema Pasha, Director of Equity, Diversity & Inclusion, Director of Henley Careers and Professional Development, Founder of Henley's World of Work (WOW). Naeema is the lead researcher for The Equity Effect, new research published by Henley Business School into racial equity in UK businesses which found that:
"Businesses which actively confront inequity and racism with practical measures, can expect to see an improvement in their employees' job satisfaction, loyalty, creativity and, ultimately, value, recording an average revenue 58% higher than those which did not."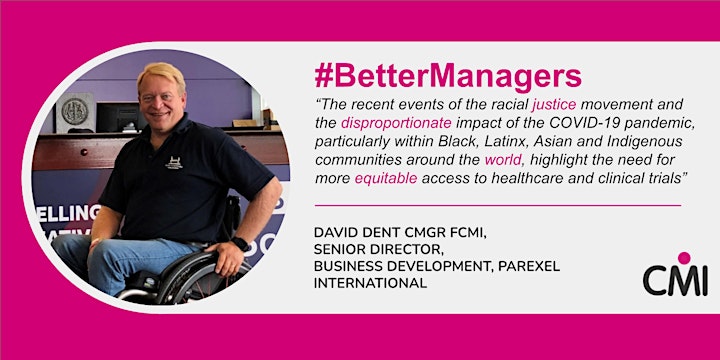 David Dent CMgr FCMI
Senior Director, Business Development, Parexel International
David is a leader and manager in an International Research Organisation. He is engaged in DEI initiatives in his organisation in the UK and Ireland and globally. David has over 30 years experience of delivering healthcare in the NHS, British Army, Pharmaceutical and Research industries, a Chartered Fellow, Honorary Professor and Entrepreneur in Residence, he actively engages in the promoting diversity after being injured and becoming disabled, he has a keen interest in all groups, allyship and intersectionality.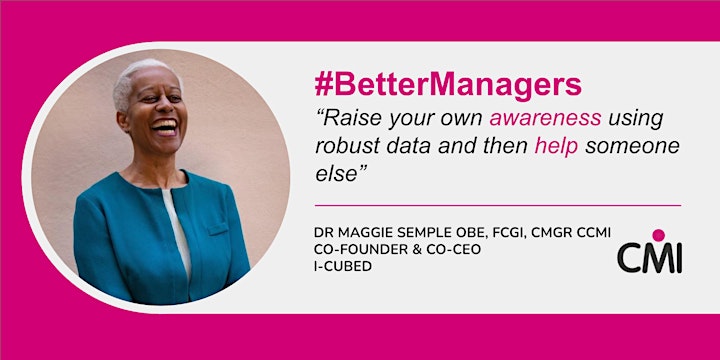 Dr Maggie Semple OBE CMgr CCMI
Co-Founder and Co-CEO, I-Cubed
Maggie is described as gently formidable – a voice of reason. She is a thought-leader on agile frameworks, cultural change, diversity, inclusion & ethics with a particular emphasis on leadership development and governance. She is regularly asked to chair international conferences, facilitate private meetings and negotiate difficult deals.
Formerly an academic, Maggie began advising governments in the 1990s. She has been a member of several high-profile UK Government and European Union task groups and represented the UK in Greece and Hong Kong. From 1997-2001 Maggie was Director of the Learning Experience at the Millennium Dome and from 2001-2008, a Civil Service Commissioner responsible for upholding the values of appointment on merit.
Maggie established The Experience Corps Ltd (TEC), a global consultancy firm in 2001. TEC provides strategic advice on facilitating agile approaches, business ethics, leadership, cultural change, organisational effectiveness, board development, women's development and exploration of new markets. TEC has a team of global associates with clients in the financial, technological, oil and gas, retail, media and pharmaceutical sectors.
Maggie co-founded I-Cubed Group Ltd in 2020, a global professional services firm. The company provides tailored services to help companies transform themselves.
Maggie serves on a range of Boards. She is a NED of Jamaica National Bank UK Ltd, member of University of Cambridge HR Committee, member of Queen's Counsel Selection Panel and Chair of Kerry Nicholls Dance Company. She was formerly a Non-Executive Director of the Criminal Cases Review Commission (CCRC) where she chaired the Audit and Risk Committee.
Maggie is a Fellow of the City & Guilds Institute, one of 500 Fellowships awarded since 1878, is cited in International Who's Who and was awarded an OBE in 2001. In 2021 Maggie was made a Companion of CMI.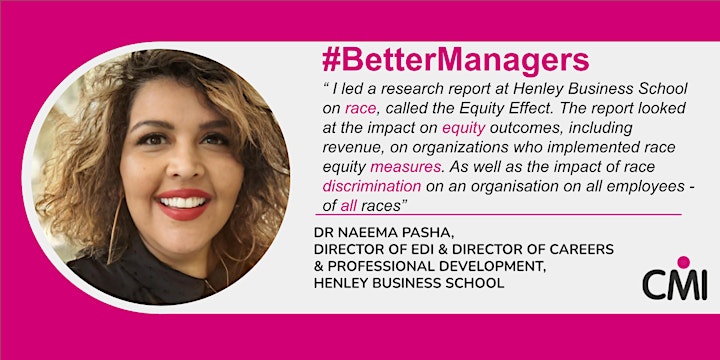 Dr Naeema Pasha
Director of Equity Diversity and Inclusion & Director of Careers & Professional Development, Henley Business School
Naeema Pasha is Director of Equity Diversity and Inclusion and Director of Careers & Professional Development in Henley Business School where she also established World of Work (WOW) to explore future of work readiness. She is the lead researcher for the Equity Effect research paper at Henley. Her doctoral research sheds light on key factors that enables people to succeed against the backdrop of future of work technological changes such as adaptability in times of huge uncertainty. Naeema's recent research on skills in future of work provided the foundation for building WOW looking at the range of influences on work such as, AI and Automation, 4Day Week and Quad-Generations.
In the meantime…
Looking for ways to get involved with supporting people from diverse ethnic groups in their careers, or help organisations tackle inequalities? Click here to find out more about CMI Race.
Find out more about our new digital bitesize courses and Equality, Diversity and Inclusion qualifications at levels 5 and 7.
Not yet subscribed?
From free newsletters packed with the latest trends, insights and tips for managers and leaders, to the full suite of invaluable tools and benefits that come with being a CMI member, we've got something for everyone. Visit our website to find out more.