About this Event
In 2017 CMI said it was time to break the silence on race at work, and that remains the imperative for leaders and managers who have not. For those who have, it is time to move the dial for change even higher and use the shock of 2020 to truly unlock our organisations for all.
To do so requires leaders and managers to listen and learn, then educate others. We need to listen carefully to the brave voices of people who have experienced issues relating to race inequality in organisations and society, and of those who are truly doing their best to implement authentic changes.
In this webinar, CMI Race chair Pavita Cooper CMgr CCMI and CMI Women chair Dr Heather Melville OBE CMgr CCMI will be joined in conversation by guests including Tamara Box CMgr CCMI, Managing Partner, EME and global board member, Reed Smith LLP, Aquilla Cozzella, Delivery Director and Chair, Diversity and Inclusion Board, Corndel and Delroy Beverley CMgr CCMI MBA, BSc (Hons), Managing Director, York NHS Facilities Management Partnership and Chair of CMI North East, Yorkshire and Humberside (NEYH) Regional Board.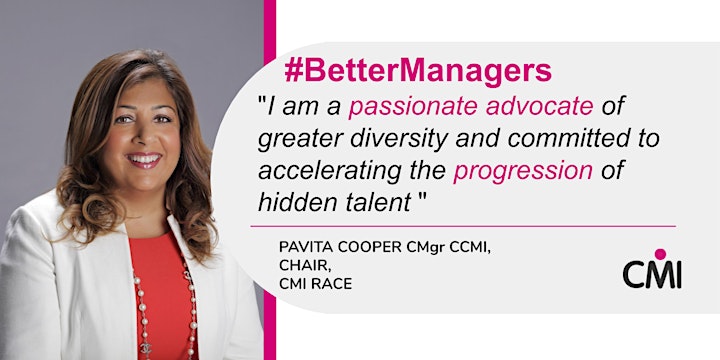 Pavita Cooper CMgr CCMI
Chair, CMI Race
Pavita is founder of More Difference, a talent and career insight business that works with organisations and individuals to accelerate talent,
Pavita is recognised as a leading talent and diversity expert; she has over 25 years' experience as an executive talent leader across a range of multi-sector global blue-chip organisations, including Shell, Barclays and Lloyds Banking Group. Pavita has acted as an advisor to CEOs, executive teams and business leaders across sectors that include financial services, energy, consumer, professional services and luxury goods.
Having led in-house Board level appointments and promotion processes, she understands that organisations need fresh and innovative thinking for their ongoing talent challenges. Pavita combines her deep technical expertise with an ability to frame insights in a direct but compelling style.
Pavita is a passionate advocate of greater diversity across the C-Suite and committed to accelerating the progression of "hidden" talent: women, ethnic minorities and leaders from less traditional backgrounds. She is a regular speaker on women in business, increasing ethnic diversity and the acceleration of diverse talent in the pipeline to the C-Suite and Boardroom. Pavita believes in the power of giving back; she mentors young people from ethnically diverse and socially disadvantaged backgrounds and regularly speaks at inner city schools across the country.
Pavita is a Steering Committee member of the 30 Percent Club, she sits on the Advisory Board of Business 3.0 and CMI Board of Companions as well as chairing CMI Race. Pavita serves as a Trustee of Kids Out. In September 2017, Pavita awarded Women of the Year at the Asian Business Awards.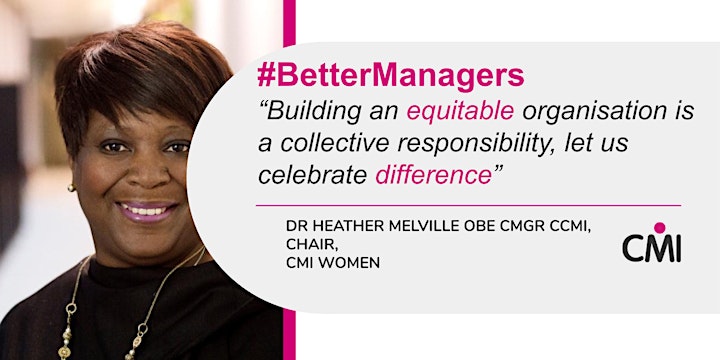 Dr Heather Melville OBE CMgr CCMI
Chair, CMI Women
Dr Heather Melville was appointed as the Director for Strategic Partnerships and Head of Business Inclusion Initiatives in January 2016, following a successful career in International sales.
A graduate of the IBM business school, together with a wealth of international experience secured over a 30 plus year career in the world of finance, positioned her in a strong place to meet the evolving global challenges of her clients.
For a number of years, she has sat on the judging panel for the prestigious "UK Fashion & Textile Awards", "The National Diversity Awards", "We Are The City Rising Stars" as well as the "Brummel's Top 30".
The Founder and Global Chair of the RBS Focused Women's Network, which is managed by volunteers, to date have Circ. 12,000 members in 33 countries. In 2010 she was awarded the prestigious Women in Banking & Finance Award for Achievement under the category of Champion for Women, and in 2012 was also awarded the World of Difference 100 Award (TIAW) recognising her as one of the top 100 women worldwide who have made a difference to the economic empowerment of women.
Outside of the financial industry, having completed an executive coaching programme, Heather is a Career Coach and Mentor advising young people who are striving to be tomorrows Entrepreneurs. She represents RBS as a Non-Executive Director for Enterprise Enfield a business consultancy funded by the Government to help small businesses.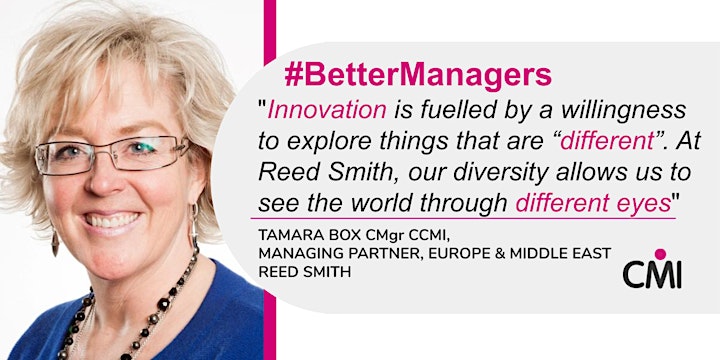 Tamara Box CMgr CCMI
Managing Partner, Europe & Middle East, Reed Smith LLP
Tamara is the managing partner, Europe & Middle East and a member of the senior executive team at Reed Smith, as well as sitting on the global board of the firm. She is the former chair of the firm's largest practice group, the Financial Industry Group, and a leading lawyer in our Structured Finance team. Tamara is a founding member of the Steering Committee of the 30% Club, an influential group seeking to enlist Chairs and CEOs to bring more women into senior management and onto boards.
Tamara has more than 25 years' experience in advising arrangers, dealers, issuers and trustees in a wide range of debt instruments and is a recognised authority in the area of securitisation, having been regularly named a leading practitioner by each of the International Financial Law Review's Guide to the World's Leading Structured Finance and Securitisation Lawyers, The Legal 500's Legal Experts, Chambers' UK Guide and The International Who's Who of Business Lawyers. Tamara has been named on the HERoes Top 100 Role Model Female Executives list for the fourth year running, meaning she has been named every year since the awards inception, in recognition of her work driving diversity and inclusion forward both at Reed Smith and externally.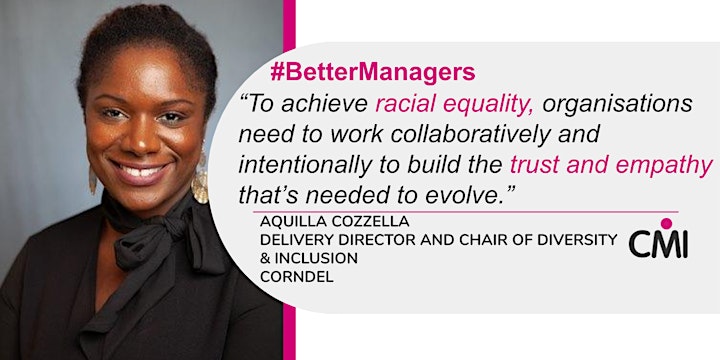 Aquilla Cozzella
Delivery Director and Chair of Diversity & Inclusion, Corndel
Aquilla is Delivery Director at Corndel, a leading provider of leadership and technology training and CMI's Learning Provider of the Year 2020. She brings more than 20 years' leadership & management experience to her current role, working with some of the UK's largest employers to improve leadership capability through development and coaching.
She has designed and implemented successful service delivery-based structures to improve and address performance across both the public and private sector and is known as an expert within government administrative contracts. A qualified Neuro Linguistic Practitioner, adult educator and trained in providing information, advice and guidance.
Aquilla was recently appointed Corndel's Chair of Diversity & Inclusion. She heads up initiatives to address disparity within the organisation through equality, diversity and inclusion task groups in order to drive real change and realise diversity at all levels within the business.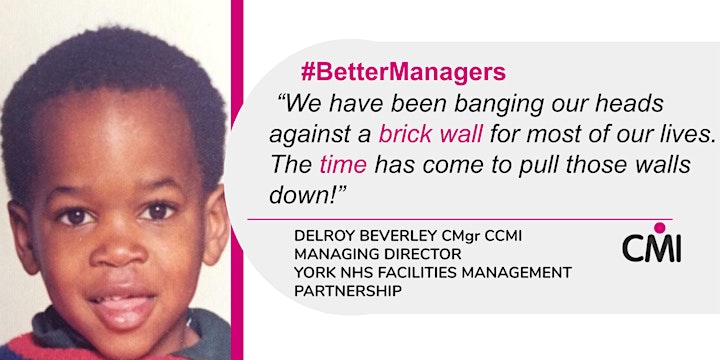 Delroy Beverley CMgr CCMI, MBA, BSc (Hons)
Managing Director, York NHS Facilities Management Partnership
Delroy Beverley, alumnus of Oxford and Cambridge University Business Schools, Companion of the Chartered Management Institute and Member of the Institute of Directors.
Delroy is now the Managing Director at York NHS Facilities Management Partnership, has a wide range of qualifications and business distinctions. An alumnus of both Oxford and Cambridge Business Schools, he is a Companion of the Chartered Management Institute and a Fellow of the Institute of Directors. Recognised by the Institute of Directors, he was awarded 'Director of the Year' for Yorkshire and Humberside, and has also been named as one of the UK's pre-eminent black business leaders.
As a result of his early experiences, in life, in school and in work, throughout his career Delroy has championed inclusivity and has been instrumental in encouraging Black, Asian Minority Ethnic (BAME) people in business. He's worked tirelessly to reach a position where his advocacy has true meaning, so he can really be a catalyst for change. Delroy strives, both in his personal and professional lives, to support organisations at Board level to fulfil their potential as supporters and deliverers of societal transformation, for the betterment of individuals and for society as a whole.
In his current role Delroy has full responsibility for this commercial business, which has an annual turnover of £110 million and over 1,200 employees. In addition to his executive role, Delroy holds a number of non-executive directorships for organisations that include the British Library and the Office of Qualifications and Examinations Regulation (Ofqual). He is the chair of the Chartered Management Institute and Chair of the Institute of Directors.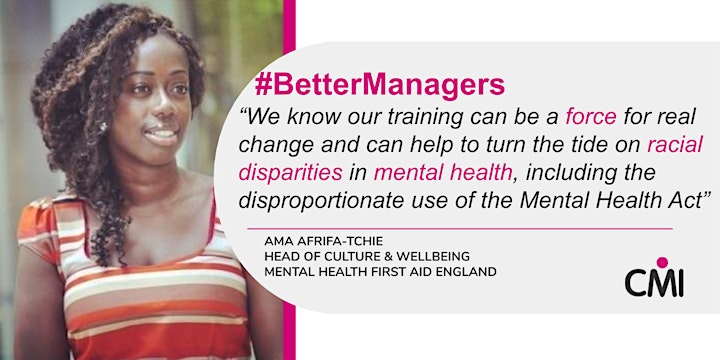 Ama Afrifa-Tchie
Head of Culture & Well being, Mental Health First Aid England
Ama Afrifa-Tchie is a valiant cultural builder, who's specialism spans across people experience, workplace culture, diversity & inclusion, mental health and well-being and corporate responsibility. She is experienced in leading the design, analysis, and implementation of people-centric products/services, inclusion & well-being initiatives.
She works with senior leadership, management teams, and employee engagement to; embed and integrate organisational culture through behaviour, processes and systems, and seeks to promote a positive, inclusive and supportive work environment and company culture by developing and evolving programmes and initiatives that support the organisation's mission and values.
Ama has built her career and expertise (over 14 years 'experience) with different industries such as - start-ups, tech, professional services, legal, financial services, media & entertainment.
Ama has an LLB in Law and a MA in Public Relations and Public Communications.
She is a Fellow of The Royal Society for the encouragement of Arts, Manufactures and Commerce UK, a Trustee of Artswork, a Governor on the Board of The Boxing Academy and the former Mentoring Chair of Women in Cable & Telecommunications (WITC UK).
Ama's interests includes travelling, fitness, outdoors activities, theatre and movies, animation and interior decor. She is an avid foodie and loves spending time with family and friends.
In the meantime…
Looking for ways to get involved with supporting people from diverse ethnic groups in their careers, or help organisations tackle their inequalities? Click here to find out more about CMI Race.
Not yet subscribed?
From free newsletters packed with the latest trends, insights and tips for managers and leaders, to the full suite of invaluable tools and benefits that come with being a CMI member, we've got something for everyone. Visit our website to find out more.