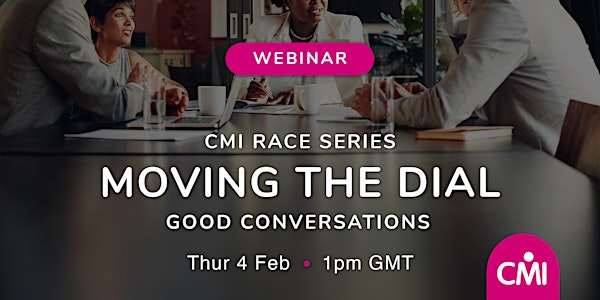 CMI Race Moving the Dial: Good Conversations
Join us for this live event where you will hear from Corndel colleagues who are taking steps to support those who face racism.
About this event
Last October we published Moving the Dial on Race, our practical, research-informed guide to workplace inclusion. Since then, thousands of people have read the guide and organisations have shared it widely as a valuable resource for their managers and leaders.
In this webinar, we will discuss how Corndel is progressing in its journey to be an anti-racist organisation and the steps they have taken to support people who face racism. We will be joined by Aquilla Lindo-Cozzella, Delivery Director and Chair of the Diversity and Inclusion Board at Corndel and Pavlina Wilkin, Professional Development Coach and Equality, Diversity & Inclusion Lead at Corndel, who will share the groundings they have put in place for brave spaces and good conversations.
The event will take place during Race Equality Week for which this year's theme is transparency and accountability. Corndel regularly publish updates on their progress through LinkedIn and you can also stay up to date with #CMIRace on social media.
As usual we will be encouraging live interaction with the audience and answering questions, we hope you can join us.
Find out more about CMI Race
Members can search for extra resources on facilitating conversations through Management Direct.
Find out more about our new digital bitesize courses and Equality, Diversity and Inclusion qualifications at levels 5 and 7.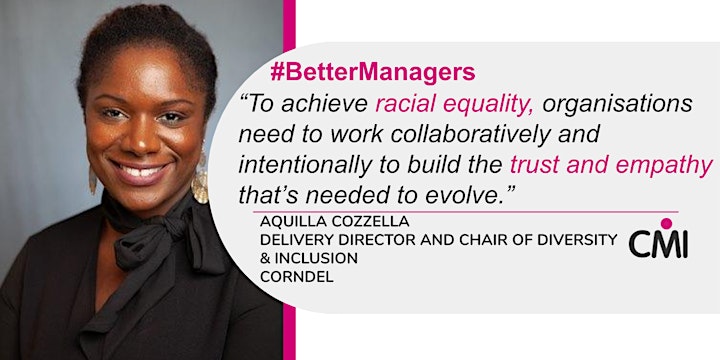 Aquilla Lindo-Cozzella
Delivery Director and Chair of Diversity & Inclusion, Corndel
Aquilla is Delivery Director at Corndel, a leading provider of leadership and technology training and CMI's Learning Provider of the Year 2020. She brings more than 20 years' leadership & management experience to her current role, working with some of the UK's largest employers to improve leadership capability through development and coaching.
She has designed and implemented successful service delivery-based structures to improve and address performance across both the public and private sector and is known as an expert within government administrative contracts. A qualified Neuro Linguistic Practitioner, adult educator and trained in providing information, advice and guidance.
Aquilla was recently appointed Corndel's Chair of Diversity & Inclusion. She heads up initiatives to address disparity within the organisation through equality, diversity and inclusion task groups in order to drive real change and realise diversity at all levels within the business.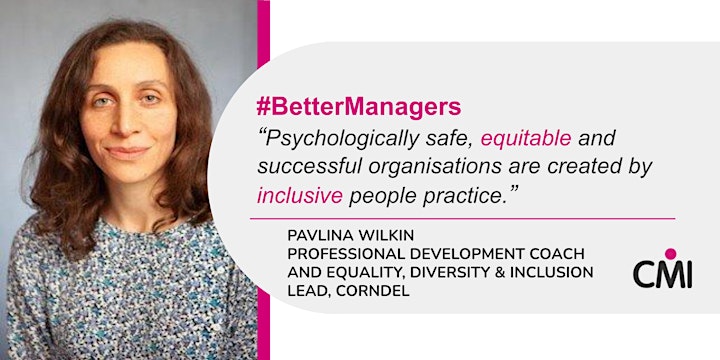 Pavlina Wilkin
Professional Development Coach and Equality, Diversity & Inclusion Lead, Corndel
Pavlina is a Professional Development Coach at Corndel and has previously led HR and compliance functions in the criminal defence law and faith sectors where she specialised in HR policy and strategy.
She has a wide-ranging career history underlined by a consistent commitment to supporting individual dignity and creating equitable and positive work cultures.
Her professional development interests are in psychology, mental health and wellbeing. Pavlina has been supporting the work of Corndel's Equality, Diversity & Inclusion initiative as part of a final year research project of a CIPD Level 7 Diploma in Human Resources Development.