Hear from the co-chairs of Mace's Ethnic Diversity Inclusion Network who will be discussing the importance of building a support network
About this event
Better managers should develop diverse networks so that a broad range of people can talk about the issues they're facing and potential support. Managers can do this by encouraging relationships, creating safe spaces and engaging with other organisations on specific issues. According to CMI's research, 1 in 10 managers feel unsupported when it comes to talking to their teams about race. Managers from diverse racial groups are significantly more likely to say they do not have enough support to talk to their teams about race at work. Feeling unsupported and isolated is emotionally exhausting for people who experience racism.
In this webinar, we are joined by Poonam Parmar and Priya Martin, Co-chairs of Mace's Ethnic Diversity Inclusion Network, who will be discussing the theme of 'Building a Support Network'. This network was founded in early 2019 and is run by a Steering Committee of employees from different grades, locations and racial backgrounds. With over 300 members across the business, the network has encouraged continuous internal and external engagement, including networking sessions between colleagues to mark key awareness days as well as collaborating with their client base and on-going social media campaigns.
Priya and Poonam will be discussing the process of establishing the network; providing tips on creating safe spaces and the benefits of reverse or reciprocal mentoring. They will also mention how the pandemic has impacted their move to digital.
As usual we will be encouraging live interaction with the audience as well as answering your questions, we hope you can join us.
You can also stay up to date with #CMIRace on social media.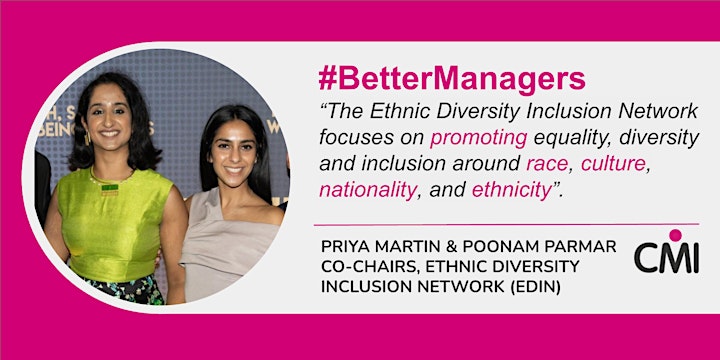 Priya Martin & Poonam Parmar
Co-chairs
Ethnic Diversity Inclusion Network (EDIN)
Priya Martin and Poonam Parmar are colleagues working for international company, Mace, within their consultancy team. Priya is a Project Architect for the Design & Digital unit, while Poonam works as a Planning Manager within the PMO Sector. Despite working in different areas of the business, the duo met during a company event and decided to form a network focused on promoting equality, diversity and inclusion around race, culture, nationality, and ethnicity.
This network is now today known as the Ethnic Diversity Inclusion Network (EDIN), which continues to amass more than 300+ allies and supporters and counting, since its inception in January 2019. Some of EDIN's key achievements include raising awareness through large-scale events, smaller-scale fortnightly discussion groups, influencing policies and business strategies around diversity and inclusion, celebrating awareness days, and facilitating informal mentoring and general connections between colleagues within the network.
Priya and Poonam will discuss their journey on setting up EDIN, engaging with the workforce, sharing best practice, learning from lessons, and how they kept people connected during the pandemic.
In the meantime…
Looking for ways to get involved with supporting people from diverse ethnic groups in their careers, or help organisations tackle inequalities? Click here to find out more about CMI Race.
Find out more about our new digital bitesize courses and Equality, Diversity and Inclusion qualifications at levels 5 and 7.
Not yet subscribed?
From free newsletters packed with the latest trends, insights and tips for managers and leaders, to the full suite of invaluable tools and benefits that come with being a CMI member, we've got something for everyone. Visit our website to find out more.