Hear from a panel of experts on how to embed allyship in your workplace .
About this event
From Shelter UK, this online event will feature Sophia Smith (Anti-racism Steering Group Chair) as well as Clare Biggar and Lisa Smith (Ally Group members), who will talk about the progress the housing and homelessness charity is making towards its commitments. They will be joined by Reetu Kansal, CMI Race advisory committee member and co-founder of the University of London's first Race Equality Group, who will be explaining her Allyship Toolkit featured in CMI's Moving the Dial on Race practical guide on workplace inclusion. This toolkit enables managers to build their own strategy and practice, and to embed allyship into their professional and personal environment.
Join us on Tuesday 15th June to explore the concept of allyship, and discuss how people can work together on racial equity. The speakers will also provide examples of what managers and leaders should stop, start and continue to do in order to make a real impact.
As usual we will be encouraging live interaction and look forward to answering your questions. We hope you can join us.
You can also share examples of allyship best practice from your own professional life by using #CMIRace on social media.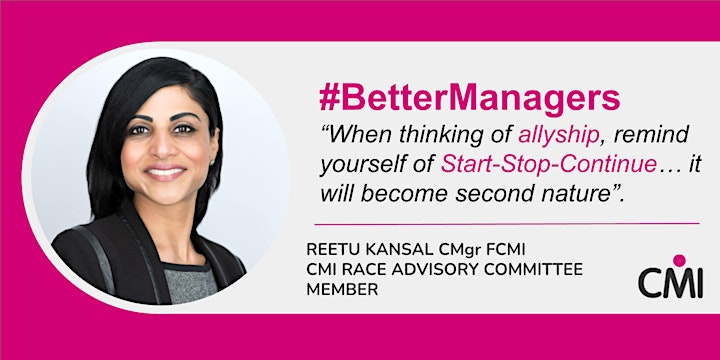 Reetu Kansal CMgr FCMI
CMI Race Advisory Committee Member & Co-Founder of the University of London's first Race Equality Group
Reetu Kansal is a Senior Project Manager at the University of London, with specialisms in strategy and performance. In her eleven years at the University of London, she has identified change opportunities and built lasting strategic relationships. She leads on high business risk projects, that have secured organisational reputation and yielded cost and time savings. In her career as a partnerships lead, she cultivated over 175 strong strategic partnerships with regulators, professional bodies and educational organisations in over 50 countries.
Reetu co-founded and chairs the University of London's first Race Equality Group. She chaired the CMI's Future Leaders advisory panel, and is currently the Diversity and Inclusion Lead on CMI's London Board. She sits on the steering groups for CMI's Management Transformed and Race advisory committees. She is an Enterprise Advisor on the Mayor of London's London Enterprise Advisers Network. Reetu is a published writer, journal reviewer, blogger and speaker on management, leadership, inclusion and transnational education matters.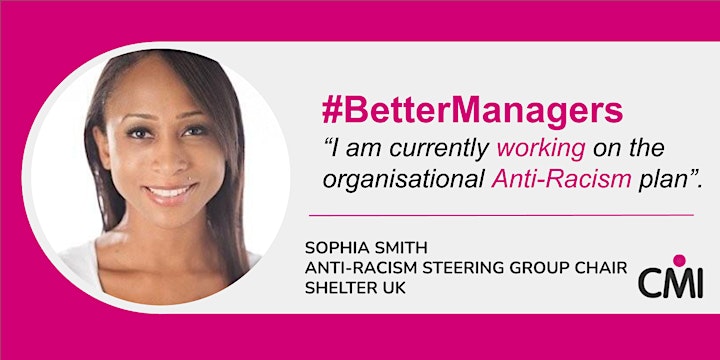 Sophia Smith
Anti-Racism Steering Group Chair, Shelter UK
Sophia Smith is a Direct Marketing specialist with over 15 years' experience in the charity sector. As Assistant Director for Individual Giving at Shelter, she is responsible for leading a team of 33 fundraisers to generate £20 million in income each year across a diverse product portfolio. Sophia is Chair of the Anti-Racism Steering Group at Shelter which is currently working on the organisational Anti-Racism plan.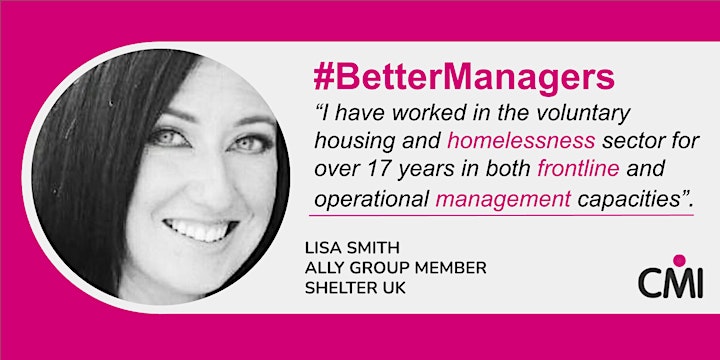 Lisa Smith
Ally Group, Shelter UK
Lisa has worked in the voluntary housing and homelessness sector for over 17 years in both frontline and operational management capacities. In her current role as Relationship Manager, Lisa works to empower professionals to support people in housing need by matching them with appropriate training, advice and resources, delivery of learning events and facilitating the sharing of good practice. Outside of Shelter, Lisa is a Trustee for Sheffield housing charity Nomad Opening Doors which provides housing, support and coaching for young people in the area.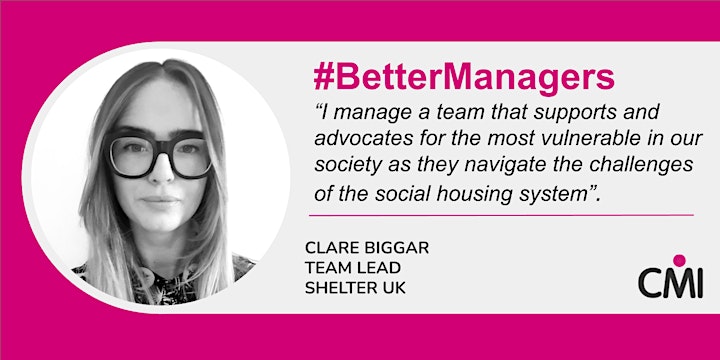 Clare Biggar
Team Lead, Shelter UK
I am a supervisor and BACP accredited counsellor currently taking a break from private practice to work as a services Team Lead in Shelter London. Through my time at Shelter and allyship work, I have become acutely aware that the disparities we see in society stem from roots in a colonial history that to this day, still dictate the lack of equity in the world for marginalised groups across all sectors life. I hope to continue to raise awareness on how we can each individually use our privilege and power for collective change.
In the meantime…
Looking for ways to get involved with supporting people from diverse ethnic groups in their careers, or help organisations tackle inequalities? Click here to find out more about CMI Race.
Find out more about our new digital bitesize courses and Equality, Diversity and Inclusion qualifications at levels 5 and 7.
Not yet subscribed?
From free newsletters packed with the latest trends, insights and tips for managers and leaders, to the full suite of invaluable tools and benefits that come with being a CMI member, we've got something for everyone. Visit our website to find out more.